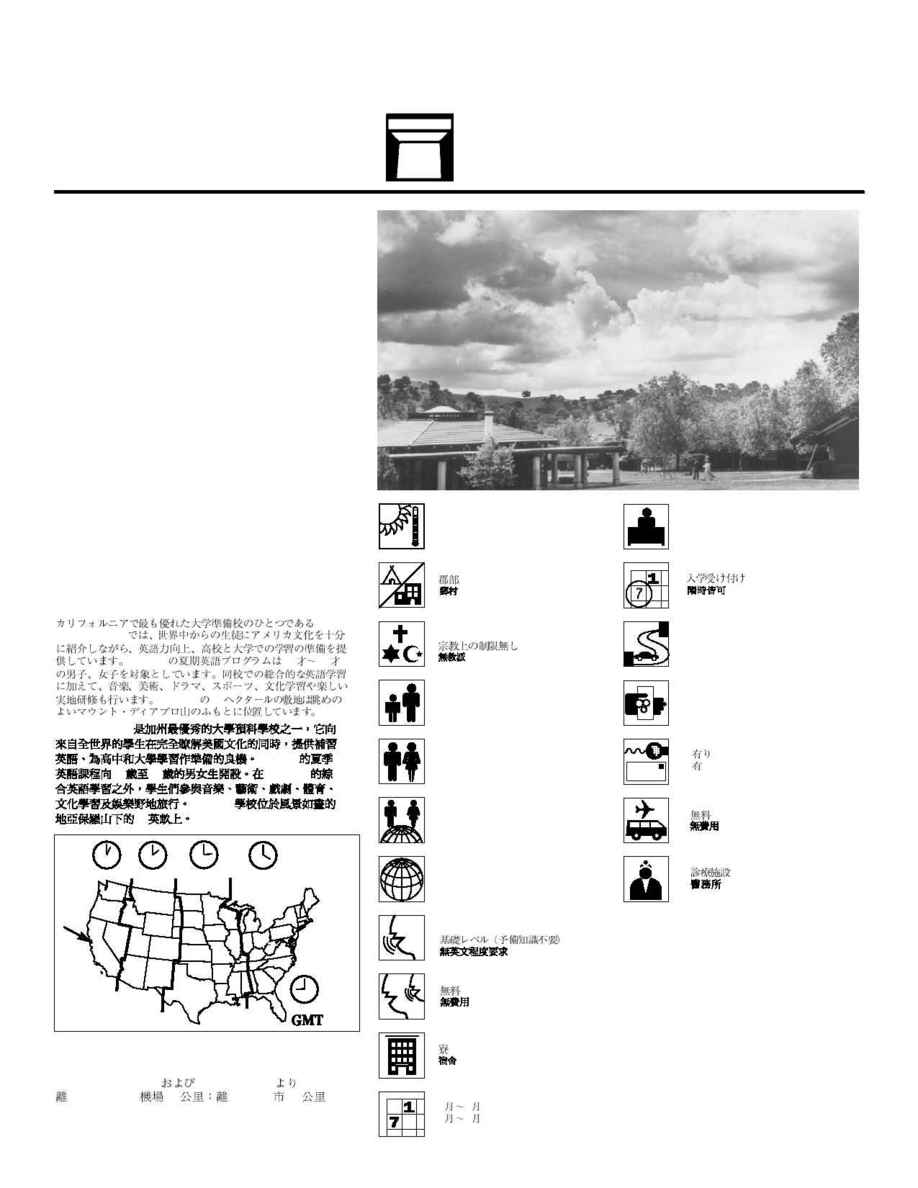 ne of the finest college-preparatory schools in California, the
Athenian school offers students from around the world the
opportunity to improve their English and prepare for high
school and college studies while gaining a thorough introduction to
American culture. Athenian's Summer English Language Program is
open to boys and girls ages 13­18. In addition to Athenian's
comprehensive English studies, students participate in music, art,
drama, sports, and cultural studies as well as fun field trips. Athenian
is located on 75 acres in the scenic foothills of Mount Diablo.
Uno de los mejores colegios de preparación para la universidad en
California, el Athenian School ofrece a estudiante de todo el mundo la
oportunidad de mejorar sus conocimientos de inglés y prepararse para
los estudios de escuela secundaria y universitarios mientras se
familiarizan con la cultura de los Estados Unidos. El Programa de
verano de estudios de inglés de Athenian está abierto a estudiantes de
ambos sexos de entre 13 y 18 años de edad. Además de los cursos
completos de inglés de Athenian, los estudiantes participan en estudios
de música, arte, drama, deportes y culturales, así como excursiones de
estudio divertidas. Athenian se encuentra en 30 hectáreas de terreno en
las pintorescas colinas al pie del Monte Diablo.
Athenian School, l'un des meilleurs établissements de Californie
préparant à l'entrée en université, offre aux étudiants du monde entier
l'occasion d'améliorer leur anglais et de se préparer aux études
secondaires et supérieures, tout en découvrant la culture américaine.
Le programme de langue anglaise dispensé en été à Athenian est
ouvert aux garçons et aux filles âgés de 13 à 18 ans. Outre
l'enseignement intensif de l'anglais, les étudiants participent à des
cours de musique, d'art et de théâtre ainsi qu'à des activités sportives
et culturelles, sans oublier des sorties éducatives distrayantes. Le
campus de 30 hectares est situé au pied des collines magnifiques
du Mont Diablo.
A
THENIAN
S
CHOOL
S
UMMER
E
NGLISH
L
ANGUAGE
P
ROGRAM
(SELP)
Sondra Dooley, Associate Director of Special Programs
2100 Mt. Diablo Scenic Boulevard
Danville, California 94506-2002
Phone: 925-837-5375 ext. 214 Fax: 925-831-1120
E-mail: sondra_dooley@athenian.org
URL: http://www.athenian.org
60 km from San Francisco Airport; 40 km from Oakland ·
A 60 km del aeropuerto de San Francisco; a 40 km de Oakland ·
A 60 km de l'aéroport de San Francisco ; à 40 km de Oakland
Nondenominational · Sin afiliación religiosa ·
Non confessionnelle
Rolling · Continuo · Continuelles
San Francisco, Berkeley, Disneyland, Monterey
Available · Disponibles · Disponibles
France, Germany, Japan, Korea, Turkey
No proficiency necessary · No se requieren
conocimientos previos · Aucune aptitude requise
No fee · Gratuito · Gratuit
Dormitories · Residencias estudiantiles · Dortoirs
July­August · Julio­Agosto · Juillet­Août
Infirmary · Enfermería · Infirmerie
No fee · Gratuito · Gratuit