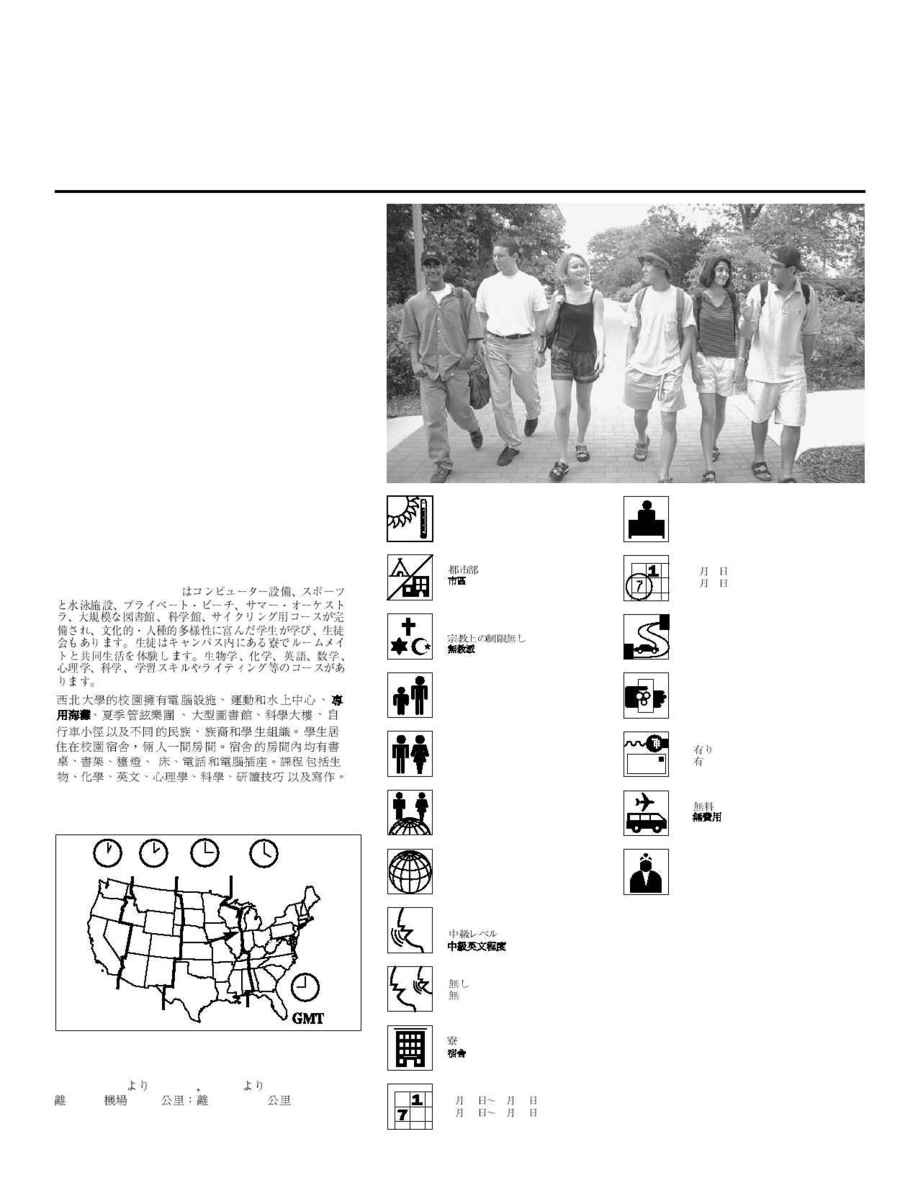 he Northwestern University campus offers computing
facilities, a Sports and Aquatic Center, private beach,
summer orchestra, extensive library, science building,
bicycle paths, and a variety of ethnic, racial, and student
organizations. Students live in a dormitory on campus, sharing
a room with a roommate. Courses include biology, chemistry,
English, math, psychology, science, study skills, and writing.
El recinto universitario de Northwestern University ofrece
instalaciones de computación, un centro deportivo y
acuático, playa privada, una orquesta de verano, una amplia
biblioteca, edificios de ciencias, caminos de bicicleta y
varias organizaciones raciales y culturales a las que pueden
pertenecer los estudiantes. Los estudiantes se alojan en
residencias estudiantiles en el recinto, compartiendo un
cuarto con un compañero. Los cursos incluyen biología,
química, inglés, matemáticas, psicología, ciencia, técnicas
de estudio y redacción.
Le campus de Northwestern University offre des
installations d'informatique, un centre de sports et nautique,
une plage privée, un orchestre estival, une vaste
bibliothèque, des installations de sciences, des chemins
pour bicyclettes et une variété d'organisations ethniques,
raciales et estudiantines. Les étudiants sont logées dans les
dortoirs sur campus et partagent une chambre avec un
camarade de chambre. Les chambres ont des bureaux, des
étagères, des lampes, des lits, des prises pour le téléphone
et pour des ordinateurs. Parmi les cours on compte la
biologie, la chimie, l'anglais, la psychologie, les sciences,
les techniques d'études et la rédaction.
N
ORTHWESTERN
U
NIVERSITY
C
OLLEGE
P
REPARATION
P
ROGRAM
24.15 km from O'Hare Airport and 30 km from Chicago ·
A 24,15 km del aeropuerto O'Hare y a 30 km de Chicago ·
A 24,15 km de l'aéroport O'Hare et à 30 km de Chicago
O'Hare Airport
Dr. David Schejbal, Associate Dean of Continuing Education
and Director of Summer Session
2115 North Campus Drive, Suite 162
Evanston, Illinois 60208-2650
June 18­July 29 · 18­29 de
Turkey, Canada, Russia, China, Mexico,
Greece, Hong Kong, Korea, Singapore,
Morocco, Italy, England
April 1 · 1 de abril · 1 avril
4
University of Michigan, University of Notre
Dame, University of Chicago
$3286­$6971, $300­$500, $100­$200
Nondenominational · Sin afiliación religiosa ·
Non confessionnelle
Moderate proficiency necessary · Se requieren
conocimientos moderados · Aptitude modérée requise
Not available · No disponibles · Pas disponibles
Dormitories · Residencias estudiantiles · Dortoirs
Available · Disponibles · Disponibles
No fee · Gratuito · Gratuit