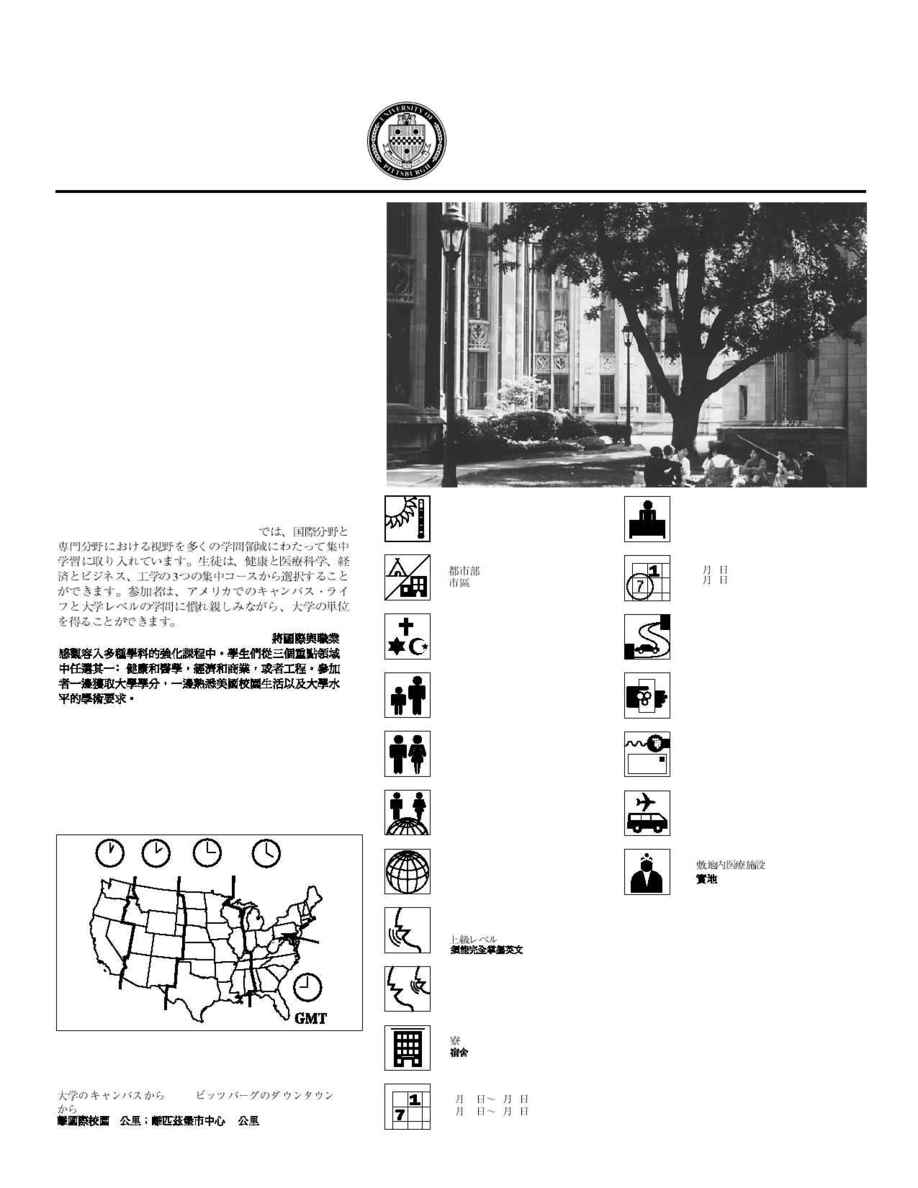 he International College Experience Program integrates
international and professional perspectives in an
intensive multidisciplinary course of study. Students
select from three focus areas: Health and Medical Sciences,
Economics and Business, or Engineering. Participants earn
college credits while gaining exposure to U.S. campus life and
to university-level academic expectations.
El International College Experience Program (Programa de
Experiencia Universitaria Internacional) integra perspectivas a
nivel internacional y profesional en un plan de estudios
intensivo y multidisciplinario. Los estudiantes seleccionan
entre tres áreas de interés: Ciencias médicas y de la salud,
Economía y Negocios o Ingeniería. Los participantes acumulan
créditos universitarios mientras se familiarizan con la vida en
una universidad de los Estados Unidos y con las expectativas
académicas a nivel universitario.
Le programme international d'expérience universitaire intègre
des perspectives aussi bien internationales que professionnelles
dans un programme d'études pluridisciplinaire intensif. Les
étudiants choisissent parmi trois domaines particuliers : la santé
et le paramédical, l'économie et le commerce, ou l'ingénierie.
Ils peuvent ainsi obtenir des unités de valeur universitaire tout
en découvrant la vie sur un campus américain ainsi que les
attentes scolaires au niveau universitaire.
International College Experience Program
S
UMMER
I
NSTITUTE FOR
H
IGH
S
CHOOL
S
TUDENTS
S
UMMER
P
ROGRAM
Julia Sawyer, Director
407 Cathedral of Learning
University of Pittsburgh
Pittsburgh, Pennsylvania 15260
Phone: 412-383-7303 Fax: 412-624-5461
E-mail: summer+@pitt.edu
URL: http://www.pitt.edu/summer
48 kilometers from the university campus; 3.5 kilometers from
downtown Pittsburgh · A 48 kilómetros de los terrenos de la universidad;
a 3,5 kilómetros del centro de la ciudad de Pittsburgh · À 48 km du
campus de l'université ; à 3,5 km du centre-ville de Pittsburgh
The International College Experience Program
July 10 to August 5 · 10 de julio­5 de agosto · 10 julio­5 août
7
Research labs, museums,
and local and national parks
Total command of English · Se requiere
pleno dominio del inglés · Maîtrise parfaite
de l'anglais
Dormitories · Residencias estudiantiles · Dortoirs
On-site · En las instalaciones · Sur place
May 1 ·1 de mayo · 1 mai
5