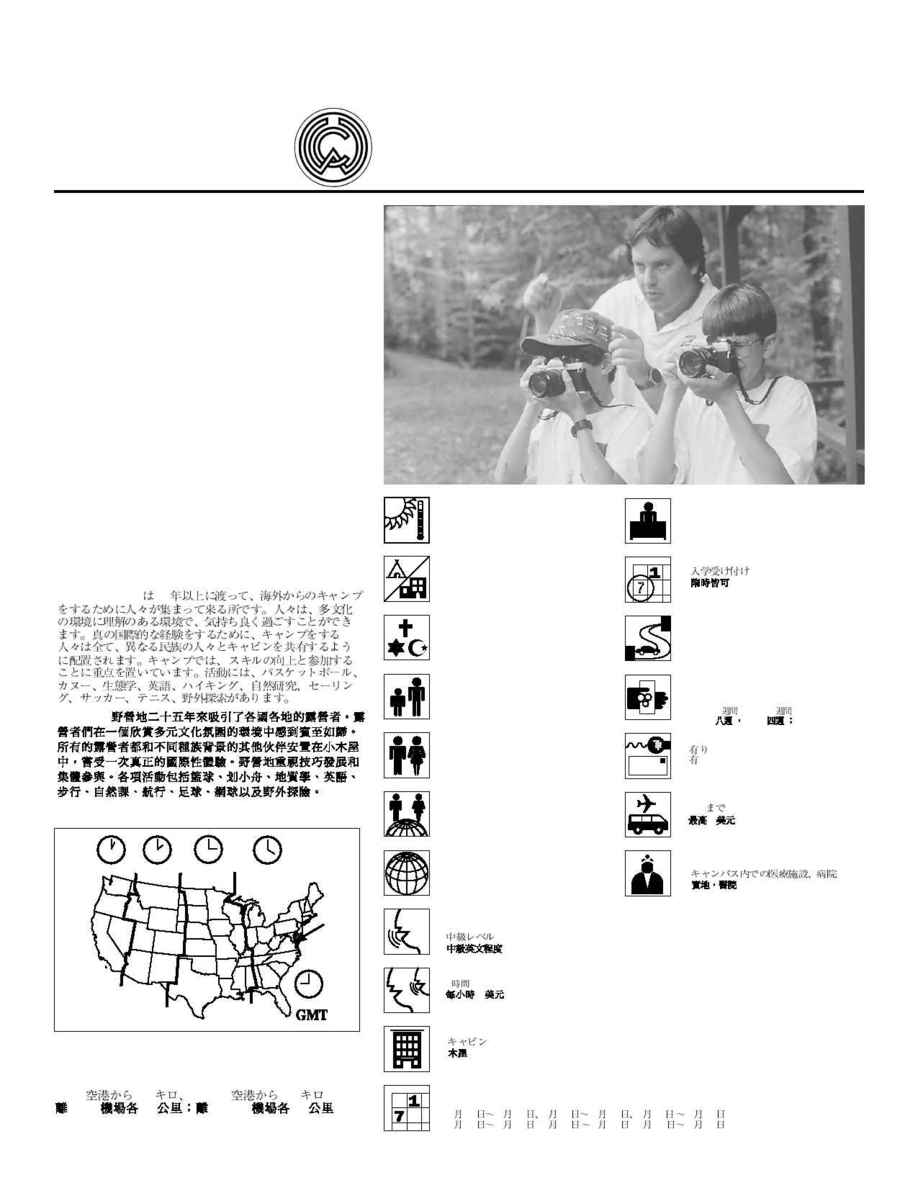 amp Winnebago has attracted international campers for
more than twenty-five years. Campers feel comfortable
in an environment that appreciates multiculturalism. All
campers are placed in cabins with other campers of different
ethnic backgrounds for a truly international experience. The
camp's emphasis is on skill development and participation.
Activities include basketball, canoeing, ecology, English,
hiking, nature study, sailing, soccer, tennis, and wilderness
exploration.
Camp Winnebago ha atraído a campistas internacionales por
más de veinticinco años. Los campistas se sienten cómodos en
un entorno donde se aprecia un ambiente multicultural. Todos
los campistas son alojados en cabañas con otros campistas de
diferentes orígenes étnicos para que todos disfruten de una
experiencia realmente internacional. El campamento pone
énfasis en el desarrollo de las habilidades y en la participación.
Las actividades incluyen baloncesto, canotaje, ecología, inglés,
excursionismo, estudios de la naturaleza, velerismo, fútbol
(soccer), tenis y exploración de reservas naturales.
Depuis plus de 25 ans, le Camp Winnebago attire des
campeurs venus des quatre coins du monde. Ils se sentent à
l'aise dans cet environnement favorisant la diversité culturelle.
Ils partagent des cabines avec d'autres campeurs d'origine
ethnique différente pour profiter d'une véritable expérience
internationale. Le camp met l'accent sur le développement des
compétences et la participation. Les activités comprennent le
basket-ball, le canoë-kayak, l'écologie, l'anglais, la randonnée,
l'étude de la nature, la voile, le football, le tennis et
l'exploration en milieu sauvage.
C
AMP
W
INNEBAGO
S
UMMER
P
ROGRAM
Philip Lilienthal, Director
1606 Washington Plaza
Reston, Virginia 22090
Phone: 703-437-0808 Fax: 703-437-8620
E-mail: philcwhv@aol.com
250 kilometers from Logan Airport; 115 kilometers from
Portland Airport · A 250 kilómetros de los aeropuerto de Logan;
a 115 kilómetros de los aeropuerto de Portland · À 250 km des
aéroport de Logan ; à 115 km des aéroport de Portland
Logan
Rolling · Continuo · Continuelles
Allagash River, Quebec City, Bar Harbor
(Acadia National Park)
$6750 (8 weeks); $4050 (4 weeks); $75­$450 ·
$6750 (8 semanas); $4050 (4 semanas); $75­$450 ·
$6750 (8 semaines); $4050 (4 semaines); $75­$450
$6750 (8
Available · Disponibles · Disponibles
Colombia, England, France, Israel, Japan
Moderate proficiency necessary · Se requieren
conocimientos moderados · Aptitude modérée requise
$15 per hour · $15 por hora · $15 par heure
1
Cabins · Cabañas · Cabines
June 24­August 17, June 24­July 19, July 20­August 17 · 24 de junio ­17 de agosto, 24 de junio­19 de julio­20 de
julio­17 de agosto · 24 juin ­17 août, 24 juin­19 juillet, 20 juillet­17 août
On-site, hospital · En las instalaciones,
hospital · Sur place, hôpital
Up to $35 · Hasta $35 · Jusqu'à 35 dollars
$35