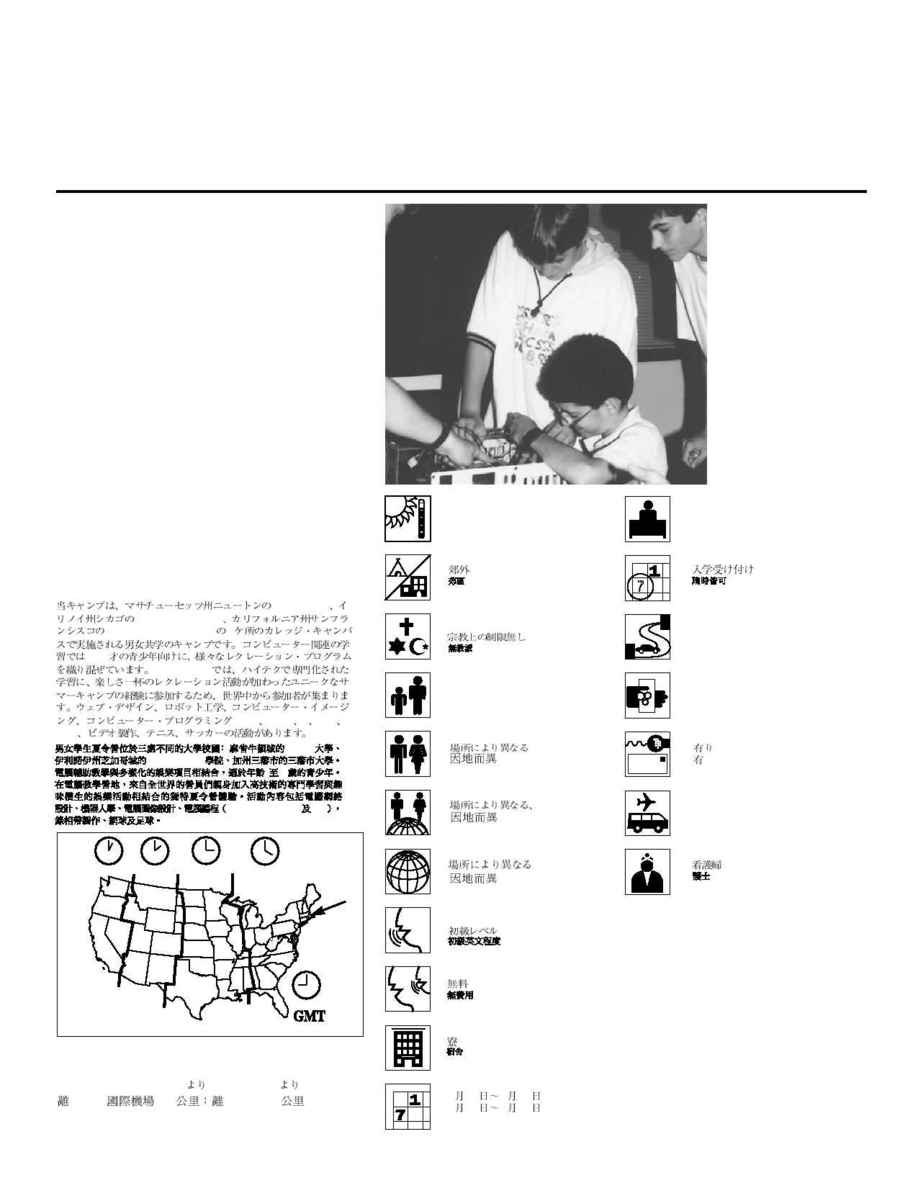 oed camps located on college campuses in three locations: Lasell
College, Newton, MA; Lake Forest Academy, Chicago, IL; and
University of San Francisco, San Francisco, CA. Computer
related learning blended with a varied recreational program for children
ages 8-17. At Computer-Ed, campers come from around the world to
participate in a unique summer camp experience that blends high-tech,
specialized learning with fun-filled, recreational activities! Activities in
web design, robotics, computer imaging, computer programming (Basic,
Pascal, C, C++, Java), video production, tennis, and soccer.
Campamentos mixtos ubicados en tres recintos universitarios: Lasell
College en Newton, MA; Lake Forest Academy en Chicago, IL, y la
Universidad de San Francisco, en San Francisco, CA. Cursos
relacionados con la informática junto con un programa recreativo
variado para niños entre las edades de 8 y 17 años. En Computer-Ed, los
campistas vienen de todas partes del mundo para participar en una
experiencia única en un campamento de verano que mezcla cursos
especializados, de alta tecnología, con actividades recreativas divertidas.
Actividades en diseños en la web, robótica, formación de imágenes en
computadoras, programación de computadoras (Básica, Pascal, C, C++,
Java), producción de vídeos, tenis y fútbol.
Des programmes mixtes sur des campus universitaires dans trois
endroits différents : Lasell College à Newton (MA), Lake Forest
Academy à Chicago (IL) et University of San Francisco à San Francisco
(CA). La découverte de l'informatique alliée à un programme de loisirs
varié pour les enfants âgés de 8 à 17 ans. Computer-Ed, un camp d'été
original, accueille des élèves venus du monde entier désirant apprendre
les technologies de pointe, tout en participant à des activités récréatives
amusantes ! Les activités comprennent la conception de sites Web, la
robotique, l'imagerie informatique, la programmation (Basic, Pascal, C,
C++, Java), la production vidéo, le tennis et le football.
C
OMPUTER
-E
DUCATION
H
IGH
-T
ECH
C
AMP
Steve Donovan, Camp Director
Trade Center Park
100 Sylvan Road, Suite G500
Woburn, MA 01801
Phone: 888-226-6733 Fax: 781-938-0741
E-mail: camp@computered.com
18 km from Logan International Airport and 15 km from Boston ·
A 18 km del aeropuerto internacional de Logan y a 15 km de Boston ·
A 18 km de l'aéroport international Logan et à 15 km de Boston
Logan International Airport
June 20­August 13 · 20 de junio­13 de agosto · 20 juin­13 août
Varies · Varía · Variable
Varies, 20% · Varía, 20% · Variable, 20%
Varies · Varía · Variable
$1200-$1185, $25-$30, $40
University of San Francisco
Suburban · Suburbano · En banlieue
Nondenominational · Sin afiliación religiosa ·
Non confessionnelle
Minimal proficiency necessary · Se requieren conocimientos
mínimos · Aptitude minimale requise
No fee · Gratuito · Gratuit
Dormitories · Residencias estudiantiles · Dortoirs
Rolling · Continuo · Continuelles
Available · Disponibles · Disponibles
Nurse · Enfermero(a) · Infirmier(ère)