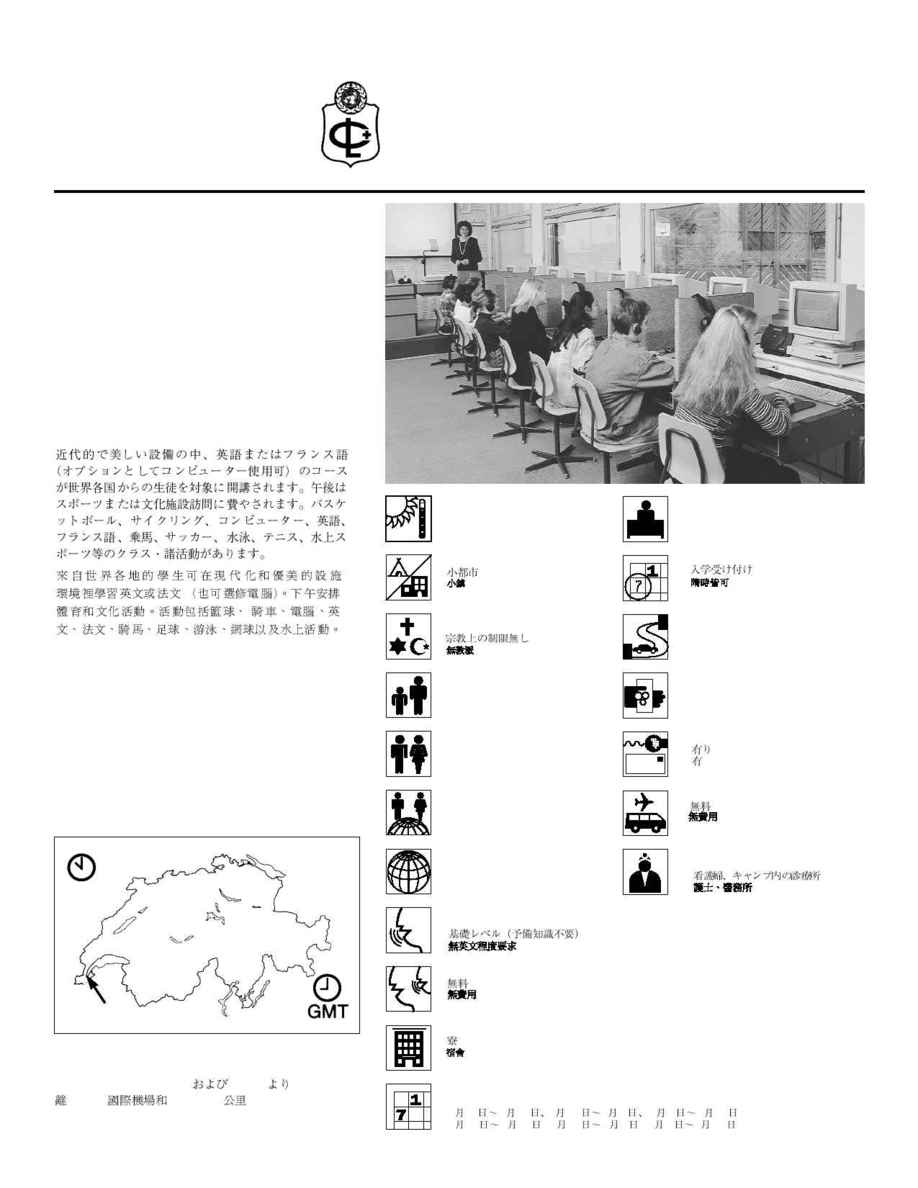 n modern and beautiful facilities, students from all over the
world take courses in English or French (with computers as
an option). The afternoons are devoted to sports activities
and cultural trips. Activities include basketball, bicycling,
computers, English, French, horseback riding, soccer,
swimming, tennis, and water sports.
En modernas y hermosas instalaciones, los estudiantes de todo
el mundo toman cursos en inglés o francés (con o sin
computadoras). Las tardes están dedicadas a actividades
deportivas y a excursiones culturales. Las actividades incluyen
baloncesto, ciclismo, computación, equitación, fútbol,
natación, tenis y deportes acuáticos.
Dans un cadre moderne agréable, les étudiants du monde entier
suivent des cours d'anglais ou de français ( l'informatique est une
option ). L'après-midi est consacré aux activités sportives et aux
excursions culturelles. Parmi les activités on compte le basket-
ball, le cyclisme, l'informatique, l'anglais, le français, l'équitation,
le football, la natation, le tennis et des sports nautiques.
C
OLLEGE DU
L
EMAN
CH-1290 Versoix-Genève, Switzerland
10 km from Geneva International Airport and Geneva ·
A 10 km del aeropuerto internacional de Ginebra y de Ginebra ·
A 10 km de l'aéroport international de Genève et de Genève
June 25­July 15, July 16­August 5, August 6­26 · 25 de junio­15de julio, 16 de julio­5 de agosto,
6­26 de agosto · 25 juin­15 juillet, 16 juillet­5 août, 6­26 août
6
Greece, Italy, Japan, Russia, Spain
Crans-Montana, Lake Geneva
S. Fr: 1,200/week
S. Fr: 3,600/session (3 weeks)
Small town · Pueblo pequeño · Petite ville
Nondenominational · Sin afiliación religiosa ·
Non confessionnelle
No proficiency necessary · No se requieren
conocimientos previos · Aucune aptitude requise
No fee · Gratuito · Gratuit
Dormitories · Residencias estudiantiles · Dortoirs
Rolling · Continuo · Continuelles
Available · Disponibles · Disponibles
No fee · Gratuito · Gratuit
Nurse, infirmary · Enfermero(a), enfermería ·
Infirmier(ère), infirmerie
Geneva International Airport