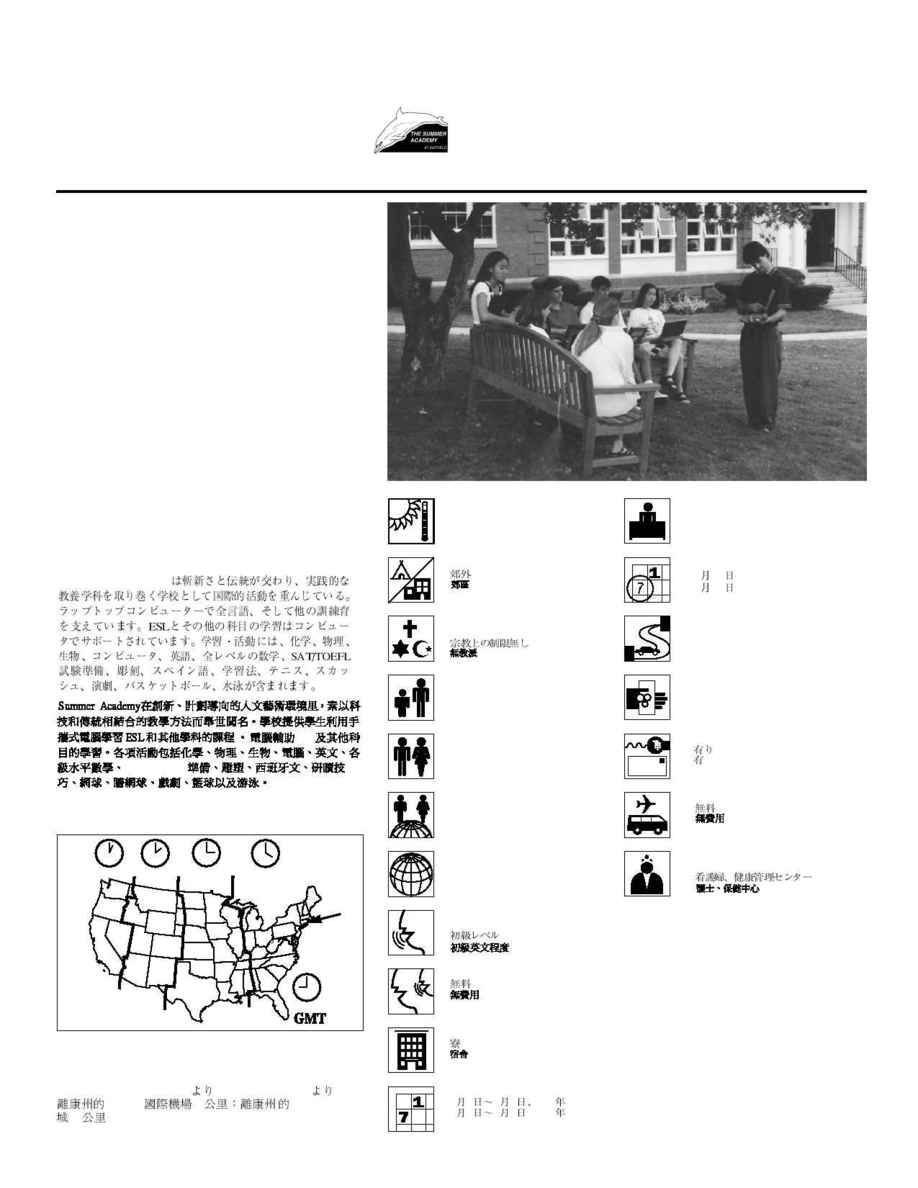 he Summer Academy draws heavily from its
international reputation as a school where technology
and tradition meet in an innovative, project-oriented
liberal arts environment. Computers support ESL and other
disciplinary study. Activities include chemistry, physics,
biology, computers, English, all levels of mathematics,
SAT/TOEFL preparation, sculpture, Spanish, study skills,
tennis, squash, theater, basketball, and swimming.
The Summer Academy goza de gran reputación a nivel
internacional como una institución en la que se conjugan la
tecnología y la tradición en un ambiente innovador de estudios
generales que hace énfasis en la realización de proyectos. Cursos de
inglés como segundo idioma con apoyo de computadoras y
estudios de otras disciplinas. Entre las actividades se cuentan
química, física, biología, informática, inglés, todos los niveles de
matemáticas, preparación para las pruebas SAT (Prueba de aptitud
escolástica) y TOEFEL, escultura, español, técnicas de aprendizaje,
tenis, squash, teatro, baloncesto y natación.
La Summer Academy dépend de sa réputation internationale
en tant qu'école où la technologie et la tradition se
retrouvent dans une atmosphère innovatrice pratique et
d'arts libéraux. Des ordinateurs sont mis à disposition pour
l'enseignement de l'anglais comme langue étrangère et
d'autres matières. Les activités comprennent la chimie, la
physique, la biologie, l'informatique, l'anglais, tous les
niveaux de mathématique, la préparation aux SAT et
TOEFL, la sculpture, l'espagnol, les techniques d'études, le
tennis, le squash, le théâtre, le basket-ball, et la natation.
T
HE
S
UMMER
A
CADEMY AT
S
UFFIELD
Suffield, Connecticut 06078
Phone: 860-668-7315 Fax: 860-668-2966
10 km from Bradley International Airport, CT; 15 km from
Hartford, CT · A 10 km del aeropuerto internacional de Bradley,
CT; a 15 km de Hartford, CT · A 10 km de l'aéroport international
de Bradley, CT ; à 15 km de Hartford, CT
Bradley International Airport
July 1­August 5, 2000 · 1 de julio­5 de agosto, 2000 · 1 juillet­5 août, 2000
7
Bolivia, Brazil, Canada, France, Germany,
Japan, Korea, Switzerland, Taiwan, Turkey
New York, Boston, Newport, beaches,
colleges
Nurse, Health center · Enfermero(a), centro de atención
médica · Infirmier(ère), services médicaux
Suburban · Suburbano · En banlieue
Nondenominational · Sin afiliación religiosa ·
Non confessionnelle
Minimal proficiency necessary · Se requieren
conocimientos mínimos · Aptitude minimale requise
No fee · Gratuito · Gratuit
Dormitories · Residencias estudiantiles · Dortoirs
No fee · Gratuito · Gratuit
Available · Disponibles · Disponibles
June 15 · 15 de junio · 15ème juin