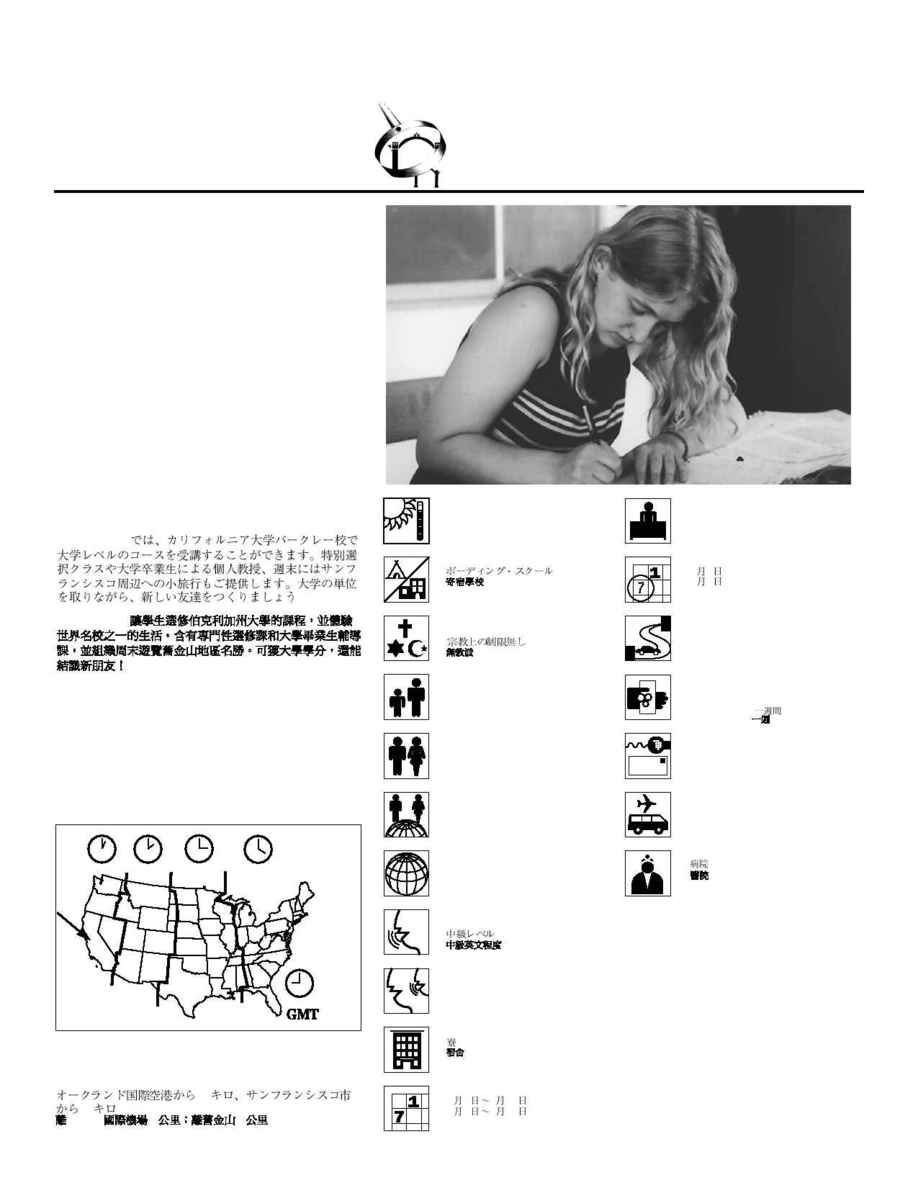 ummer Focus allows students to take college courses
at UC Berkeley and experience one of the world's
great universities. Exclusive elective classes and
tutoring by college graduates, and weekend trips to San
Francisco area attrections are included. Earn college credit
and make new friends!
Summer Focus permite a los estudiantes tomar cursos
universitarios en la UC en Berkeley y experimentar la vida
en una de las mejores universidades del mundo. Se
incluyen clases exclusivas optativas y clases particulares
impartidas por graduados universitarios, así como
excursiones de fin de semana a las atracciones del área de
San Francisco. ¡Acumule créditos universitarios y cultive
nuevas amistades!
Summer Focus permet aux étudiants d'assister à des cours
universitaires à UC Berkeley et de découvrir la vie dans
l'une des plus grandes universités du monde. Sont
également compris des cours facultatifs de grande qualité et
des cours particuliers par des diplômés de l'université, ainsi
que des excursions le week-end vers les attractions de la
région de San Francisco. Obtenez des unités de valeur
universitaire et faites-vous de nouveaux amis !
B
ERKELEY
S
UMMER
F
OCUS
S
UMMER
P
ROGRAM
Matt Fraser, Executive Director
1678 Shattuck Avenue, Suite 305
Berkeley, California 94709
Phone: 510-548-6612 Fax: 510-548-0212
E-mail: camps@educationunlimited.com
URL: http://www.educationunlimited.com
Boarding school · Internado · Internat
Nondenominational · Sin afiliación religiosa ·
Non confessionnelle
June 1 · 1 de junio · 1er juin
6
San Francisco, Pacific Ocean beaches,
baseball games
$3590, $50­$100 a week ·
$3590, $50­$100 a la semana ·
$3590, $50­$100 par semaine ·
$3590, $50­$100
Hong Kong, Japan, Korea, Singapore, Taiwan
Moderate proficiency necessary · Se requieren conocimientos
moderados · Aptitude modérée requise
Dormitories · Residencias estudiantiles · Dortoirs
July 5­August 14 · 5 de julio­14 de agosto · 5 juillet­14 août
7
Hospital · hospital · Hôpital
24 km from Oakland International Airport; 24 km from
San Francisco · A 24 kilómetros del Aeropuerto Internacional de
Oakland; a 24 kilómetros de San Francisco · À 24 km de l'aéroport
international de Oakland ; à 24 km de San Francisco