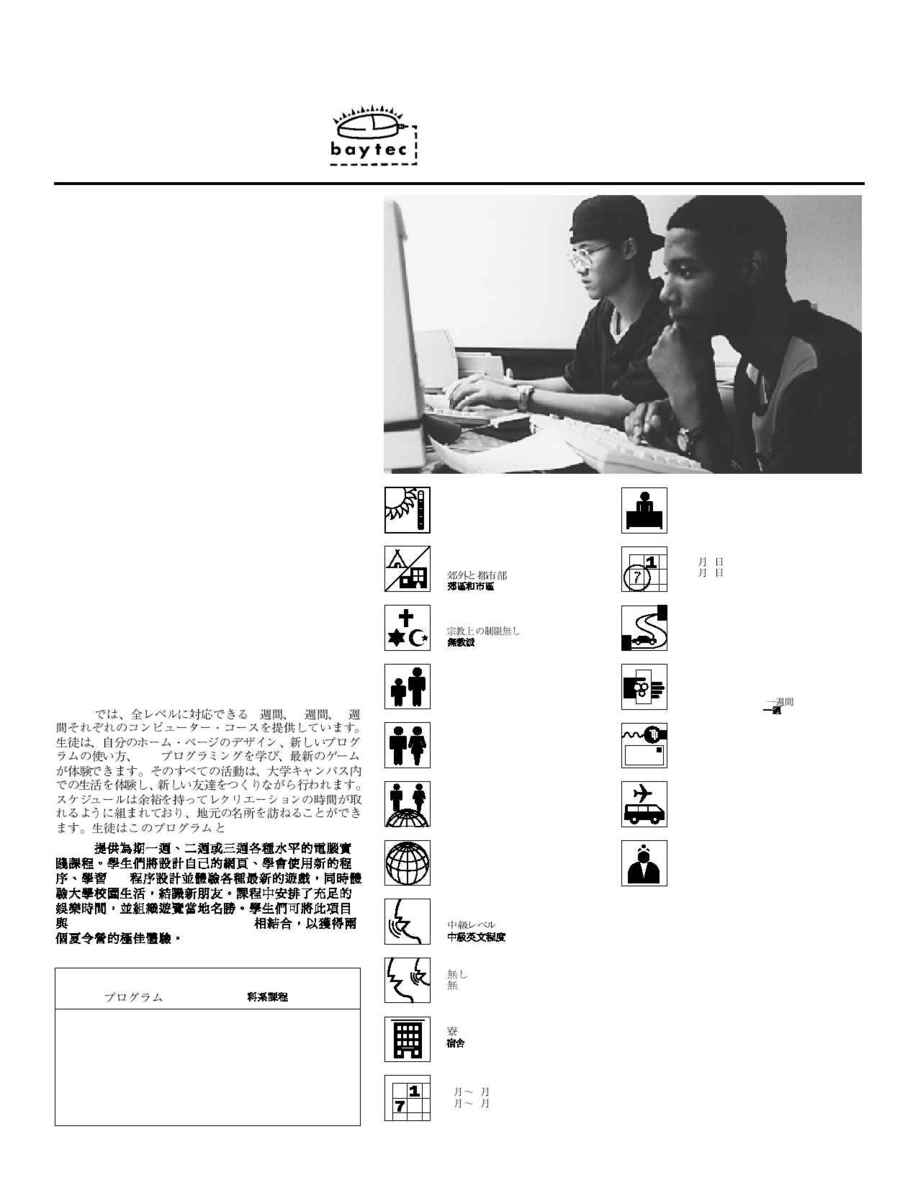 aytec offers one-, two-, or three-week sessions for
all levels of computer experience. Students will
design their own web pages, learn to use new
programs, study C++ programming, and experience the
newest games, all while experiencing a college campus
and making new friends. Plenty of time for recreation is
built into the schedule, and trips are offered to local
attractions. Students can combine this program with the
Jefferson Public Speaking Institute for two great camp
experiences.
Baytec ofrece sesiones de una, dos o tres semanas para
todos los niveles de experiencia en computación. Los
estudiantes diseñarán sus propias páginas en la web,
aprenderán a usar nuevos programas, estudiarán
programación C++ y practicarán los juegos más nuevos,
todo esto mientras se experimenta la vida en una
universidad y se cultivan nuevas amistades. El programa
permite tiempo suficiente para actividades recreativas y se
ofrecen excursiones a las atracciones locales. Los
estudiantes pueden combinar este programa con el
Jefferson Public Speaking Institute (Instituto Jefferson de
Oratoria) para aprovechar dos estupendas experiencias de
campamentos de verano.
Baytec offre des cours se déroulant sur une, deux ou trois
semaines pour tous les niveaux d'informatique. Les
étudiants créeront leur propres pages web, apprendront
l'utilisation de nouveaux programmes, étudieront la
programmation C++ et découvriront les tout derniers jeux,
tout en participant à la vie sur un campus universitaire et
en se faisant de nouveaux amis. Le programme prévoit de
nombreux moments de détente et des excursions sont
offertes vers les attractions locales. Les étudiants peuvent
combiner ces cours avec ceux de Jefferson Public
Speaking Institute pour bénéficier de deux excellents
programmes.
Jefferson Public Speaking
T
HE
B
AYTEC
C
OMPUTER
C
AMP
Matthew Fraser, Executive Director
1678 Shattuck Avenue, Suite 305
Berkeley, California 94709
Phone: 510-548-6612 Fax: 510-548-0212
E-mail: camps@educationunlimited.com
URL: http://www.educationunlimited.com
Jefferson Public Speaking Institute
June­August · Junio­Agosto · Juin­Août
6
Canada, Hong Kong, Japan,
Latin America, Taiwan
San Francisco, amusement parks,
Shakespeare Festival, Los Angeles, San Diego
$845, $0, $75­$100 a week ·
$845, $0, $75­$100 a la semana ·
$845, $0, $75­$100 par semaine ·
$845, $0, $75­$100
Suburban and Urban · Suburbano y
Urbano · En banlieue et Ville
Nondenominational · Sin afiliación religiosa ·
Non confessionnelle
Moderate proficiency necessary · Se requieren
conocimientos moderados · Aptitude modérée requise
Not available · No disponibles · Pas disponibles
Dormitories · Residencias estudiantiles · Dortoirs
June 1 · 1 de junio · 1er juin
Program · Programa · Programme