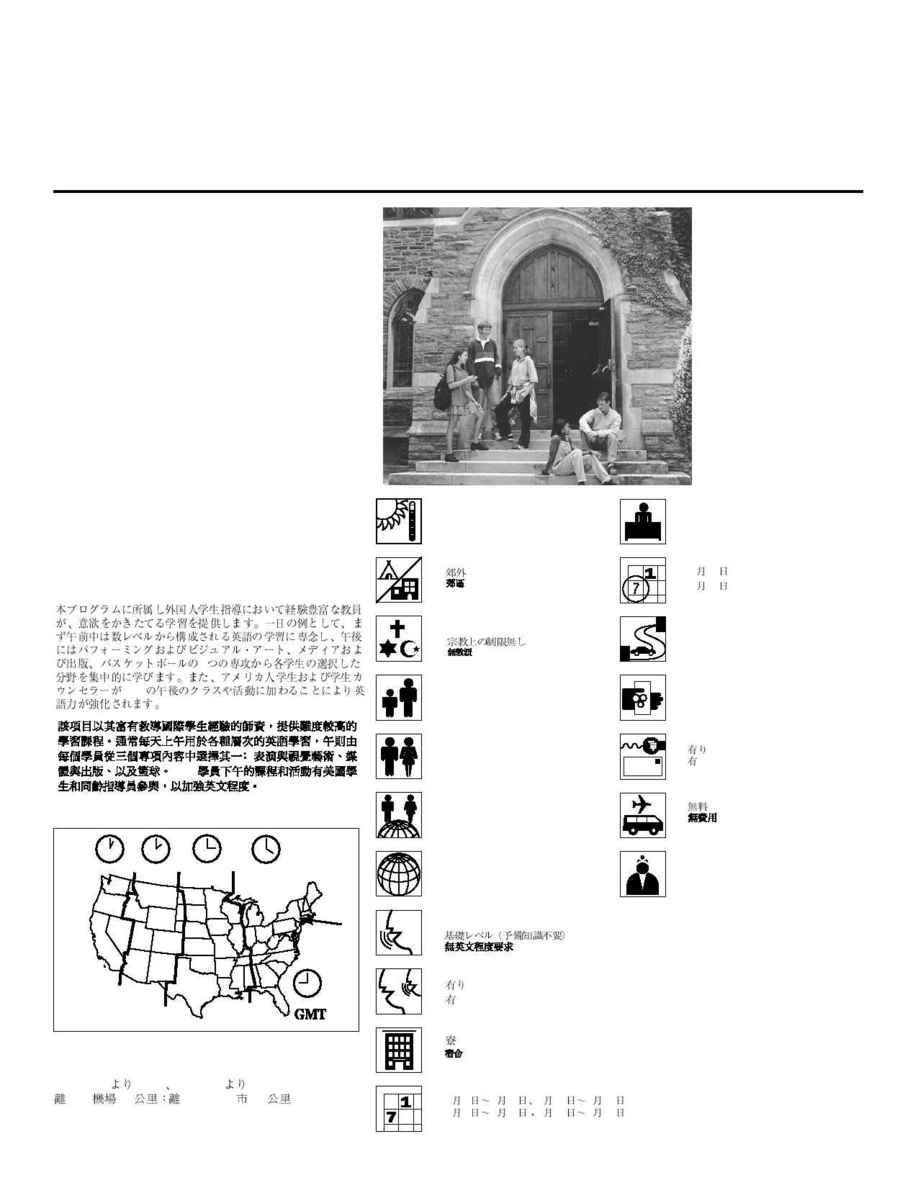 he program offers challenging study with faculty members
who are experienced teaching international students. On a
typical day, mornings are devoted to studying English at
several levels. In the afternoon, each student chooses an area of
concentration among three specialties: performing and visual arts,
media and publication, and basketball. English is reinforced by
American students and peer counselors who join ESL students in
afternoon classes and activities, including weekend trips.
El programa ofrece estudios estimulantes con un cuerpo de
profesores que tiene experiencia en la enseñanza a estudiantes
extranjeros. En un día normal, las mañanas se dedican a
estudiar inglés en varios niveles. Por las tardes, cada estudiante
selecciona un área de concentración entre tres especialidades:
artes escénicas y visuales, medios de comunicación social y
publicaciones, y baloncesto. El estudio del inglés está reforzado
por estudiantes norteamericanos y otros compañeros que actúan
como consejeros y acompañan a los estudiantes de inglés como
segundo idioma a sus clases y en sus actividades vespertinas.
Le programme offre une formation stimulante dispensée par des
professeurs habitués à travailler avec des étudiants
internationaux. Une journée typique est composée de la façon
suivante : le matin est consacré à l'enseignement de l'anglais à
tous les niveaux ;l'après-midi, chaque étudiant choisit un
domaine à travailler parmi trois spécialités : les arts plastiques
et du spectacle, les médias et les organes d'information, et le
basket-ball. L'anglais est renforcé grâce aux étudiants
américains et aux conseillers qui se joignent aux étudiants du
programme ESL durant les cours et les activités de l'après-
midi., activités de l'après-midi, y compris pendant les
excursions du week-end.
T
HE
M
ASTERS
S
CHOOL
Anne Sylvester, Director of Summer Sessions
Dobbs Ferry, New York 10522
Phone: 914-693-1400 Fax: 914-693-1230
56 km from JFK Airport; 32 km from New York ·
A 56 km del aeropuerto JFK; a 32 km de Nueva York. ·
A 56 km de l'aéroport JFK ; à 32 km de New York
JFK Airport
Suburban · Suburbano · En banlieue
Nondenominational · Sin afiliación religiosa ·
Non confessionnelle
June 15 · Junio 15 · 15 juin
6
Available · Disponibles · Disponibles
Germany, Japan, Korea, Taiwan, Venezuela
No proficiency necessary · No se requieren
conocimientos previos· Aucune aptitude requise
Available · Disponibles · Disponibles
Dormitories · Residencias estudiantiles · Dortoirs
July 9­July 28, July 30­August 18 · 9 de julio­28 de julio, 30 de julio­18 de agosto · 9 juillet­28 juillet, 30 juillet­18 août
No fee · Gratuito · Gratuit