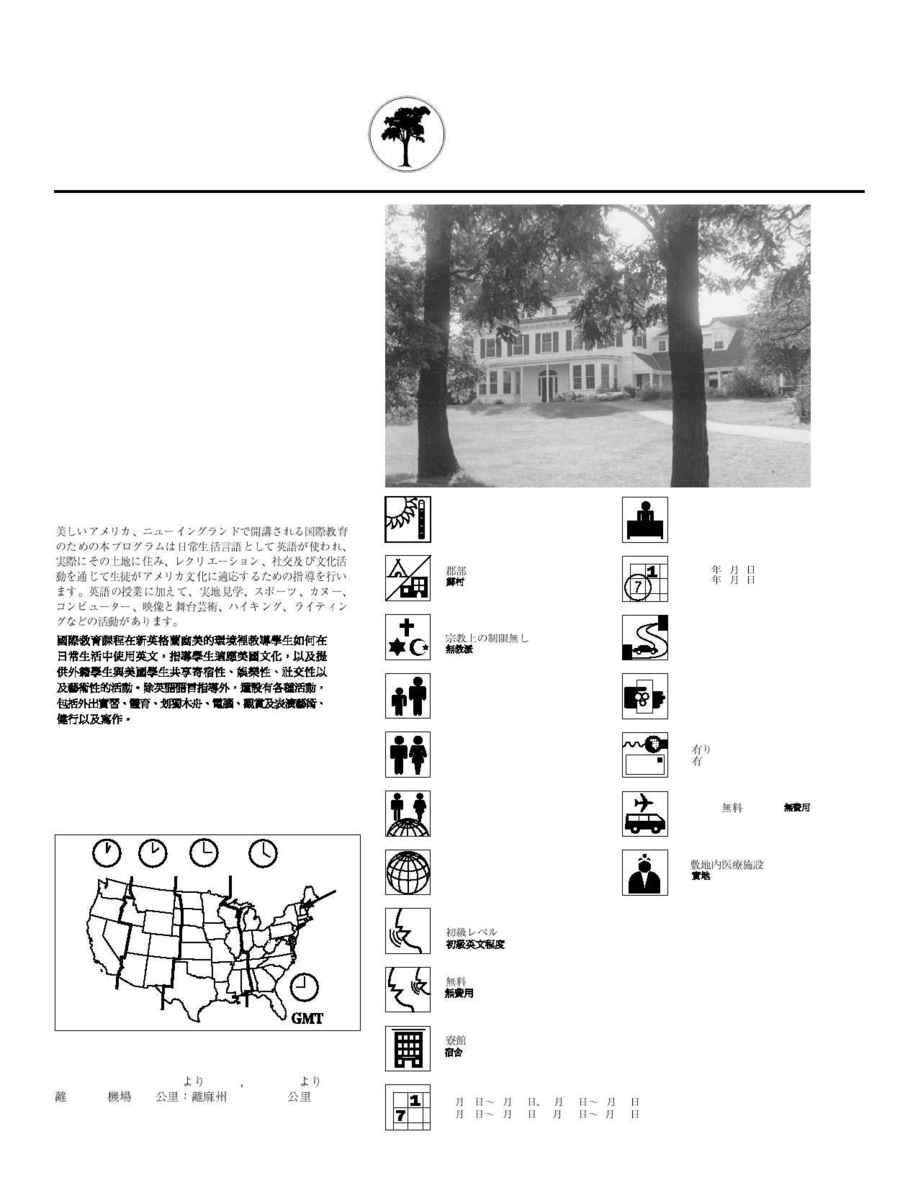 he Program for International Education instructs students
in using English as a living language, guides them in
acculturation to the United States and offers them
residential, recreational, social, and artistic activities with
students from the United States in a beautiful New England
setting. In addition to English language instruction, activities
include field trips, sports, canoeing, computers, visual and
performing arts, hiking, and writing.
El Program for International Education instruye a los
estudiantes en el uso del inglés como idioma vivo, los ayuda a
adaptarse a la vida en los EE.UU. y les ofrece una serie de
actividades residenciales, recreativas, sociales y artísticas en
un hermoso lugar en Nueva Inglaterra. Además de las clases
de inglés, las actividades incluyen excursiones de estudio,
deportes, canotaje, computación, artes visuales y escénicas,
excursionismo y redacción.
Le Program for International Education instruit les étudiants sur
l'usage de l'anglais comme langue vivante, les guide dans leur
adaptation à la culture américaine et leur offre des activités
résidentielles, récréatives, sociales et artistiques avec des étudiants
américains dans une magnifique ambiance de Nouvelle
Angleterre. En plus des cours d'anglais, d'autres activités vous sont
proposées: sorties, sports, canoë, informatique, arts visuelles, arts
du spectacle, randonnée et composition.
T
HE
P
UTNEY
S
CHOOL
S
UMMER
P
ROGRAMS
P
ROGRAM FOR
I
NTERNATIONAL
E
DUCATION
Brian D. Cohen, Director
The Putney School, Putney, Vermont 05346
Phone: 802-387-6297 Fax: 802-387-6216
E-mail: summer@pegasus.putney.com
URL: http://www.putney.com
150 km from Bradley International Airport ; 160 km from Boston, MA ·
A 150 km del aeropuerto internacional de Bradley; a 160 km de Boston, MA ·
A 150 km de l'aéroport international Bradley ; à 160 km de Boston, MA
July 2­22, July 27­August 13 · 2­22 de julio, 27 de julio­13 de agosto · 2­22 juillet, 27 juillet­13 août
France, Japan, Mexico, Russia
No fee · Gratuito · Gratuit
New York City, Boston, Northampton,
Massachusetts, Burlington, Vermont
Nondenominational · Sin afiliación religiosa ·
Non confessionnelle
Minimal proficiency necessary · Se requieren
conocimientos mínimos · Aptitude minimale requise
June 1, 1998 · 1 de junio, 1998 · 1er juin 1998
Available · Disponibles · Disponibles
Hartford: No fee · Hartford: Gratuito · Hartford: Gratuit
Hartford
On-site · En las instalaciones · Sur place
Dormitories · Residencias estudiantiles · Dortoirs
Bradley International Airport