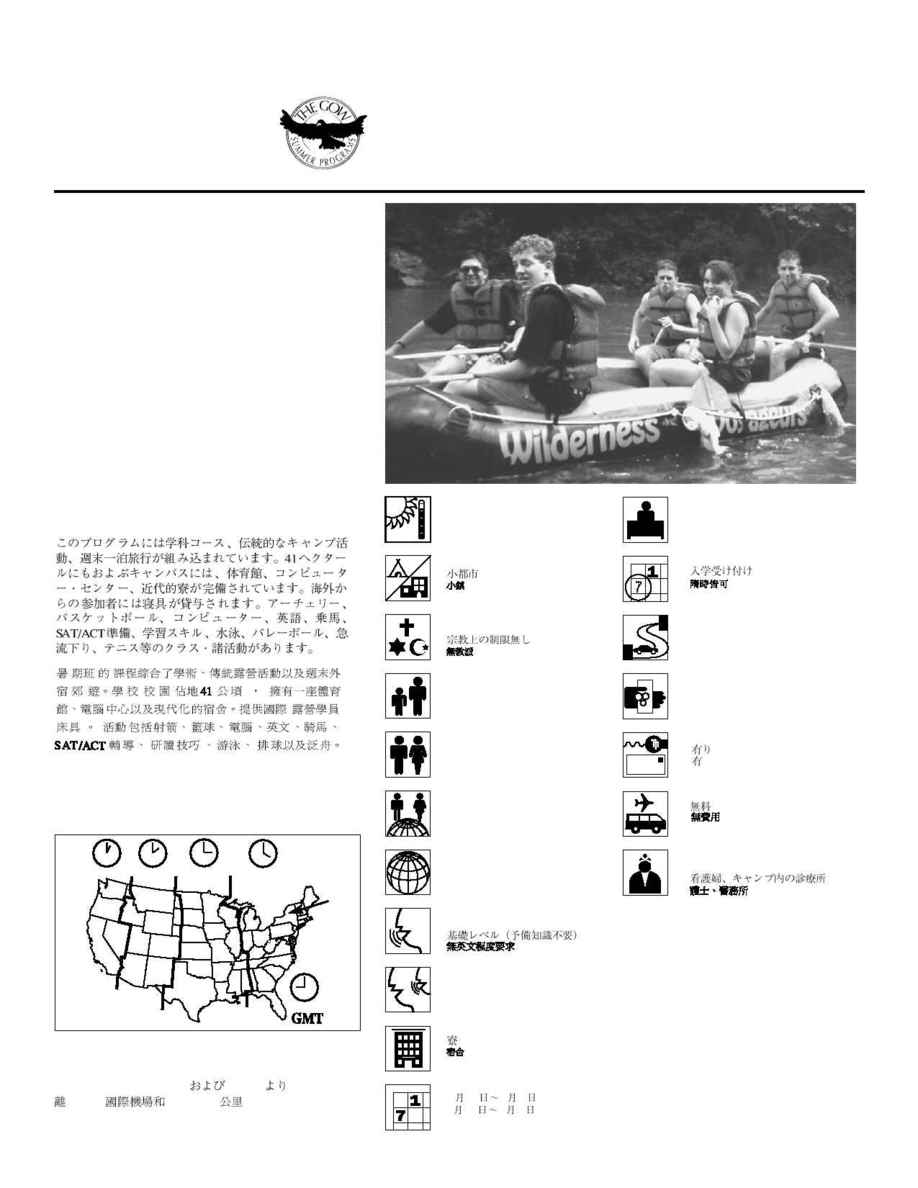 he program combines academics, traditional camp
activities, and weekend overnight trips. The 100-acre
campus features a gym, computer center, and
modern dormitories. Bedding is supplied for international
campers. Activities include archery, basketball, computers,
English, horseback riding, SAT/ACT preparation, study skills,
swimming, volleyball, and white-water rafting.
El programa combina la enseñanza académica, las
actividades tradicionales de campamento y excursiones de fin
de semana con albergue. El terreno de 41 hectáreas ofrece un
gimnasio, un centro de computación y residencias estudiantiles
modernas. Para acampantes extranjeros se ofrece ropa de cama.
Las actividades incluyen, tiro al arco, baloncesto, computación,
inglés, equitación, preparación para los exámenes SAT/ACT,
técnicas de estudio, natación, volibol y navegación por balsa en
aguas rápidas.
Le programme combine les cours académiques, les acti-vités
de camping classiques et des excursions de plus d'un jour
pendant le week-end. Le campus de 41 hectares
dispose d'un gymnase, d'un centre de informatique et de
dortoirs modernes. La literie est fournie pour les participants
internationaux. Parmi les activités on compte le tir à l'arc, le
basket-ball, l'informatique, l'anglais, le golf, l'équitation, la
préparation pour les examens SAT/ACT, la natation, le volley-
ball et la descente en eaux vives.
T
HE
G
OW
S
UMMER
P
ROGRAMS
South Wales, New York 14139
Phone: 716-652-3450 or 716-655-2900 Fax: 716-652-3457
50 km from Buffalo International Airport and Buffalo ·
A 50 km del aeropuerto internacional de Buffalo y de Buffalo ·
A 50 km de l'aéroport international de Buffalo et de Buffalo
June 27­August 5 · 27 de junio­5 de agosto · 27 juin­5 août
6
Japan, Mexico, Canada, Middle East
Small town · Pueblo pequeño · Petite ville
Nondenominational · Sin afiliación religiosa ·
Non confessionnelle
No proficiency necessary · No se requieren
conocimientos previos · Aucune aptitude requise
Dormitories · Residencias estudiantiles · Dortoirs
Rolling · Continuo · Continuelles
Available · Disponibles · Disponibles
No fee · Gratuito · Gratuit
Nurse, infirmary · Enfermero(a), enfermería ·
Infirmier(ère), infirmerie
Buffalo International Airport