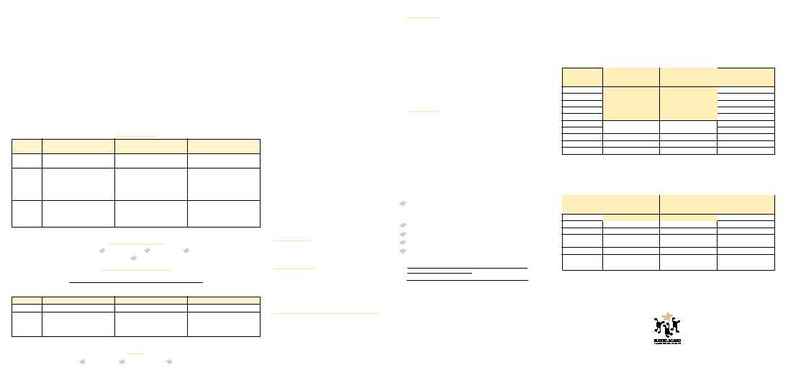 Early Childhood
Junior Sibling Program
Standard Suzuki Program
From 6 years
Young Beginners Program
3 ­ 5 years
Advanced Program
All Ages
Optional private lessons with leading guest tutors
For interested teachers and others who wish to visit Suzuki classes
and observe the philosophy and methodology in action. The first day
will include a special introductory session (Teacher Professional Devel-
opment sessions are not open to observers).
Please see the additional information regarding Professional Development
enclosed with teacher information packs.
Sibling Program
When
All Students
Wednesday 14 April - Saturday 17 April
Please see the timetable for more details of classes and times
Professional Development for Teachers
Tuesday 13 ­ Wednesday 14 April
plus daily sessions Thursday - Saturday
Where
Scotch College
Morrison Street, Hawthorn Melways p. 59 C1
Orff/African/Other (based on age)
2 other enrichment classes (content
to be finalised once enrolments are
known)
Suzuki Early Childhood
Enrichment
PLUS
Participate in or watch
Opening Play-Ins/Activities Opening Concert Daily Concerts Showcase Concert
Gala Play-Outs/Activities 9 Parent Education sessions
Opening Concert Daily Concerts Showcase Concert 9 Parent Education sessions
Suzuki Voice Babies Program
Suzuki Voice students aged 0 ­ 2 years will have one class per day.
Programs for Non-Suzuki Students/Siblings
AUTUMN FESTIVAL 2004
A limited number of private lessons with guest tutors will be available
for students and teachers. Lessons must be arranged prior to the Fes-
tival and will be allocated in order of receipt. Please indicate your
choice of teacher on your registration form. Cost per half hour lesson
­ $48 for Australian tutors, $72 for International tutors (who need to
be paid in US$, hence the greater cost).
Tutorials
Refining technical skills and developing sensitivity in small instrument-
specific groups. For all Suzuki students.
Repertoire
Building confidence, stamina and facility through the revision of
Suzuki repertoire in larger groups. For all Suzuki students.
Suzuki Early Childhood
Pre-instrumental classes in the Suzuki tradition for young students.
Enrichment
A holistic music experience that integrates and strengthens musical
ability with a range of activities in rhythm, voice, percussion, move-
ment and creative self-expression.
Students with good reading skills may choose a reading-based activ-
ity (where offered for their instrument/book level) or a more general
class.
2004 Enrichment activities will include Music and Movement, Japan-
ese Drumming and African Dance.
Class Descriptions
Concerts
Opening Concert
4.00pm, Wednesday 14 April
Following registration and group Play-Ins/activities, members of the
Autumn Festival faculty and specially selected Suzuki students will
present a concert for all Festival Participants.
Daily Concerts
1.15pm, Thursday 15, Friday 16 and
Saturday 17 April (during lunchtime).
All students attending the Festival and learning from an Accredited
Suzuki Teacher (or an Approved Trainee) are elligible to play in the
Daily Concerts without completing an audition. Entry for these daily
concerts is via a special Daily Concert Application Form that will be
sent to teachers. If you have a very polished piece ready to perform,
ask your teacher to enrol you. Application forms will only be accept-
ed from teachers on behalf of students, not directly from students or
families. Applications to play in Daily Concerts close on Friday 5
March (Standard Closing Date). Please note that although Daily con-
certs are not auditioned there are a limited number of performance
places which will be filled in order of receipt of Festival Application
forms. Once a student is entered no change of piece is possible.
Gala Play-ins
On the final day of the Festival, Gala Play-Ins will be held for strings,
flute, voice and guitar. The performance will feature the repertoire
studied during the week. A list of pieces will be provided with your
confirmation pack. Piano students will have a special activity sessions
at this time.
Showcase Concert
7.00pm, Friday 16 April
Selected students from the Advanced Program will perform in an
early evening recital at the Auditorium at Methodist Ladies College
in Kew All registered participants are eligible to order tickets
(included in registration fee). Additional tickets may also be pur-
chased depending on availability. A ticket order form will be includ-
ed with your confirmation pack in late March.
Showcase and Opening Concert Participation
Performers for the Showcase Concert (Advanced Program students
only) and Opening Concert (students at all levels) will be selected
by audition. Audition applications will only be accepted directly
from teachers on the relevant forms. No applications will be
accepted directly from students or families. The selected piece must
be of an exceptional standard at the time of entry. Auditions will
be held Sunday 29 February 2004 at Scotch College Hawthorn.
Closing date for both Opening and Showcase Concert Auditions is
Wednesday 11 February.
Mrs Hiroko Suzuki ­ Violin (Japan)
Mr Frank Longay ­ Guitar (USA)
Ms Rita Hauck ­ Piano (USA)
Dr Tanya Carey ­ Cello (USA)
Ms Monica Christian ­ Piano (SA)
Ms Janne Frost ­ Flute (NSW)
Mr Haruo Goto ­ Violin (NSW)
Ms Elizabeth Koch ­ Flute (SA)
Mr Yasuki Nakamura ­ Violin (NSW)
Guest Tutors
* Tutor list correct at time of going to print.
Additional tutors will be announced in
the February edition of Suzuki Notes.
Students
Suzuki Programs
Tutorial/Masterclass
Repertoire
Music Literacy
Enrichment Activities
Tutorial
Enrichment
Tutorial
Repertoire
Enrichment OR
Reading Based Activity
Daily
Classes
Violin ­ completed La Folia
Flute, Cello ­ completed Book 5
Viola ­ completed Moto Perpetuo
in Book 5
Piano ­ Suzuki Book 5 or equivalent
Guitar ­ completed Book 4
Violin, Flute, Cello ­ Book 1 ­ 5
Viola Book 1 ­ Moto
Perpetuo in Book 5
Piano, Guitar ­ Book 1 ­ 4
Voice ­ Book 1+
Violin, Viola, Cello, Piano, Flute,
Guitar
Violin, Viola, Cello, Piano, Flute,
Guitar, Voice
Violin, Viola, Cello, Double Bass,
Piano, Flute, Guitar, Voice
Reading Based Activity
Violin, Viola, Flute, Cello, Piano and Guitar students in the Standard
Program, who are playing in Book 3+ with good reading skills, have
the choice of participating in a reading based activity OR a standard
enrichment activity (see description above). Students in a reading
based activity would participate in Violin/Viola Ensemble, Piano Read-
ing Activity, Flute Choir, Cello Choir and Guitar Ensemble. Please talk
to your teacher to see if the reading based activity is suitable for you.
Private Lessons
Professional Development
for Suzuki Teachers
Professional Development will be offered for Violin (two streams),
Piano, Flute, Cello, Guitar and Voice.
Professional Development registration Includes:
12+ hours of Professional Development over five days
(including 3 all instrument sessions)
Observation opportunities
4 hours per day of classes plus private lessons
9 hours of Parent Education
Opening Reception with Wine Tasting
Daily Concerts, Opening Concert, Showcase Concert
Plenty of opportunity for catching up and
exchanging ideas with friends and colleagues.
Observers
Parent Education Program
Experienced Suzuki teachers and parents will present a range of
informative and interactive sessions during the morning sessions from
Thursday ­ Saturday. Whether your child is a Twinkler or a Suzuki
teenager there will be something for you. If you have a particular
topic you would like discussed, please contact the Suzuki office as soon
as possible.
PLUS
attend
Class
Class
8:30
9:00 - 10:00
10:15 - 11:15
11:15 - 11:45
11:45 - 12:45
12:45 - 2:00
2:00 - 3:00
3:00
3:15 - 3:45
4:00 - 5:00
9:15 - 10:15
10:30 - 11:30
12:00 - 1:00
1:00 - 2:30
2:30 - 3:30
3:45 - 4:45
Class
Class
Class
Class
Class
Class
Class
* Please note Young Beginners and Junior Siblings will be allocated to two consecutive classes
out of the possible three.
Thursday 15 ­ Saturday 17 April