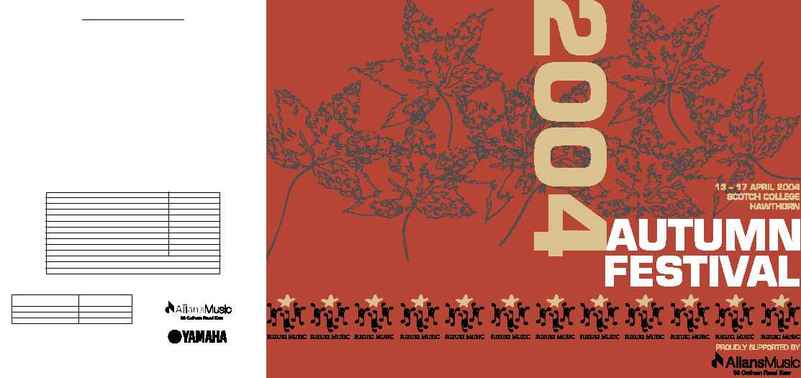 Enrolment
Additional enrolment forms are available from your teacher or the Suzuki Music Office. To participate in the Autumn Festival, you need to be
a financial member of Suzuki Music. Your membership fee may accompany your application.
Multiple Instruments
Students who wish to enrol on two instruments should nominate one as the primary instrument. The second will be accommodated as the
timetable permits. A small fee applies to cover the extra administration involved.
Child Supervision
A parent or carer must be in attendance on campus at the Festival at all times for students aged 10 years and under. One carer may be
responsible for multiple children.
Late Applications
Applications received after 5 March will be required to pay a $44 late fee per family (also applies to teachers) and will only be accepted
subject to availability of places in classes.
Cancellations
Cancellations received by Friday 5 March will be refunded less $65 (to cover administration costs). No refunds will be made after this date.
Meals and Refreshments
Lunch and refreshments will be available at the venue.
Parking
Plentiful free parking will be available on site and in Morrison Street for Festival participants.
Accommodation
Please contact Suzuki Music if you need help with accommodation for the Festival.
Confirmation
An acknowledgement of your application will be sent to you within 7 days of receipt. A full confirmation pack with further details about the
Festival will be sent out at the end of March.
Be sure that all sections of your enrolment form are completed ­ including your teacher's signature. Unsigned form, incomplete
forms and forms received without full payment cannot be processed and will be returned (please note that this might compro-
mise your eligibility for the Earlybird discount).
Fees
A 10% discount will apply to the total cost of the Festival for families enrolling two or more children.
GENERAL INFORMATION
Concert Applications & Audition
Applications
Early Bird enrolment
Last date for withdrawals
170 Southbank Blvd · Southbank · Victoria 3006 · Australia
Ph: (03) 9681 6933 · Fax (03) 9681 6977
Email: events@suzukimusic.org.au
Closing Dates
Suzuki Talent Education Association of Australia (Vic.) Inc.
Standard Suzuki Program
Young Beginners Program
Advanced Program
Early Childhood Program
Voice ­ Baby Program
Sibling Program
Junior Sibling Program
Private Lessons
Late Fee (after 5 March)
Standard
Early Bird Price
$220
$173
$317
$106
$106
$220
$173
$196
$151
$284
$84
$84
$196
$151
$48 (Australian tutor) / $72(International tutor)
PROUDLY SUPPORTED BY: