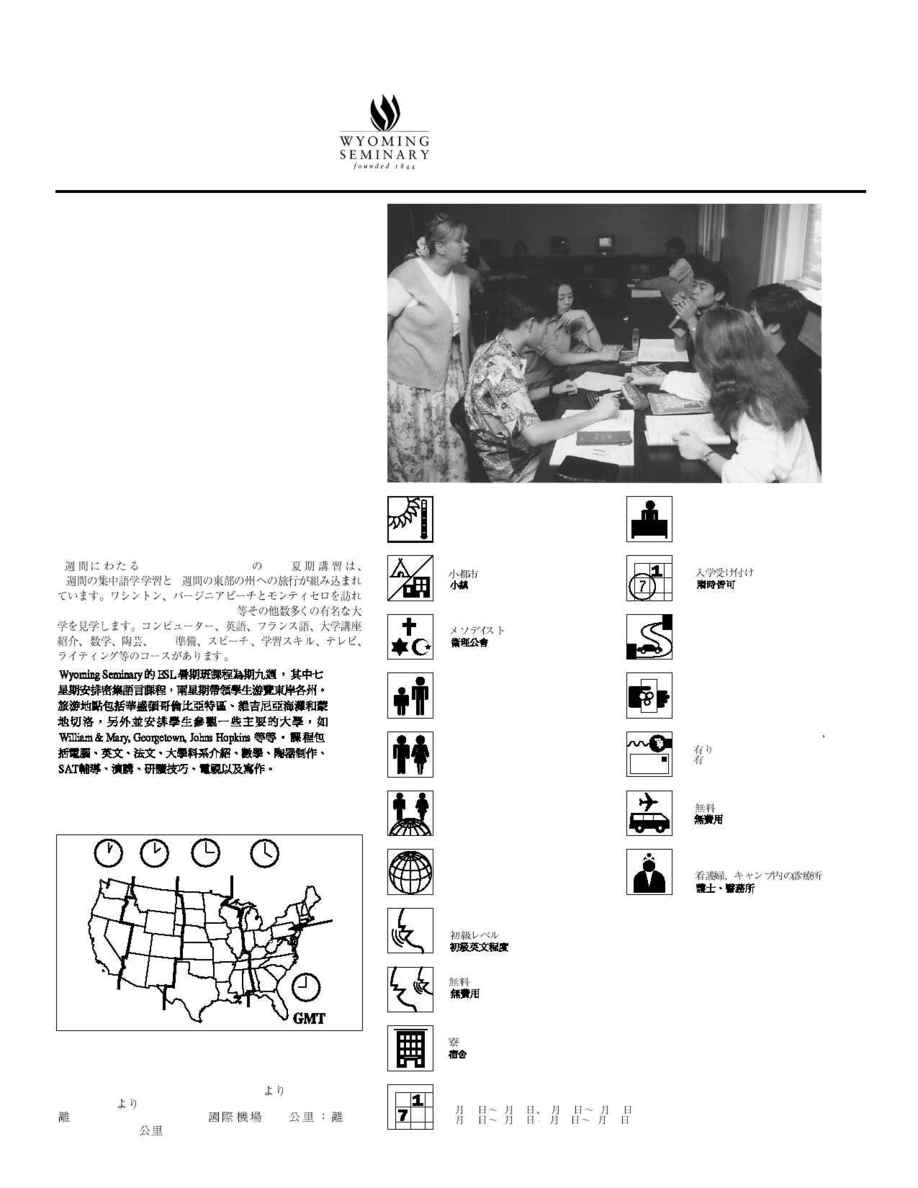 ine weeks of ESL summer at Wyoming Seminary combine 7
weeks of intensive language challenge with 2 weeks of travel
through the Eastern States. The itinerary includes Washington,
D.C.; Virginia Beach; and Monticello and introduces students to
major universities like William & Mary, Georgetown, and Johns
Hopkins, among others. Courses include computers, English,
French, introduction to college programs, mathematics, pottery, SAT
preparation, speech, study skills, television, and writing.
Las nueve semanas de inglés como segundo idioma (ESL) en el
Wyoming Seminary combinan 7 semanas de intenso desafío
lingüístico, con 2 semanas de viajes a lo largo del este de los EE.UU.
El itinerario incluye visitas a Washington, D.C., Virginia Beach y
Monticello y presenta a los estudiantes universidades importantes
como William & Mary, Georgetown y Johns Hopkins entre otras. Los
cursos incluyen computación, inglés, francés, introducción a los
programas universitarios, matemáticas, alfarería, preparación para el
examen SAT, oratoria, técnicas de estudio, televisión y redacción.
Neuf semaines d'anglais langue étrangère (ESL) au Wyoming
Seminary combinent 7 semaines de cours intensifs linguistiques avec 2
semaines de voyages à travers les états de l'Est des Etats-Unis.
L'itinéraire comprend des visites à Washington, D.C., Virginia Beach
et Monticello et introduit les étudiants à des universités importantes
comme William & Mary, Georgetown et Johns Hopkins, parmi
d'autres. Parmi les cours on compte l'informatique, l'anglais, le
français, l'introduction aux programmes universitaires, les
mathématiques, la poterie, la préparation pour l'examen SAT, le
discours, les techniques d'études, la télévision et la composition.
Wy o m i n g S e m i n a r y
William & Mary, Georgetown, Johns Hopkins
S
EM
S
UMMER
2000
W
YOMING
S
EMINARY
Kingston, Pennsylvania 18704
Phone: 570-283-6086 Fax: 570-283-6098
16 km from Wilkes-Barre/Scranton International Airport; 161 km
from Philadelphia · A 16 km del aeropuerto internacional Wilkes-
Barre/ Scranton; a 161 km de Filadelfia · A 16 km de l'aéroport
international Wilkes-Barre/Scranton ; à 161 km de Philadelphie
June 27­July 24, July 25­August 27 · 27 de junio­24 de julio, 25 de julio­27 de agosto ·
27 juin­24 juillet, 25 juillet­27 août
6
Methodist · Metodista · Méthodiste
Japan, Korea, Taiwan, Thailand
Philadelphia, New York City, Baltimore,
Washington, D.C.
Small town · Pueblo pequeño · Petite ville
Minimal proficiency necessary · Se requieren
conocimientos mínimos · Aptitude minimale requise
No fee · Gratuito · Gratuit
Dormitories · Residencias estudiantiles · Dortoirs
Nurse, infirmary · Enfermero(a), enfermería ·
Infirmier(ère), infirmerie
No fee · Gratuito · Gratuit
Available · Disponibles · Disponibles
Rolling · Continuo · Continuelles
Wilkes-Barre/Scranton International Airport