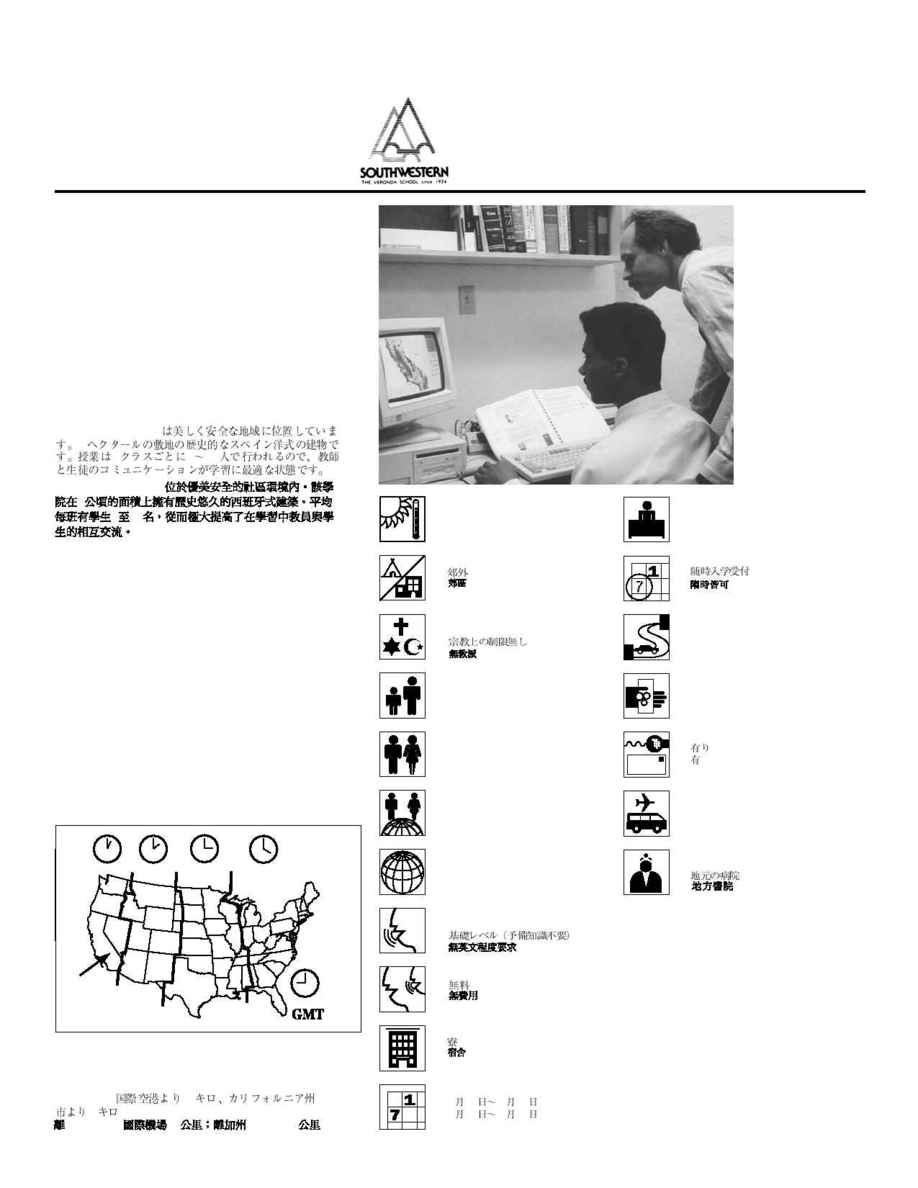 outhwestern Academy is located in a beautiful and
safe neighborhood. It has historical, Spanish-style
buildings on 8 acres. Classes average 8-12 students
per class so that teacher-to-student interaction is
maximized for learning.
Southwestern Academy se encuentra en un vecindario
hermoso y seguro. Cuenta con edificios históricos de estilo
español, situados en 3 hectáreas de terreno. En las aulas
hay un promedio de 8 a 12 estudiantes para maximizar la
interacción académica entre maestros y estudiantes.
Southwestern Academy est située dans un environnement
sûr et agréable. L'établissement est composé de bâtiments
historiques de style espagnol répartis sur 3 hectares. Les
classes regroupant en moyenne entre 8 et 12 étudiants
permettent une excellente interaction professeurs-étudiants
pour apprendre dans des conditions optimales.
S
OUTHWESTERN
A
CADEMY
S
OUTHWESTERN
I
NTERNATIONAL
S
UMMER
S
CHOOL
Lynn Yekiazarian, Director of Admission
2800 Monterey Road
San Marino, California 91108
Phone: 626-799-5010 Fax: 626-799-0407
E-mail: admissions@southwesternacademy.edu
URL: http://www.southwesternacademy.edu
48 km from Los Angeles International Airport; 3 km from
Pasadena, CA · A 48 km del Aeropuerto Internacional de Los
Angeles; a 3 km de Pasadena, CA · À 48 km de l'aéroport
international de Los Angeles; à 3 km de Pasadena, CA
Los Angeles
Dormitories · Residencia estudiantiles · Dortoirs
June 14-September 17 · 14 de junio-17 de septiembre · Du 14 juin au 17 septembre
Suburban · Suburbano · En banlieue
Nondenominational · Sin afiliación religiosa ·
Non confessionnelle
Rolling · Continuo · Continuelles
Disneyland, Knotts Berry Farm, Magic
Mountain, La Brea Tar Pits, the beach
$4000 - $11,000, $500 - $1000, $500
China, Japan, Russia, Saudi Arabia, Taiwan
No proficiency necessary · No se requieren
conocimientos previos · Aucune aptitude requise
No fee · Gratuito · Gratuit
Available · Disponibles · Disponibles
Local hospital · Hospital de la localidad ·
Hôpital local