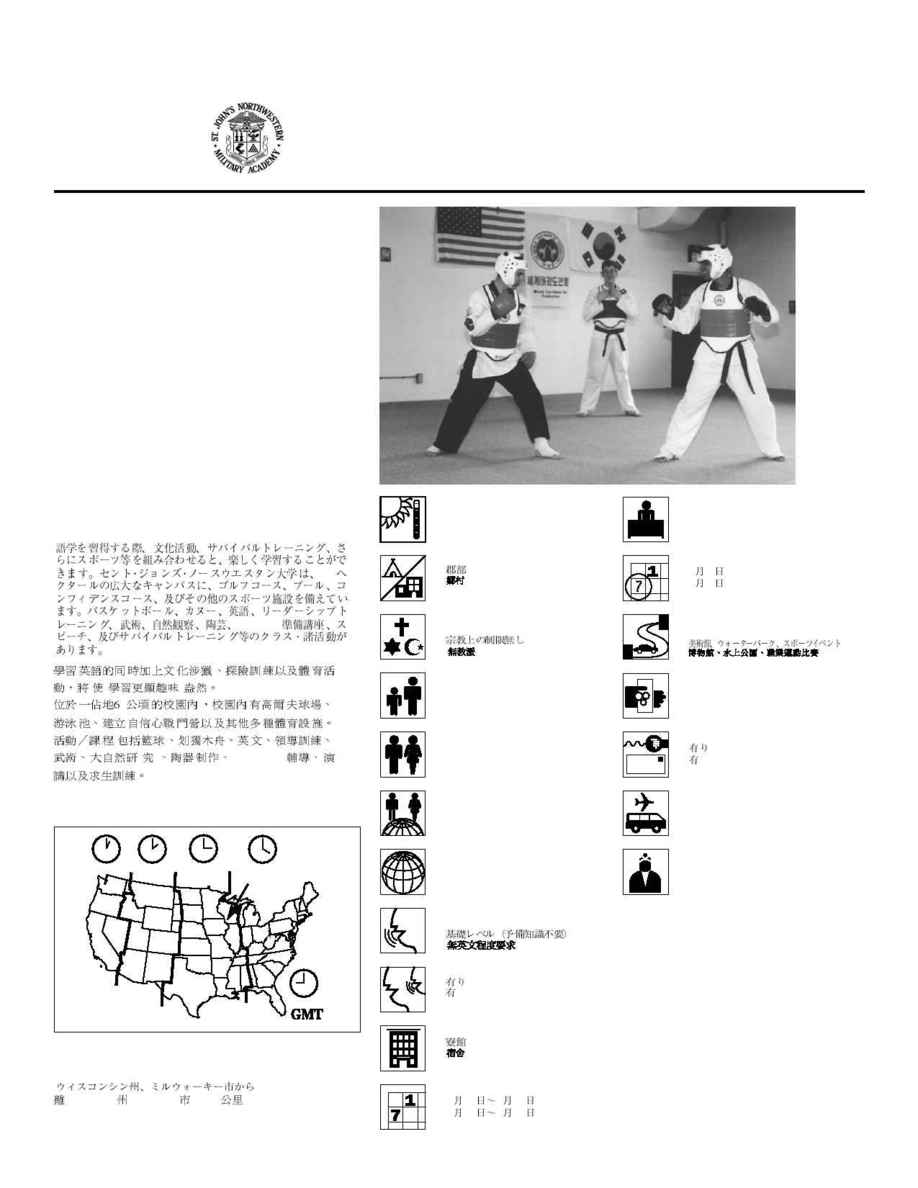 earning English is fun when combining cultural outings,
adventure training, and sports. St. John's Northwestern
is located on a 150-acre campus, which includes a golf
course, swimming pool, confidence course, and many other
sports facilities. Activities include basketball, canoeing,
English, leadership training, martial arts, nature study, pottery,
SAT/ACT preparation, speech, and survival training.
Aprender inglés es divertido cuando se combina con visitas
culturales, entrenamiento de supervivencia y deportes.
St. John's Northwestern se encuentra ubicado en un campus de
61 hectáreas de extensión, el cual incluye un campo de golf,
piscina, pista con obstáculos y muchas otras instalaciones
deportivas. Las actividades incluyen baloncesto, canotaje,
inglés, entrenamiento de liderazgo, artes marciales, estudios de
la naturaleza, alfarería, preparación para los exámenes
SAT/ACT, oratoria, y entrenamiento de supervivencia.
Il est agréable d'apprendre l'anglais lorsqu'on marie sorties
culturelles, formation par l'aventure et sports. St. John's
Northwestern est situé sur un campus de 61 hectares
comprenant un terrain de golf, une piscine, un parcours de
développement de confiance en soi et beaucoup d'autres
installations sportives. Les activités comprennent : anglais, arts
martiaux, basket-ball, canoë-kayak, étude de la nature, exposé
oral, formation de survie, formation en leadership, poterie et
préparation pour les examens SAT/ACT.
S
T
. J
OHN
'
S
N
ORTHWESTERN
ESL C
AMP
E-mail: admissions@sjnma.org
URL: http://www.sjnma.org
40.25 km from Milwaukee, Wisconsin ·
A 40,25 km de Milwaukee, Wisconsin ·
A 40,25 km de Milwaukee, Wisconsin
Dormitories · Residencias estudiantiles · Dortoirs
August 11­August 24 · 11 de agosto­24 de agosto · 11 août­24 août
8
Dir. of Enrollment Services
Delafield, Wisconsin 53018
Nondenominational · Sin afiliación religiosa ·
Non confessionnelle
Available · Disponibles · Disponible
No proficiency necessary · No se requieren
conocimientos previos · Aucune aptitude requise
Museums, water parks, professional sporting events · Museos,
parques acuáticos, eventos deportivos profesionales · Musées,
parcs d'attractions aquatique, épreuves sportives professionnelles
Available · Disponibles · Disponibles
August 1 · 1 de agosto · 1er août