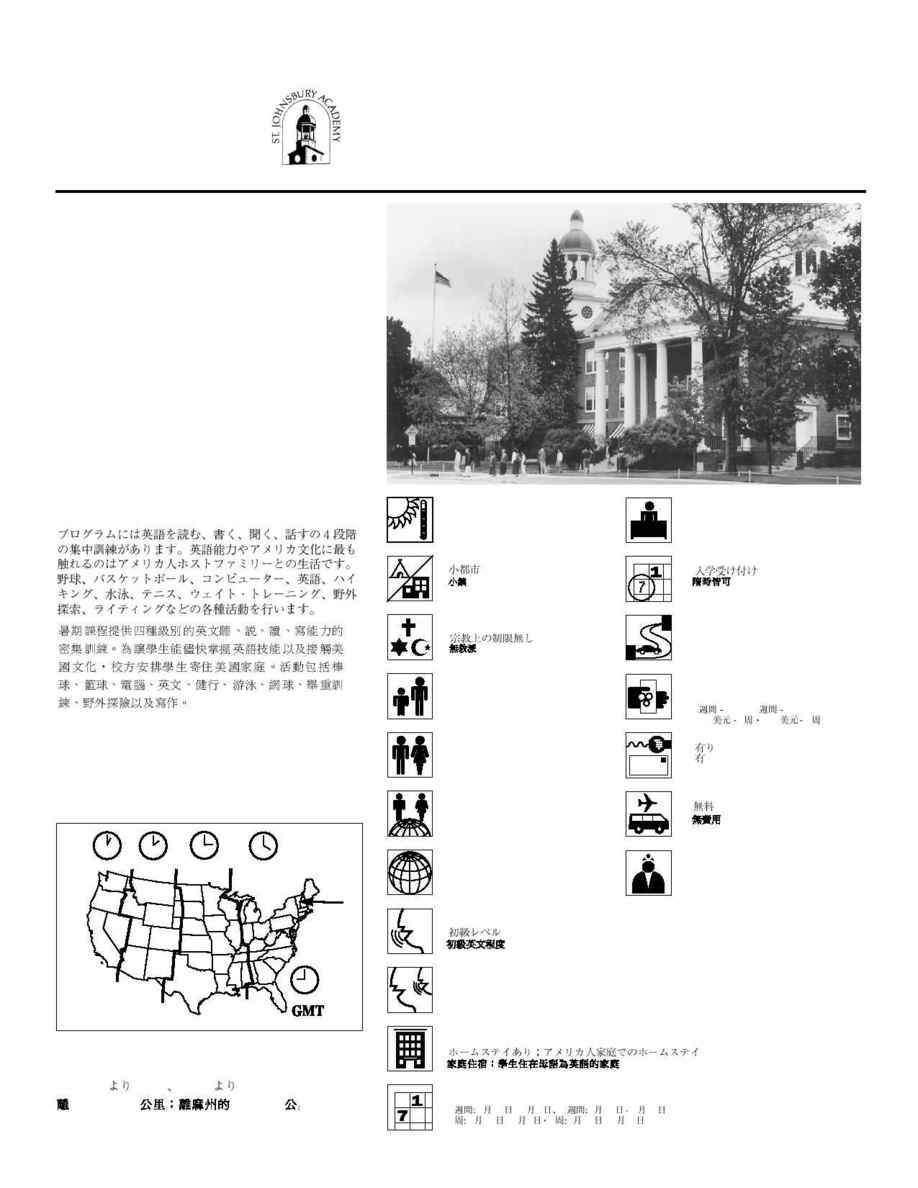 he program provides 4 levels of intensive training in
spoken English, listening, reading, and writing. The
greatest exposure to English language skills and
American culture is provided by living with an American
host family. Activities include baseball, basketball,
computers, English, hiking, swimming, tennis, weight
training, wilderness exploration and writing.
El programa ofrece 4 niveles de entrenamiento intensivo
del idioma inglés: hablado, comprensión oral, lectura y
redacción. La mayor exposición a los conocimientos del
idioma inglés y a la cultura norteamericana la ofrece la
convivencia con una familia norteamericana. Las
actividades incluyen béisbol, baloncesto, computación,
inglés, excursiones, natación, tenis, entrenamiento con
pesas, exploración de reservas naturales y redacción.
Le programme offre 4 niveaux de formation intensive en
anglais parlé, écouté, lu, et écrit. Une exposition maximale
à l'emploi de la langue anglaise est fournie par
l'hébergement avec une famille américaine. Parmi les
activités on compte le base-ball, le basket-ball,
l'informatique, l'anglais, les randonnées pédestres, la
natation, le tennis, l'entraînement par l'haltérophilie,
l'exploration des régions sauvages et la rédaction.
S
T
. J
OHNSBURY
A
CADEMY
ESL S
UMMER
P
ROGRAM
120 km from Burlington; 280 km from Boston, MA · A 120 km
de Burlington; a 280 km de Boston, MA · A 120 km de
Burlington ; à 280 km de Boston, MA
Burlington
John J. Cummings, Director of Admissions
1000 Main Street
St. Johnsbury, Vermont 05819
Phone: 802-751-2130 Fax: 802-748-5463
E-mail: admissions@stj.k12.vt.us
URL: http://www.state.vt.us/schools/stj/
6 weeks: June 25­August 4; 4 weeks: June 25­July 21 · 6 semanas: 25 de junio­4 de agosto;
4 semanas: 25 de junio­21 de julio · 6 semaines : du 25 juin au 4 août; 4 semaines : du 25 juin au 21 juillet
6
Small town · Pueblo pequeño · Petite ville
Brazil, France, Germany, Hong Kong, Japan,
Korea, Taiwan, Thailand
Homestays; students live with English-speaking families · Casas privadas; los estudiantes viven con familias de
habla inglesa · En famille ; les étudiants habitent avec des familles anglophones
Boston, Portland, White Mountains
$4650 - 6 weeks, $3350 - 4 weeks, $0, $200
$4650 - 6 semanas, $3350 - 4 semanas
$4 650 - 6 semaines, $3 350 - 4 semaines
6
Nondenominational · Sin afiliación religiosa ·
Non confessionnelle
Available · Disponibles · Disponibles
Rolling · Continuo · Continuelles
Minimal proficiency necessary · Se requieren conocimientos
mínimos · Aptitude minimale requise
No fee · Gratuito · Gratuit