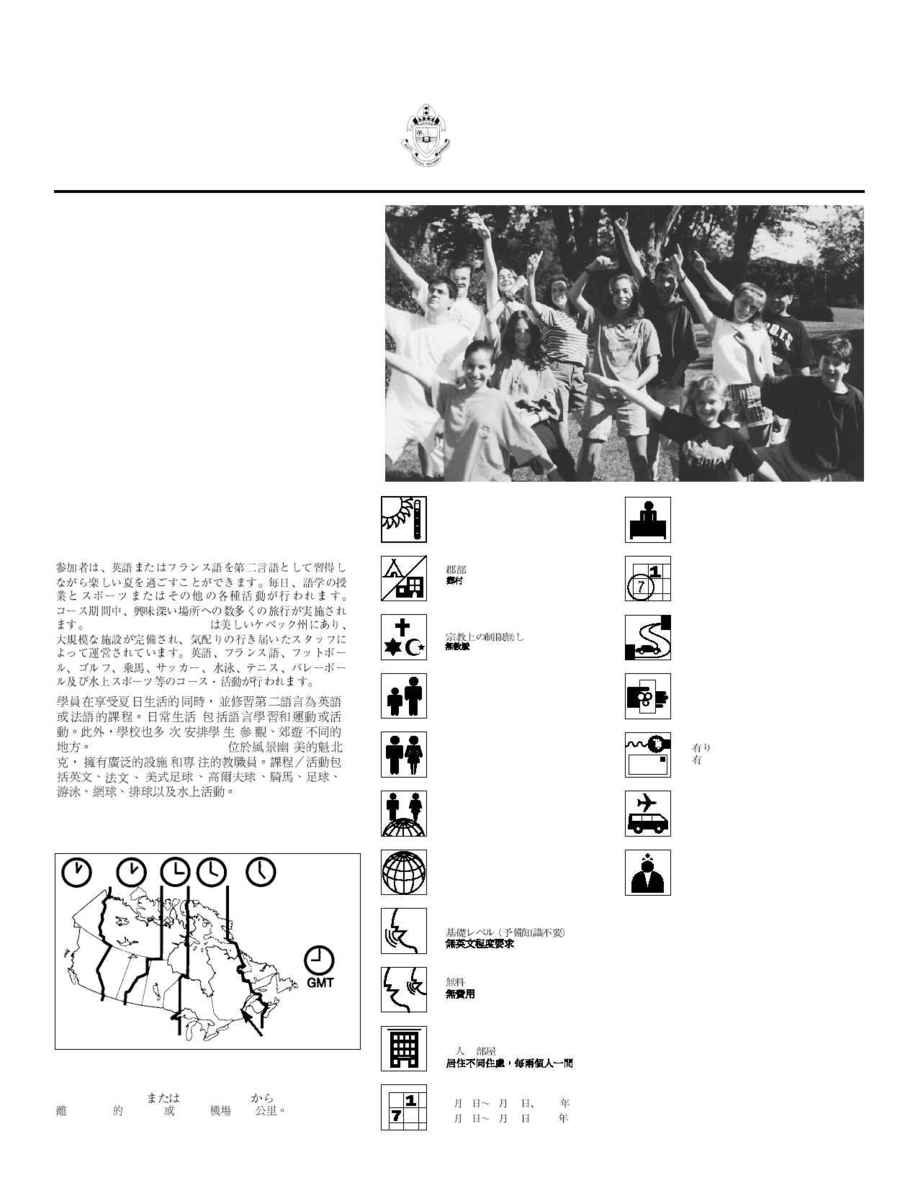 articipants enjoy summer as they learn English or French
as a second language. Every day includes language
instruction and sports or activities. During the month,
many trips to places of interest are offered. Bishop's College
School, set in beautiful Quebec, has extensive facilities and a
caring staff. Courses/activities include English, French,
football, golf, horseback riding, soccer, swimming, tennis,
volleyball, and water sports.
Los participantes disfrutan del verano mientras aprenden
inglés o francés como segundo idioma. El programa diario
incluye clases de idioma así como deportes y otras actividades.
Durante el transcurso del mes se realizan visitas a sitios de
interés. Bishop´s College School, ubicado en el hermoso
Quebec, cuenta con extensas instalaciones y personal atento.
Los cursos y actividades incluyen inglés, francés, fútbol ame-
ricano, golf, equitación, fútbol, natación, tenis, volibol y
deportes acuáticos.
Les participants profitent de l'été tout en apprenant l'anglais
ou le français comme langue étrangère. Des cours de langue et
des sports ou autres activités remplissent chaque journée.
Pendant le mois, nous offrons de nombreux voyages vers des
sites intéressants. Bishop's College School, située dans la
magnifique province de Québec, propose des installations
complètes et un personnel attentif. Parmi les cours/activités on
compte l'anglais, l'équitation, le français, le football et le
football américain, le golf, la natation, le tennis, les sports
aquatiques ainsi que le volley-ball.
B
ISHOP
'
S
C
OLLEGE
S
CHOOL
S
UMMER
S
CHOOL
David Turner, Summer School Director
Lennoxville, Quebec, J1M 1Z8
Phone: 819-566-0227 Fax: 819-822-8917
E-mail: summer@bcschool.qc.ca
160 km from Montreal's Mirabel or Dorval Airport ·
A 160 km del aeropuerto Mirabel o Dorval de Montreal ·
A 160 km de l'aéroport Mirabel ou Dorval de Montréal
Montreal's Mirabel
July 2­July 29, 2000 · 2­29 de Julio, 2000 · 2­29 Juillet, 2000
Asia, Bermuda, Canada, France, Korea,
Mexico, Spain, U.S.A.
2 per room in various residences · 2 por habitación en varias residencias ·
2 par chambre dans de nombreuses résidences
Montreal (Expos's game), Quebec City, Ottawa
$2400 (Canadian: all inclusive)
Nondenominational · Sin afiliación religiosa ·
Non confessionnelle
No proficiency necessary · No se requieren
conocimientos previos · Aucune aptitude requise
No fee · Gratuito · Gratuit
Available · Disponibles · Disponibles