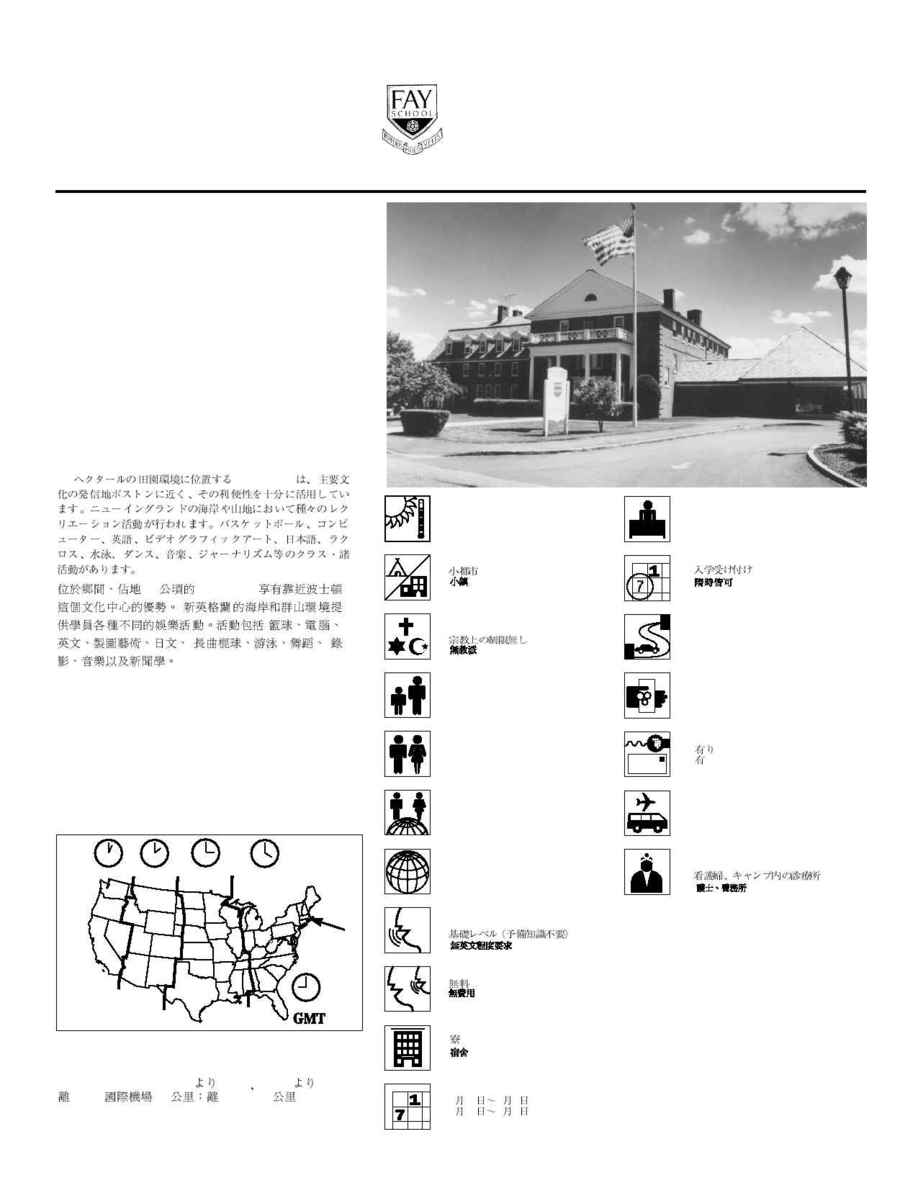 ay School, located in a rural setting of 65 acres, takes
advantage of nearby Boston, a major cultural resource.
The New England coast and mountains offer students a
variety of recreational activities. Activities include basketball,
computers, English, video, graphic arts, Japanese, lacrosse,
swimming, dance, music, and journalism.
Fay School, ubicada en un ámbito rural de 26 hectáreas de
extensión, aprovecha la riqueza cultural de la cercana ciudad
de Boston. La costa de Nueva Inglaterra y las montañas
ofrecen a los estudiantes una gran variedad de actividades
recreativas. Las actividades incluyen baloncesto, computación,
video, artes gráficas, inglés, japonés, lacrosse, natación, baile,
música y periodismo.
Fay School, qui dispose de 26 hectares dans un emplacement
rural, est avantagée par sa proximité de Boston, un centre
culturel important. La côte et les montagnes de New England
offrent aux étudiants une gamme d'activités de récréation.
Parmi les activités on compte l'informatique, l'anglais, le vidéo,
les art graphiques, le basket-ball, le japonais, lacrosse, la danse,
la musique, la natation et le journalisme.
F
AY
S
CHOOL
AJ Purcell, Summer School Director
Southborough, Massachusetts 01772
Phone: 508-485-0100 Fax: 508-481-7872
48 km from Logan International Airport; 40 km from Boston ·
A 48 km del aeropuerto internacional de Logan; a 40 km de Boston ·
A 48 km de l'aéroport international Logan; à 40 km de Boston
June 24­August 4 · 24 de junio­4 de agosto · 24 juin­4 août
Korea, Saudi Arabia, Taiwan, Venezuela
Boston; Maine; Newport, RI
No proficiency necessary · No se requieren
conocimientos previos · Aucune aptitude requise
No fee · Gratuito · Gratuit
Dormitories · Residencias estudiantiles · Dortoirs
Nurse, infirmary · Enfermero(a), enfermería ·
Infirmier(ère), infirmerie
Available · Disponibles · Disponibles
Nondenominational · Sin afiliación religiosa ·
Non confessionnelle
Rolling · Continuo · Continuelles
Small town · Pueblo pequeño · Petite ville
Logan International Airport