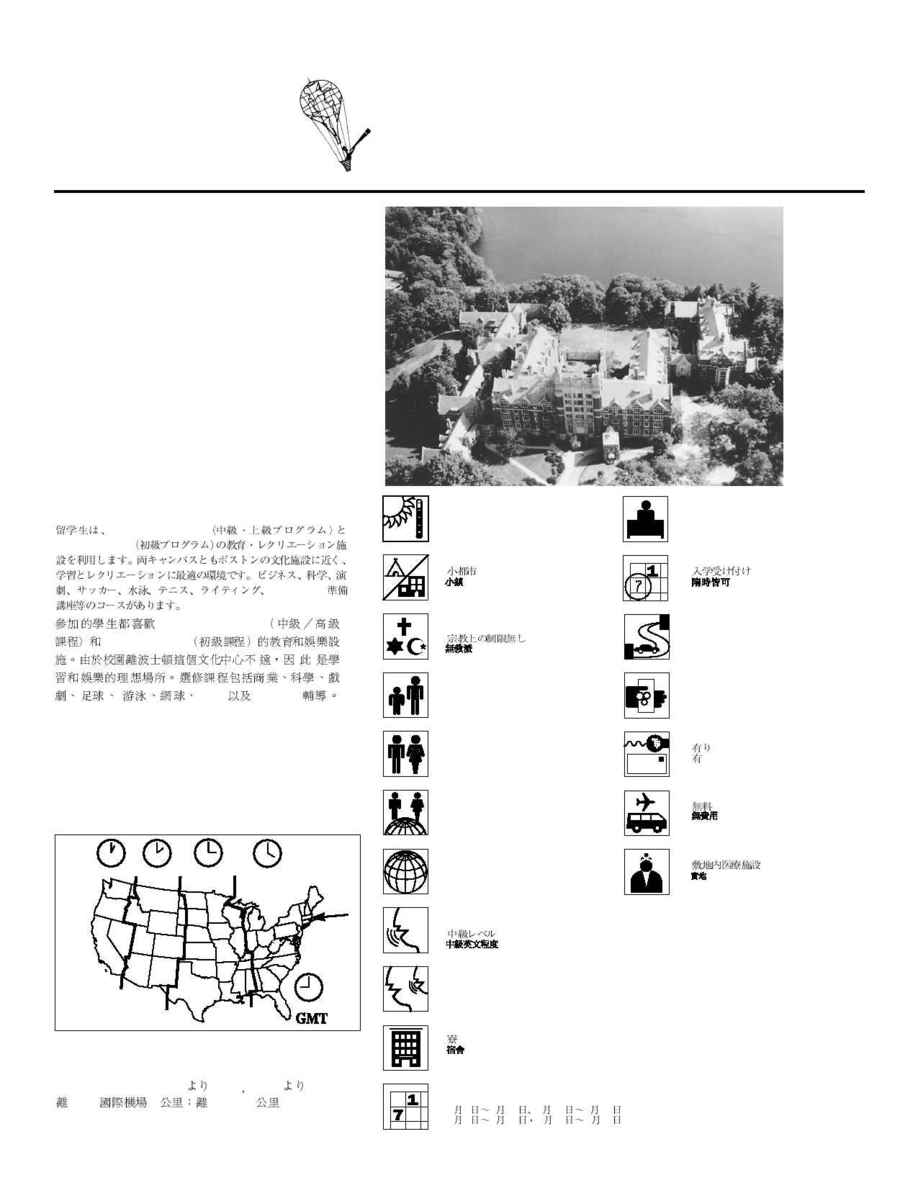 tudents enjoy the educational and recreational facilities
of Wellesley College (intermediate/senior program)
and St. Mark's School (junior program). The campuses
are near Boston's cultural resources, making them ideal
settings for learning and recreation. Options include business,
science, theater, soccer, swimming, tennis, ESL, and
TOEFL preparation.
Los estudiantes internacionales disfrutan de las instalaciones
educativas y recreativas de Wellesley College (programa
intermedio/superior) y de St. Mark's School (programa para
principiantes). Las instalaciones se encuentran cerca de los
recursos culturales de la ciudad de Boston, lo cual las
convierte en el lugar ideal para aprender y divertirse. Entre las
opciones se hallan las actividades comerciales, ciencias,
teatro, fútbol, natación, tenis y preparación para el examen
ESL/TOEFL.
Les étudiants internationaux jouiront de l'ambiance scolaire et
de récréation de Wellesley College ( programme
intermédiaire/avancé ) et de St. Mark's School ( programme
junior ). Les campus sont à peu de distance des ressources
culturelles de Boston, ce qui les rend idéales pour la scolarité
et la récréation. Parmi les choix on compte le business, les
sciences, le football, la natation, le tennis, le théâtre et la
préparation pour l'examen ESL/TOEFL.
W e l l e s l e y C o l l e g e
E
XPLORATION
S
UMMER
P
ROGRAMS
Moira Kelly, Director of Enrollment Management
P.O. Box 368, 470 Washington Street
Norwood, Massachusetts 02062
Phone: 781-762-7400 Fax: 781-762-7425
30 km from Logan International Airport; 25 km from Boston ·
A 30 km del aeropuerto internacional de Logan; a 25 km de Boston ·
A 30 km de l'aéroport international Logan ; à 25 km de Boston
July 2­July 22, July 23­August 12 · 2 de julio­22 de julio, 23 de julio­12 de agosto ·
2 juillet­22 juillet, 23 juillet­12 août
France, Italy, Japan, Korea, Taiwan
Boston, Harvard University, New York City
$2795, $5090, $195, $295, $200
Nondenominational · Sin afiliación religiosa ·
Non confessionnelle
Moderate proficiency necessary · Se requieren
conocimientos moderados · Aptitude modérée requise
Dormitories · Residencias estudiantiles · Dortoirs
Rolling · Continuo · Continuelles
Available · Disponibles · Disponibles
No fee · Gratuito · Gratuit
Small town · Pueblo pequeño · Petite ville
On-site · En las instalaciones · Sur place
Logan International Airport