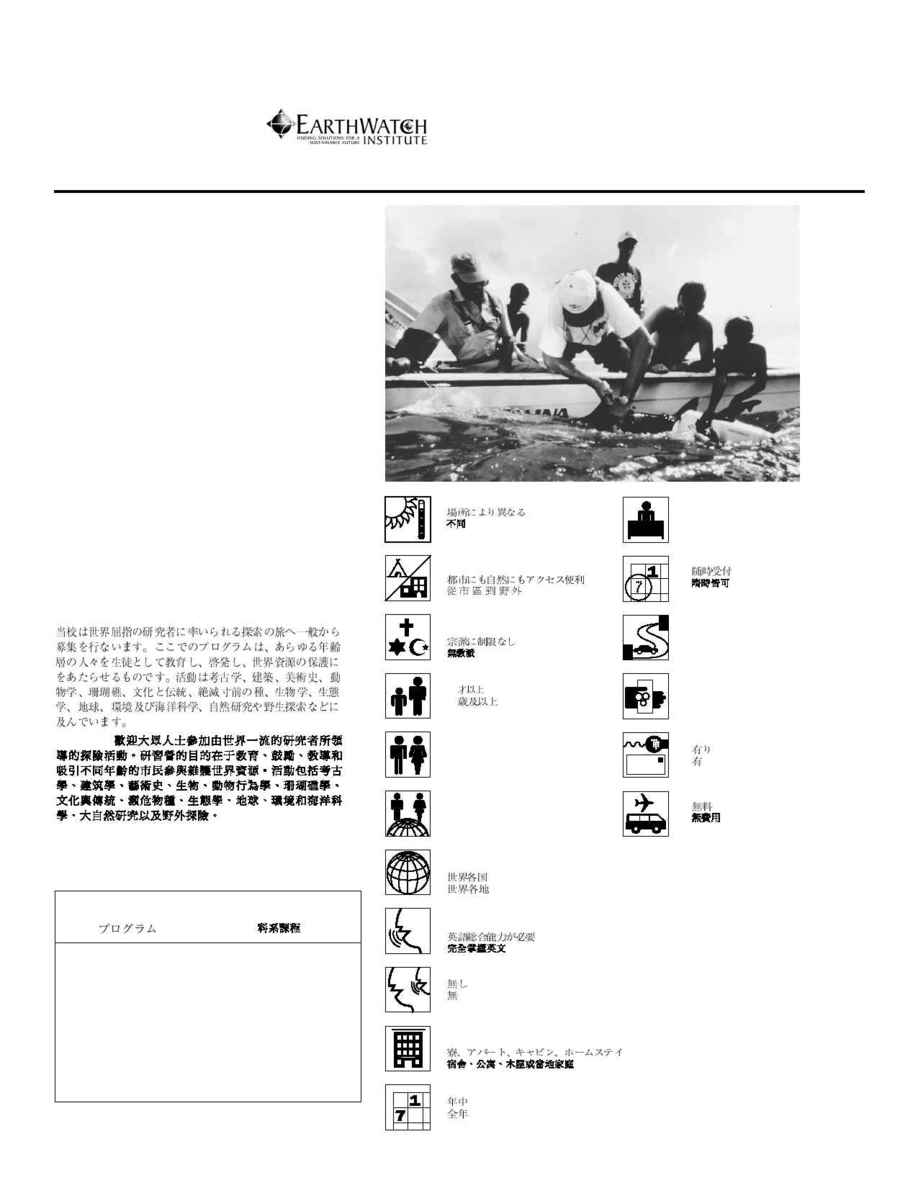 arthwatch recruits members of the public to join
expeditions led by the world's leading researchers. The
programs educate, inspire, inform, and engage citizens
of all ages in the preservation of the world's resources.
Activities include archaeology; architecture; history; biology;
animal behavior; coral reefs; culture & traditions; endangered
species; ecology; earth, environmental, and marine sciences;
nature study; and wilderness exploration.
Earthwatch recluta a todos aquellos interesados en tomar parte
en expediciones dirigidas por investigadores líderes en el
mundo. Los programas tienen el propósito de educar, inspirar,
mantener informados y hacer que ciudadanos de todas las
edades participen en la conservación de los recursos naturales
alrededor del mundo. Las actividades incluyen arqueología,
arquitectura, historia del arte, biología, ecología, ciencias
terrestres, ambientales y marinas, estudios sobre la naturaleza,
además de exploración de reservas naturales.
Earthwatch recrute des membres du public pour participer à
des expéditions menées par les plus grands chercheurs du
monde. Les programmes éduquent, inspirent, informent et
engagent les citoyens de tout âge en ce qui concerne la
préservation des ressources mondiales. Parmi les activités on
compte l'archéologie, l'architecture, l'histoire, la biologie, le
comportement animal, les barrières de corail, les cultures et
traditions, les espèces en voie de disparition, l'écologie, l'étude
de la nature, l'exploration des régions sauvages, ainsi que les
sciences de la terre, de l'environnement et de la mer.
E
ARTHWATCH
I
NSTITUTE
Earthwatch Institute
680 Mount Auburn Street, Box 9104
Watertown, Massachusetts 02272-9104
Phone: 617-926-8200 Fax: 617-926-8532
E-mail: info@earthwatch.org
URL: http://www.earthwatch.org
Varies · Varía · Variable
All year round · Todo el año · Toute l'année
From cities to wilderness · De la ciudad a las
reservas naturales · De la ville aux régions sauvages
Nondenominational · Sin afiliación religiosa ·
Non confessionnelle
16 and over · 16 en adelante · Dès l'âge de 16 ans
16
16
Around the world · De todo el mundo ·
Du monde entier
Must be proficient · Se requiere dominio
total · Aptitude parfaite requise
Not available · No disponibles · Pas disponibles
Dormitories, apartments, cabins or homestays · Residencias estudiantiles, apartamentos, cabañas o estadías con
familias locales · Dortoirs, appartements, cabanes ou logement en famille
Rolling · Continuo · Continuelles
Available · Disponibles · Disponibles
No fee · Gratuito · Gratuit
Program · Programa · Programme
North, Central, and South America
Caribbean
Europe
Middle East
Africa
Russia and Central Asia
Asia
Australia and New Zealand
Pacific Rim