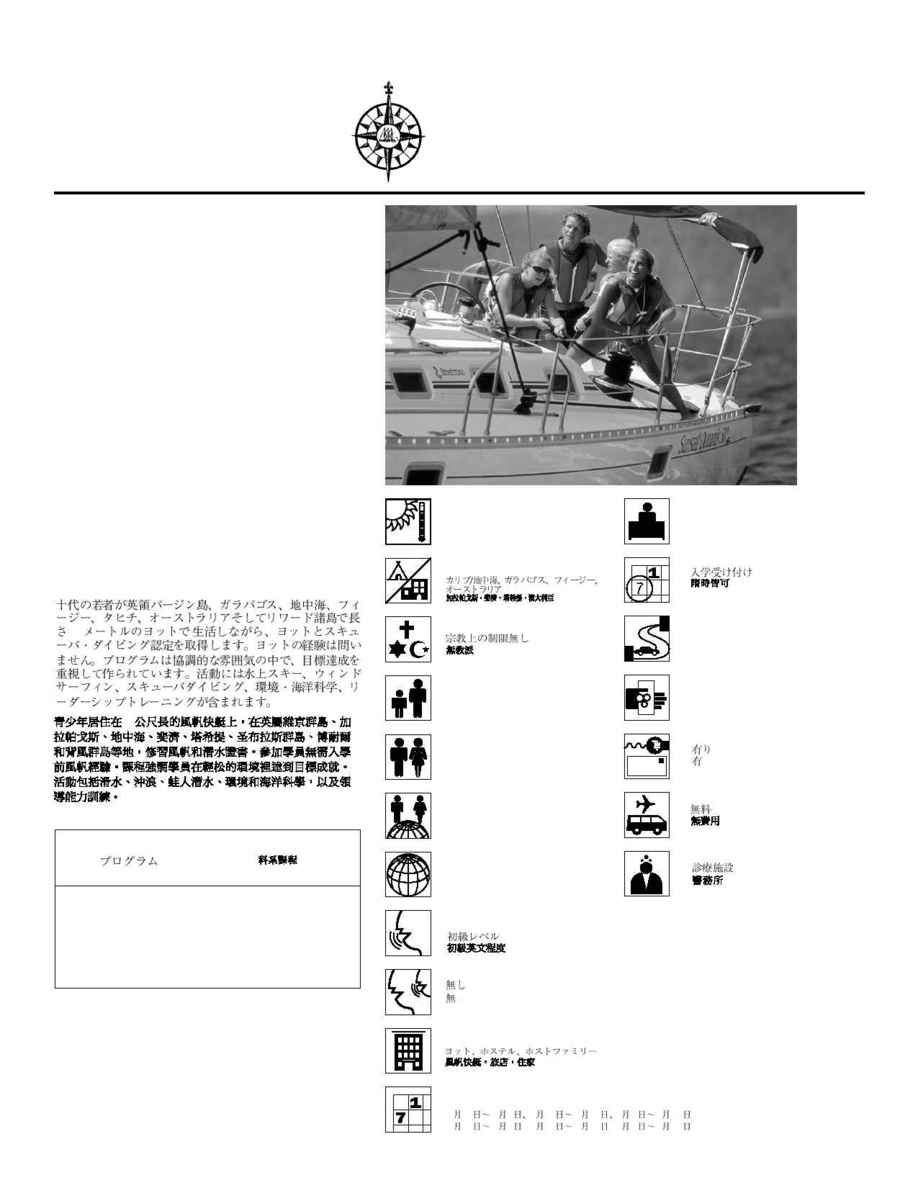 Program · Programa · Programme
eens live aboard 51-ft sailing yachts while earning
sailing and scuba certifications in the British Virgin
Islands, Galapagos, Mediterranean, Fiji, Tahiti,
Austraila and Leeward Islands. No previous experience is
needed. Programs center on goal-oriented achievement in a
noncompetitive atmosphere. Activities include water skiing,
windsurfing, scuba diving, environmental and marine
sciences, and leadership training.
Los adolescentes viven a bordo de yates de 16 m mientras
obtienen sus certificados en velerismo y buceo en las Islas
Vírgenes Británicas, las islas Galápagos, el Mediterráneo,
Fiji, Tahití, Australia y las Islas Leeward. No se requiere
experiencia previa en velerismo. Los programas se
concentran en el logro de objetivos en un ambiente no
competitivo. Entre las actividades se cuentan, esquí
acuático, surfing a vela, buceo con escafandra autónoma,
ciencias ecológicas y marinas y capacitación
en liderazgo.
Les jeunes vivent à bord de voiliers de 16 m et obtiennent
un diplôme de navigation à voile et de plongée sous-marine
dans les îles Vierges, les Galapagos, la Méditerranée, les
îles Fidji, Tahiti, l'Australie et les îles Sous-le-Vent. Aucune
expérience précédente n'est requise. Les programmes sont
axés sur la réalisation des buts personnels dans un cadre
non concurrentiel. Les activités comprennent le ski
nautique, la planche à voile, la plongée sous-marine, les
sciences de la mer et de l'environnement, et la formation
au leadership.
A
CTION
Q
UEST
Phone: 941-924-6789 Fax: 941-924-6075
June 18­ July 8, July 10­ July 30, August 2­August 18 · 18 de junio­8 de julio , 10­30 de julio,
2­18 de agosto · 18 juin­8 juillet, 10­30 juillet, 2­18 août
6
Caribbean, Mediterranean, Galapagos, Fiji,
Tahiti, Australia
England, the Far East, France, Germany,
South America, USA
Sailing yachts, hostels, host family homes · Yates, residencias estudiantiles, casas de familia ·
Voiliers, auberges de jeunesse, résidences familiales
Tortola, Nice, Monte Carlo, Rome, St. Martin,
St. Kitts and Nevis, Galapagos, Fiji, Tahiti,
Australia, Amazon Delta,
Nondenominational · Sin afiliación religiosa ·
Non confessionnelle
Available · Disponibles · Disponibles
Infirmary · Enfermería · Infirmerie
Rolling · Continuo · Continuelles
Minimal proficiency necessary · Se requieren conocimientos
mínimos · Aptitude minimale requise
No fee · Gratuito · Gratuit
Not available · No disponibles · Pas disponible