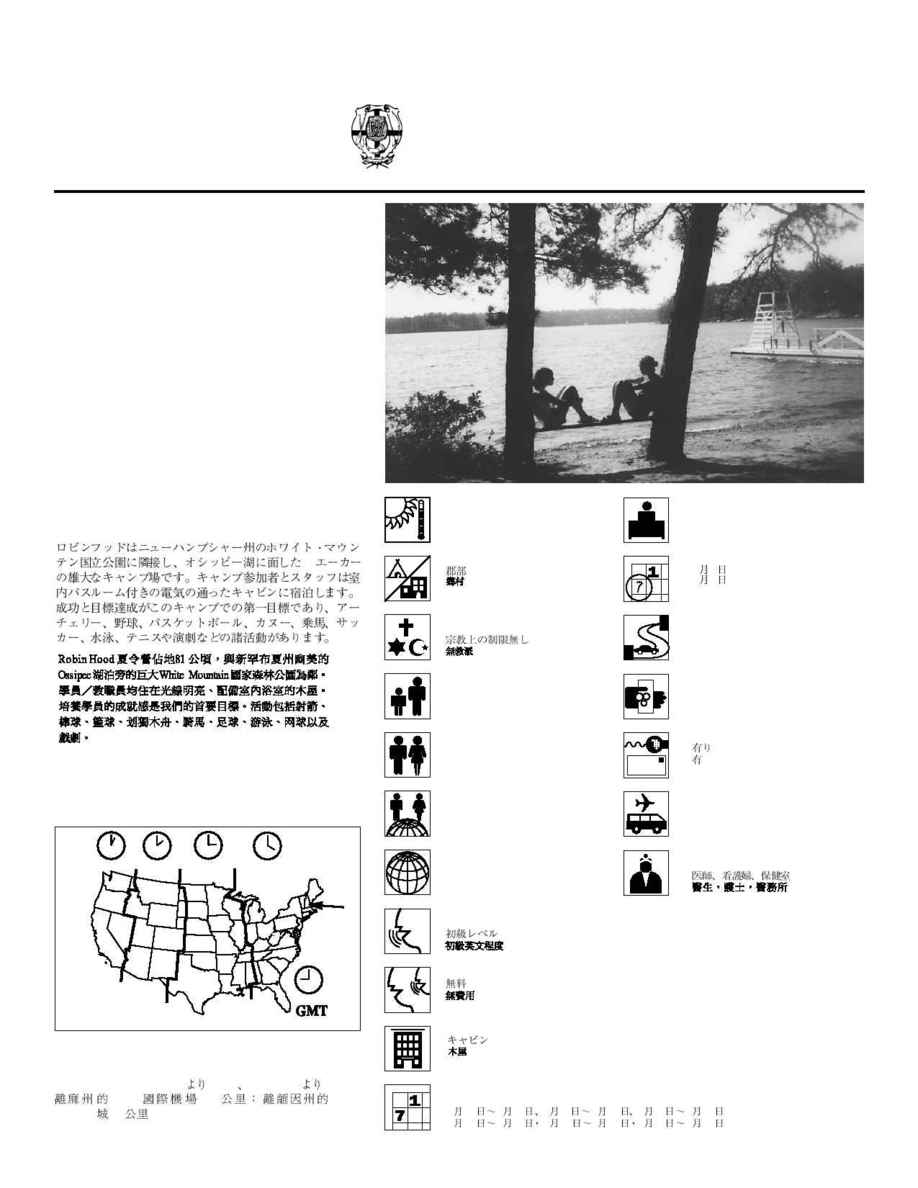 he Camp occupies 200 acres bordering New
Hampshire's immense White Mountain National Forest
on beautiful Lake Ossipee. Campers/staff live in
lighted cabins with indoor bathrooms. A camper's sense of
success and accomplishment is our primary goal. Activities
include archery, baseball, basketball, canoeing, horseback
riding, sailing, soccer, swimming, tennis, and theater.
El campamento ocupa 81 hectáreas al borde del inmenso
bosque nacional de los White Mountains al borde del bello
lago Ossipee en New Hampshire. Los acampantes y el
personal viven en cabañas con electricidad y baños. El éxito
y la sensación de logro del acampante es nuestra meta
principal. Las actividades incluyen el tiro al arco, béisbol,
baloncesto, piragüismo, equitación, velerismo, fútbol,
natación, tenis y teatro.
La colonie est située sur 81 hectares au bord de l'immense
forêt des White Mountains en bordure du ravissant lac
Ossipee au New Hampshire. Les campeurs/personnel sont
logés dans des cabanes éclairées avec des WC individuels.
La confiance en soi et la sensation de réussite des campeurs
sont nos buts principaux. Parmi les activités on compte le tir
à l'arc, le base-ball, le basket-ball, la navigation en canoë,
l'équitation, la navigation à voile, le football, la natation, le
tennis et le théâtre.
C
AMP
R
OBIN
H
OOD
F
REEDOM
, N
EW
H
AMPSHIRE
John C. Klein, Director
344 Thistle Trail
Mayfield Heights, Ohio 44124
Phone: 440-646-1911 Fax: 440-646-1972
URL: http://www.camprobinhood.com
150 km from Logan International Airport, MA; 65 km from Portland , ME · A
150 km del aeropuerto internacional de Logan, MA; a 65 km de Portland, ME · A
150 km de l'aéroport Logan International, MA ; à 65 km de Portland, ME
Logan International Airport, MA
June 26­August 17, June 26­July 25, July 20­August 17 · 26 de junio-17 de agosto, 26 de junio­25 de julio,
20 de julio­17 de agosto · 26 juin­17 août, 26 juin­25 juillet, 20 juillet­17 août
6
France, Italy, Japan, Mexico, Switzerland,
Venezuela,
Canada, White Mountains, Ogunguit Beach
$3500­$5500, $270­$420, $50
Physician, nurses, infirmary · Médico, enfermero(a),
enfermería · Médecin, infirmier(ère), infirmerie
Nondenominational · Sin afiliación religiosa ·
Non confessionnelle
No fee · Gratuito · Gratuit
Available · Disponibles · Disponibles
Cabins · Cabañas · Cabanes
Minimal proficiency necessary · Se requieren conocimientos
mínimos · Aptitude minimale requise
June 1 · 1 de junio · 1er juin