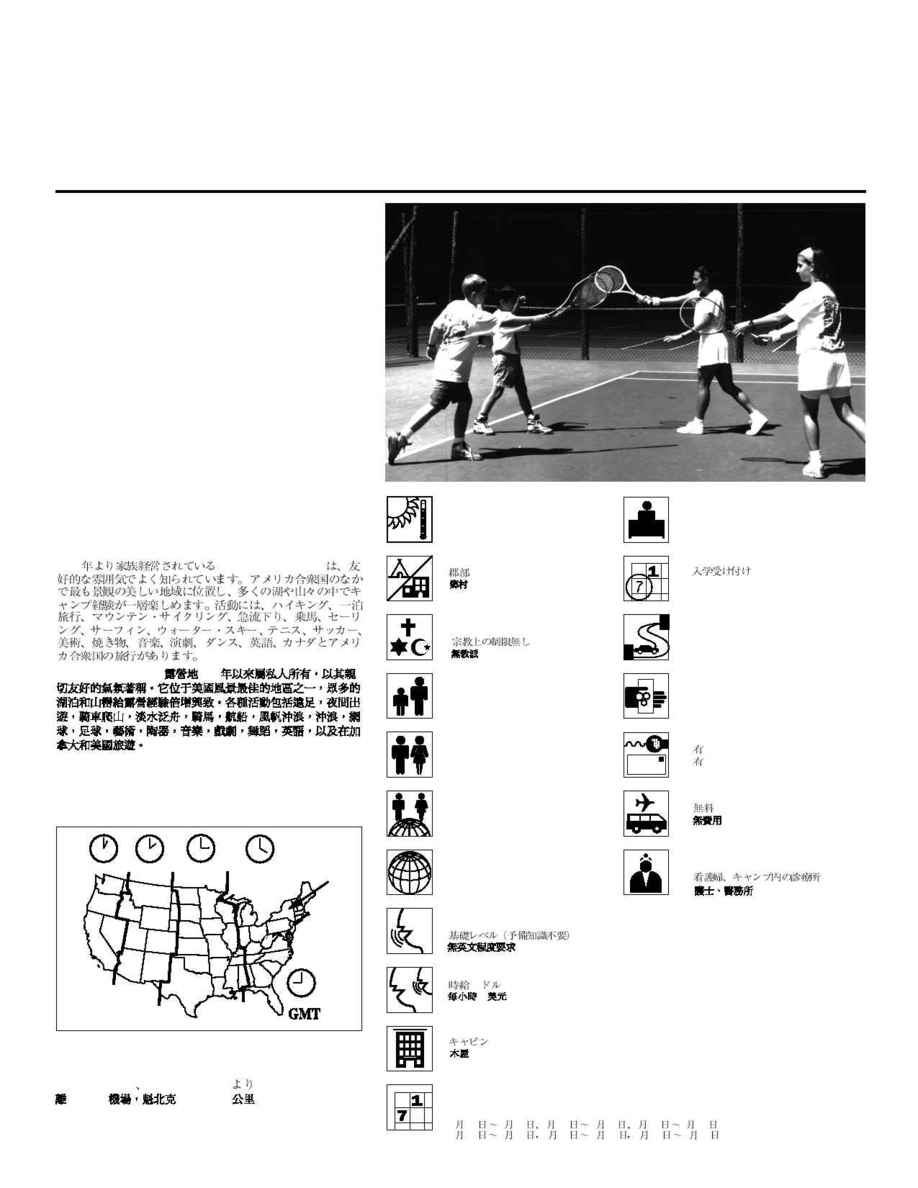 amily owned since 1946, Camp Regis-Applejack is best
known for its friendly atmosphere. Located in one of the
most spectacular areas of the United States, its many
lakes and mountains greatly enhance the camping experience.
Activities include hiking, overnight trips, mountain biking,
white water rafting, horseback riding, sailing, windsurfing,
waterskiing, tennis, soccer, art, pottery, music, theater, dance,
English, and travel in Canada and the United States.
Propiedad de una familia desde 1946, Camp Regis-Applejack
ha adquirido renombre especialmente por su ambiente
amistoso. Ubicado en una de las zonas más espectaculares de
los Estados Unidos, sus muchos lagos y montañas intensifican
la experiencia campista. Entre las actividades que se pueden
practicar incluyen excursionismo, excursiones de noche,
ciclismo de montaña, navegación en balsa por aguas rápidas,
equitación, velerismo, surf a vela, esquí acuático, tenis, fútbol
(soccer), arte, cerámica, música, teatro, danza, inglés y viajes
por Canadá y los Estados Unidos.
Camp Regis-Applejack, un établissement familial depuis 1946,
est surtout connu pour son ambiance amicale. Il est situé dans
l'une des plus belles régions des Etats-Unis et grâce à ses
nombreux lacs et montagnes, camper devient une expérience
passionnante. Les activités comprennent la randonnée, les
excursions sur plusieurs jours, le VTT, le rafting, l'équitation,
la voile, la planche à voile, le ski nautique, le tennis, le
football, l'art, la poterie, la musique, le théâtre, la danse,
l'anglais et les voyages au Canada et aux Etats-Unis.
C
AMP
R
EGIS
-A
PPLEJACK
P
AUL
S
MITHS
, N
EW
Y
ORK
Michael P. Humes
60 Lafayette Road West
Princeton, New Jersey 08540
Phone: 609-688-0368 Fax: 609-688-0369
URL: http://www.campregis-applejack.com
90 km from Montreal Airport, Montreal, Quebec · A 90 km del
aeropuerto de Montreal, Montreal, Quebec · A 90 km de
l'aéroport de Montréal, Montréal, Québec
Montreal Airport
June 26­July 22, July 23­August 17, June 26­August 17 ·
26 de junio­22 de julio, 23 de julio­17 de agosto, 26 de junio­17 de agosto ·
26 juin­22 juillet, 23 juillet­17 août, 26 juin­17 août ·
6
Regis: 6­12, Applejack: 13­16
France, Germany, Italy, Japan, Mexico,
Venezuela
$10/hour · $10/hora · $10/heure
Montreal, Lake Placid, Lake George,
Quebec City, Vermont, New York City
Nondenominational · Sin afiliación
religiosa · Non confessionnelle
No proficiency necessary · No se requieren
conocimientos previous · Aucune aptitude requise
Cabins · Cabañas · Cabanes
Nurse, infirmary · Enfermero(a),
enfmería · Infirmier(ère), infirmerie
No fee · Gratuito · Gratuit
Available · Disponibles · Disponibles
Rolling · Continuo · Continuelles