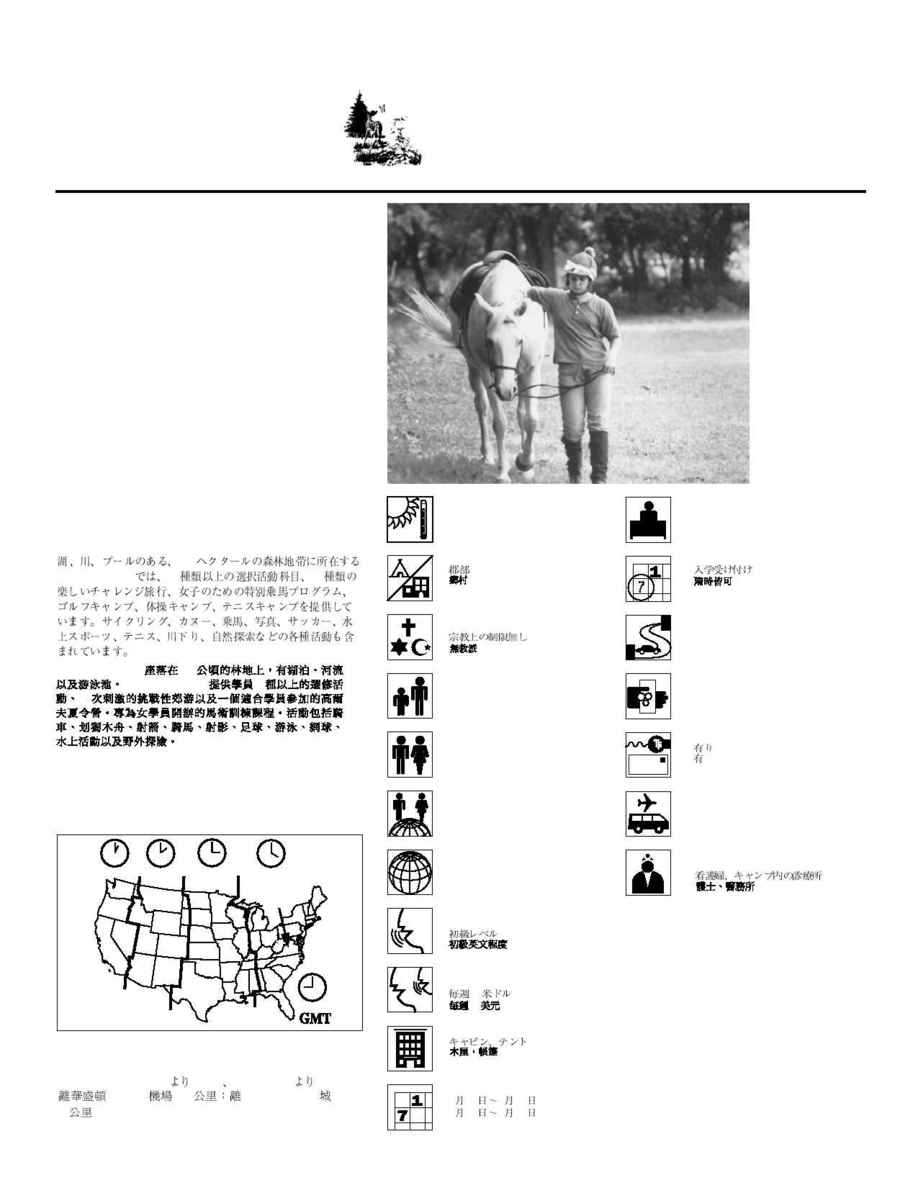 eaturing a lake, river, and pool on 733 acres of
woodlands, Camp Friendship offers over 30 elective
activities, 13 exciting Challenge Trips, a specialized
equestrian program for girls, a golf camp, gymnastics
camp, and tennis camp. Activities include bicycling,
canoeing, archery, horseback riding, photography, soccer,
swimming, tennis, watersports, and wilderness exploration.
Con un lago, un río y una piscina, en 297 hectáreas de
terreno boscoso, Camp Friendship ofrece más de 30
actividades optativas, 13 emocionantes excursiones
(Challenge Trips), un programa ecuestre especializado para
niñas, un campamento de golf, un campamento gimnástico
y un campamento de tenis. Las actividades incluyen
ciclismo, piragüismo, tiro al arco, equitación, fotografía,
fútbol, natación, tenis, deportes acuáticos y exploración de
reservas naturales.
Avec un lac, une rivière et une piscine sur 297 hectares de
forêt, Camp Friendship offre plus de 30 ctivitésfacultatives,
13 excursions d'endurance passionnantes, un programme
équestre spécialisé pour les filles, des camps de golf, de
gymnastique et de tennis. Parmi les activités on compte
les excursions à bicyclette, la navigation en canoë, le tir
à l'arc, l'équitation, la photographie, le football, la natation,
le tennis, les sports aquatiques, et l'exploration des
régions sauvages.
C
AMP
F
RIENDSHIP
195 km from Washington Dulles Airport; 40 km from Charlottesville ·
A 195 km del aeropuerto Washington Dulles; a 40 km de Charlottesville ·
A 195 km de l'aéroport Washington Dulles ; à 40 km de Charlottesville
Washington Dulles Airport
Linda J. Grier and Ray Ackenbom, Co-Directors
Phone: 804-589-8950 Fax: 804-589-5880
E-mail: info@campfriendship.com
June 18­August 26 · 18 de junio­26 de agosto · 18 juin­26 août
Belgium, France, Russia, Spain, Venezuela
$50 per week · $50 por semana · $50 par
semaine
Cabins, tents · Cabañas, carpas · Cabanes, tentes
$600, $20, $20 (based on 1999 figures)
Nondenominational · Sin afiliación religiosa ·
Non confessionnelle
Minimal proficiency necessary · Se requieren conocimientos
mínimos · Aptitude minimale requise
Available · Disponibles · Disponibles
Rolling · Continuo · Continuelles
Nurse, infirmary · Enfermero(a), enfermería ·
Infirmier(ère), infirmerie