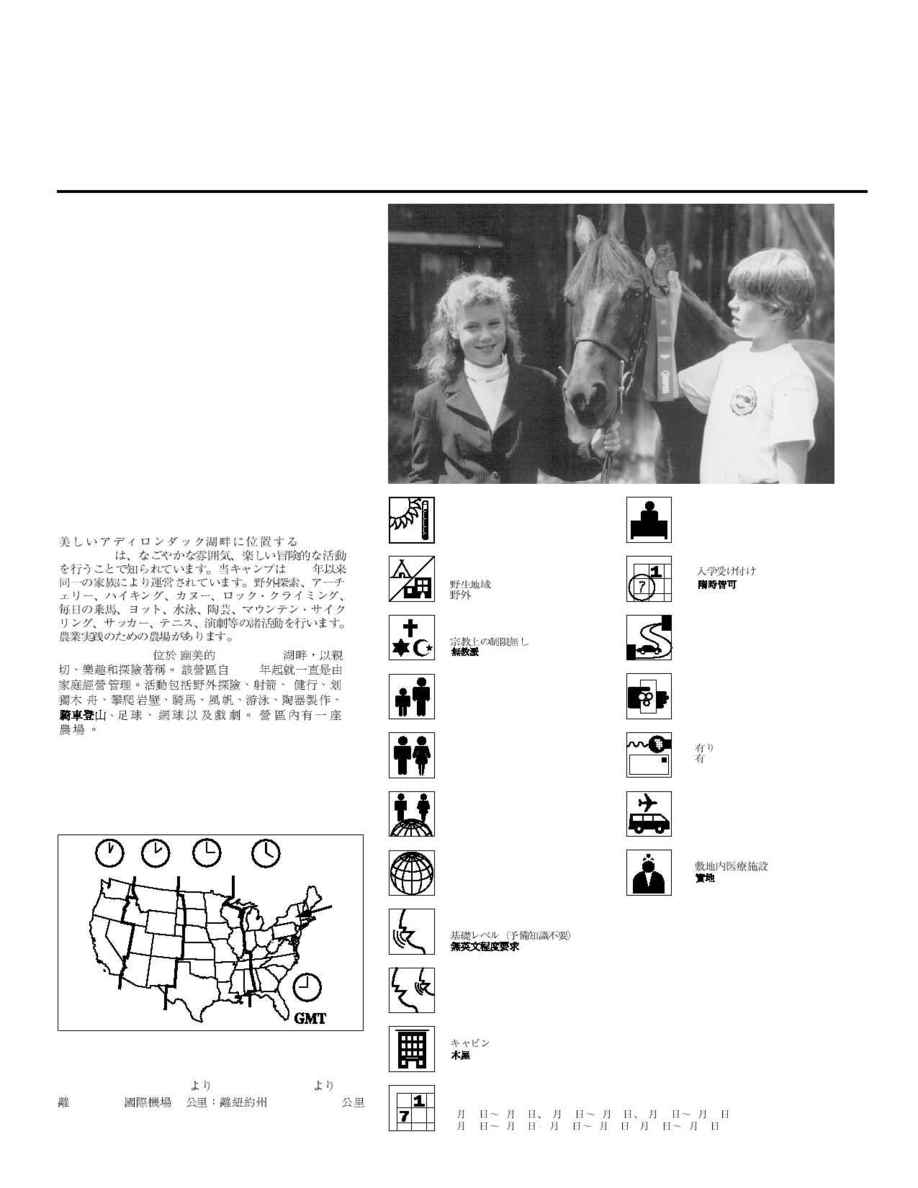 ok-O-MacCready, located on a beautiful Adirondack
lake, is known for its friendliness, fun, and adventure.
The camps have been family-owned since 1905.
Activities include wilderness exploration, archery, hiking,
canoeing, rock climbing, daily horseback riding, sailing,
swimming, pottery, mountain biking, soccer, tennis, and
theater. Facilities include a working farm.
Los campamentos Pok-O-MacCready, situados a la orilla
de un hermoso lago en Adirondack, son conocidos por su
atmósfera de camaradería, diversión y aventuras. Los
campamentos han estado en manos de una familia desde
1905. Las actividades incluyen exploración de reservas
naturales, tiro al arco, excursionismo, piragüismo, escalada,
equitación diaria, velerismo, natación, alfarería, ciclismo de
montaña, futbol, tenis y teatro. Las instalaciones incluyen
una granja activa.
La colonie Pok-O-MacCready, située sur le magnifique lac
Adirondack, est reconnue pour son ambiance bienveillante,
amusante, et aventureuse. Les colonies appartiennent à la
même famille depuis 1905. Parmi les activités on compte
l'exploration des régions sauvages, les randonnées péde-
stres, la navigation en canoë, la varappe, l'équitation
quotidienne, la navigation à voile, la natation, la poterie, le
VTT, le football, le tennis et le théâtre. Les installations
comprennent une exploitation agricole active.
P
OK
-O-M
AC
C
READY
C
AMPS
W
ILLSBORO
, N
EW
Y
ORK
Jack Swan, Director
P.O. Box 5016
Brookfield, Connecticut 06804
Phone: 203-775-9865 Fax: 203-740-7984
URL: http://members.aol.com/POKOMAC/
25 km from Burlington International Airport and 25 km from Plattsburgh,
NY · A 25 km del aeropuerto internacional de Burlington y de Plattsburgh,
NY · A 25 km de l'aéroport international Burlington et de Plattsburgh, NY
Burlington International Airport
June 27­August 15, June 27-July 27, July 28­August 15 · 27 de junio­15 de agosto, 27 junio­27 de julio, 28 de julio­
15 de agosto · 27 juin­15 août, 27 juin­27 juillet, 28 juillet­15 août
6
Canada, Colombia, England, France, Spain,
Nondenominational · Sin afiliación religiosa ·
Non confessionnelle
No proficiency necessary · No se requieren
conocimientos previos · Aucune aptitude requise
Cabins · Cabañas · Cabanes
On-site · En las instalaciones · Sur place
Available · Disponibles · Disponibles
Rolling · Continuo · Continuelles
Wilderness · Reserva natural ·
Régions sauvages