Suzuki minifestival 2006brochure Page 1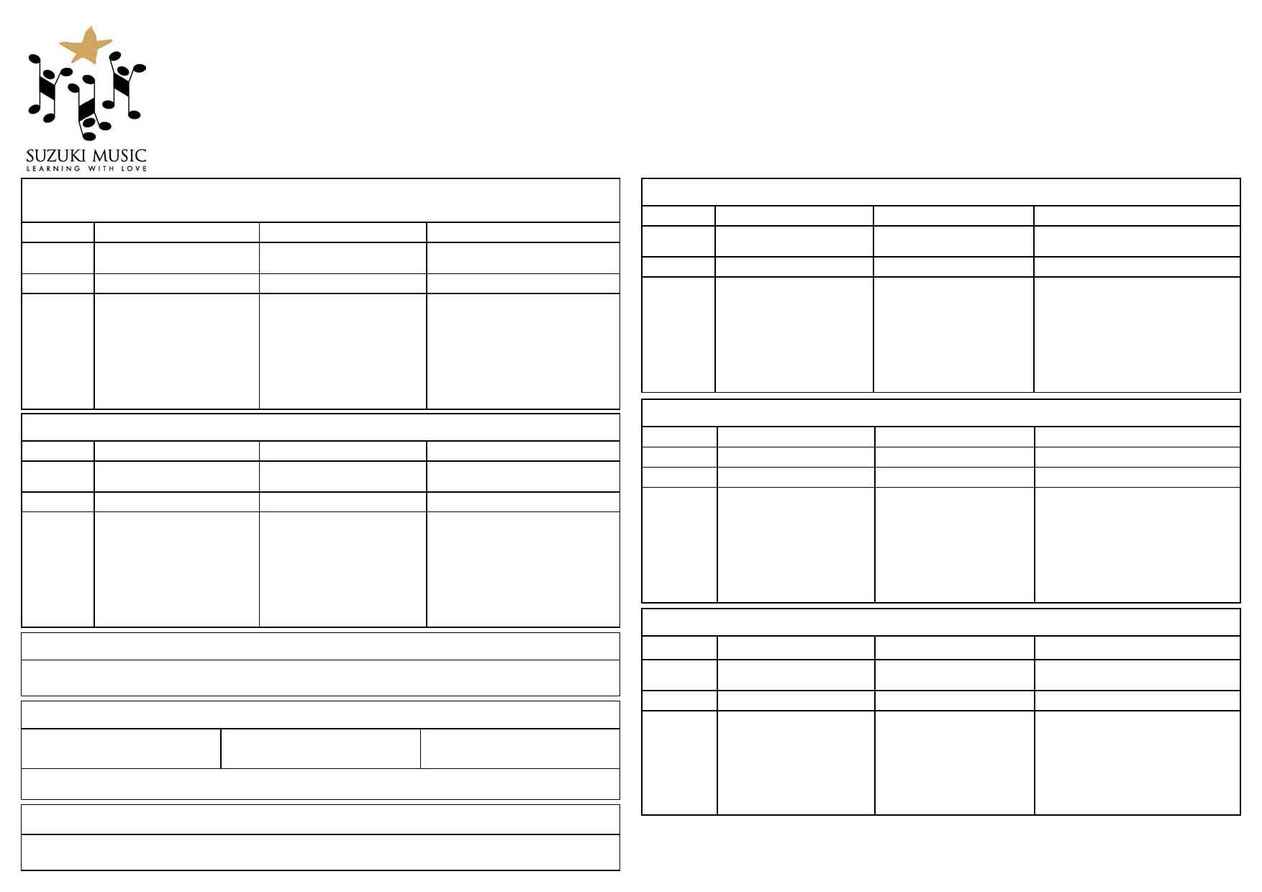 MINI FESTIVAL 2006
Scotch College, Morrison Street, Hawthorn
Closing Date Friday 8 September
Workshop fun for Violin, Viola, Cello, Flute & Guitar students from Pre-Twinkle to Advanced
Incorporating Grand Annual Concert 2006 Rehearsals (see reverse for more details)
VIOLIN STRINGALONG & ADVANCED VIOLIN WORKSHOP
with guest tutors
Stacey Shuck (Director of NZ Violin Teacher Training) and Kylie Mahony (SA)
Pre-Twinklers & Twinklers aged 5
Students in Book 5 - Post Book 10
Enrichment PLUS
Grand Annual Concert rehearsal
Play-In PLUS
Grand Annual Concert rehearsal
PLUS Grand Annual Concert rehearsal
FLUTE FUN FEST
Repertoire PLUS
Flute Enrichment PLUS
Grand Annual Concert rehearsal
Masterclass PLUS
Grand Annual Concert rehearsal
(12:30 - 1:15)
CELLO FUN FEST
Pre-Twinklers & Twinklers aged 5
Solo Concert PLUS
Grand Annual Concert rehearsal
Solo Concert PLUS
Grand Annual Concert rehearsal
Cello Choir PLUS
VIVA VIOLA
Pre-Twinklers & Twinklers aged 5
Enrichment PLUS
Grand Annual Concert rehearsal
Play-In PLUS
Grand Annual Concert rehearsal
Special Session PLUS
Grand Annual Concert rehearsal
GUITAR PLUCKERAMA
with Guest Tutor TBA
Pre-Twinklers &Twinklers aged 5
Ensemble/Tutorial PLUS
Grand Annual Concert rehearsal
2 sessions of Ensemble PLUS
Grand Annual Concert rehearsal
VIOLIN & VIOLA PRIVATE LESSONS
A limited number of Violin and Viola Private lessons will be available with Guest Tutors on Saturday 21 and Sunday 22 October. See
application form for available times.
MINI FESTIVAL COST
Late fee of $15 per family will apply to all applications received after the closing date of Friday 8 September
AFTERNOON TEA
A snack of cake and juice will be available at Scotch College during the Afternoon Tea break at a cost of $3 per person. Afternoon
Tea must be preordered on your application form.
PO Box 439 Kew East Vic 3102
Phone 03 9859 0433 Fax 03 9859 0477 info@suzukimusic.org.au
Suzuki Talent Education Association of Australia (Vic.) Inc. A5744 ABN 14080413955