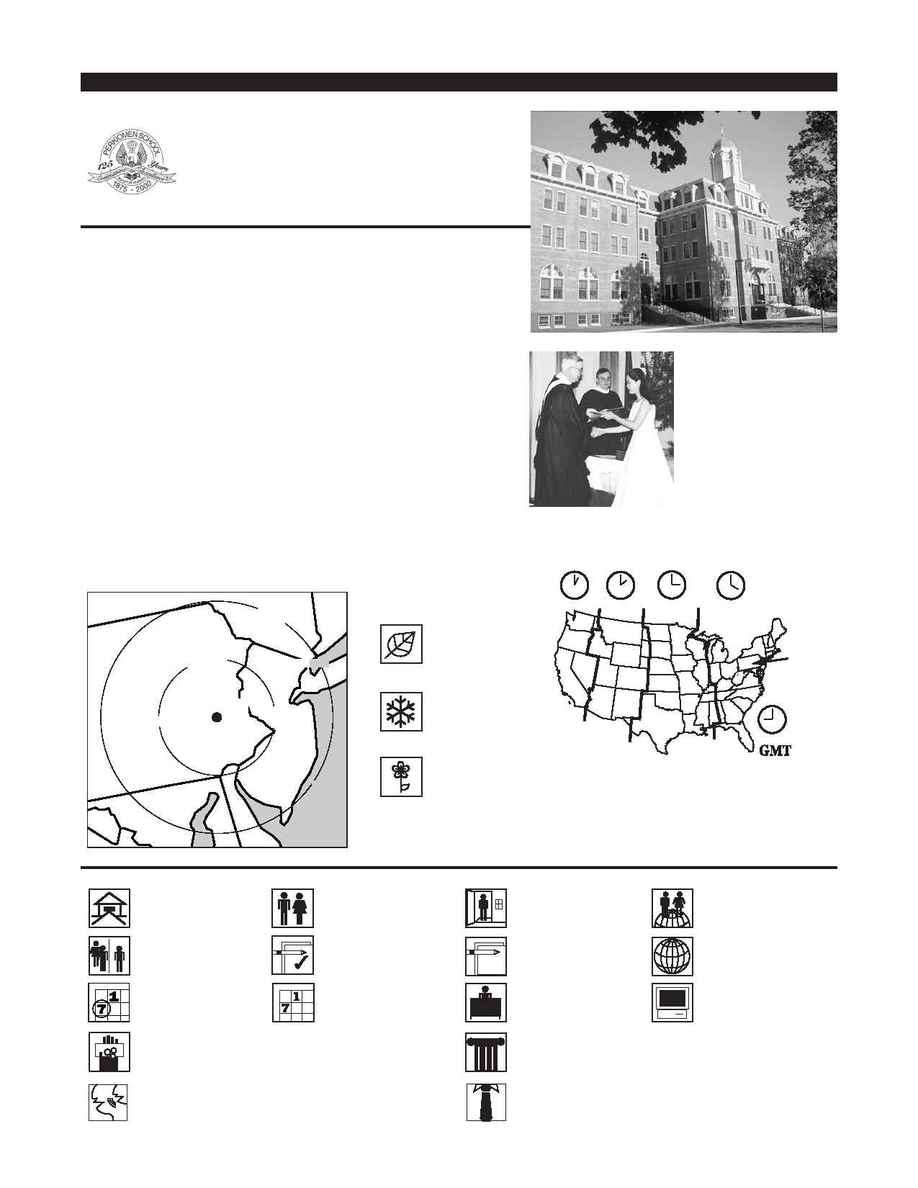 Carol Dougherty, Director of Admission
P.O. Box 130
Pennsburg, Pennsylvania 18073
Phone: 215-679-9511 Fax: 215-679-1146
E-mail: cdougherty@perkiomen.org
URL: http://www.perkiomen.org
PENNSYLVANIA
NEW
JERSEY
Atlantic
Ocean
80 km
160 km
MARYLAND
DELAWARE
NEW
YORK
Perkiomen School
TABS, SSATB, NAFSA member
Founded 1875
A safe and friendly school, Perkiomen has a three-level ESL program that helps
international students master the English language quickly. All classrooms and
dorm rooms feature fiber optics and Internet connections.
Perkiomen, un colegio seguro y amistoso, cuenta con un programa de inglés
como segundo idioma (ESL) de tres niveles que ayuda a los estudiantes
extranjeros a dominar el idioma con rapidez. Todas las aulas y las residencias
estudiantiles proporcionan cableado de fibras ópticas y conexiones con la
Internet.
Perkiomen, un établissement sûr et chaleureux, offre des cours d'anglais
comme langue étrangère (ESL) de trois niveaux différents qui permettent aux
étudiants étrangers de maîtriser rapidement la langue anglaise. Toutes les salles de
classe et les dortoirs sont équipés de fibres optiques et de connexions à Internet.
The 165-acre campus includes a
new dormitory, a fine arts center,
and a gym.
Las 66 hectáreas de terreno tienen
nuevas residencias estudiantiles, un
centro de bellas artes y un gimnasio.
Le campus de 66 hectares
comprend un nouveau dortoir, un
centre de beaux-arts et un gymnase.
66


32 km from Allentown Airport; 64 km from Philadelphia, PA
A 32 km del aeropuerto de Allentown; a 64 km de Philadelphia, PA
A 32 km de l'aéroport d'Allentown ; à 64 km de Philadelphie, PA
32 km
64 km
Allentown 32 Philadelphia, PA 64
September / septiembre / septembre
9
9
UNITED STATES
66

Rolling / Continuo / Continuelles
Coeducational 7­12 / Mixto / Mixte
Boston University, New York
University, University of Michigan,
University of Pennsylvania,
Vanderbilt University
China, Indonesia, Japan, Korea,
Spain, Taiwan
74, 42 / solicitaron admisión, fueron
aceptados / candidats, admis