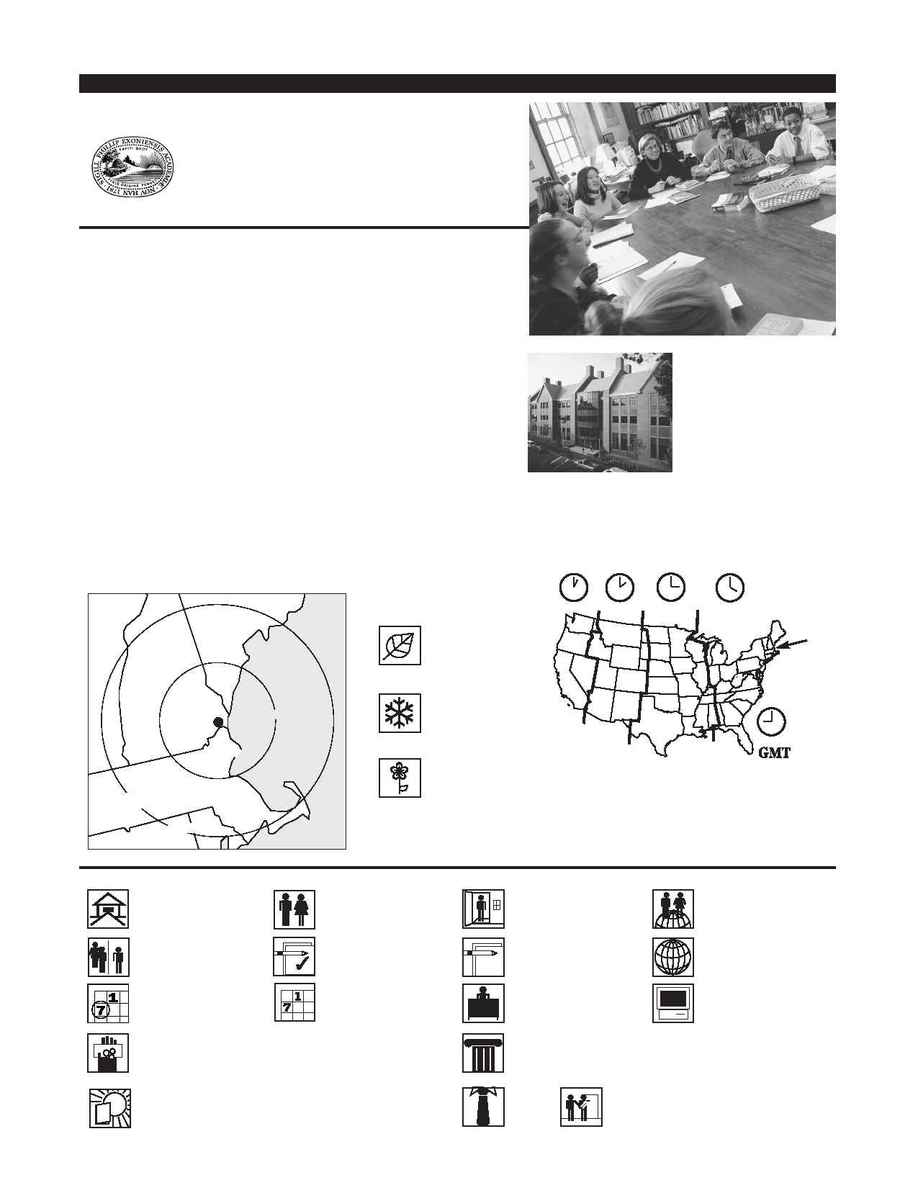 ATLANTIC
OCEAN
VERMONT
MAINE
MASSACHUSETTS
NEW
HAMPSHIRE
80 km
160 km
Phillips Exeter Academy
Founded 1781
The 471-acre campus is home to the
award-winning Phelps Science Center.
EL recinto de 191 hectáreas es el
recipiente ganador del Centro de
Ciencias Phelps.
Le campus de près de 191 hectares
abrite le Centre scientifique Phelps
Science Center qui a été récompensé.
191
Phelps Science Center
80 km from Logan International Airport and Boston, MA
A 80 km del aeropuerto internacional de Logan y de Boston, MA
A 80 km de l'aéroport international de Logan et de Boston, MA
80
Logan, MA Boston, MA 80
2128, 530 / solicitaron admisión,
fueron aceptados / candidats, admis
January 15 / 15 de enero / 15 janvier
1 15
1 15
TOEFL (600) (268 CBT), SSAT
September / septiembre / septembre
9
9
Brown University, Georgetown University,
Harvard Univrsity, University of Pennsylvania,
Yale University
Canada, China, Korea,
Saudi Arabia, Singapore
UNITED STATES
With students and faculty from around the world, Exeter embraces diversity. In a safe
environment, international students receive academic and emotional support from dormitory
parents and teachers, as well as from student organizations like the Eastern European Exonians,
Indian Society, Asian Student Collective, La Alianza Latina, and the Islamic Society.
Con estudiantes y una facultad de alrededor del mundo, Exeter es diversa. En un
ambiente seguro, estudiantes internacionales reciben apoyo académico y emocional de
padres y maestros de dormitorios, así como estudiantes de organizaciones como Eastern
European Exonians, la Sociedad India, el Colectivo de Estudiantes Asiáticos, La Alianza
Latina y la Sociedad Islámica.
Exeter privilégie le brassage des cultures en regroupant des étudiants et des professeurs des
quatre coins du monde. Dans un environnement de toute sécurité, les étudiants de différentes
nationalités reçoivent une assistante scolaire et morale de la part des responsables de l'internat et
des professeurs ainsi que de la part des diverses organisations étudiantes telles que Eastern
European Exonians, Indian Society, Asian Student Collective, La Alianza Latina et l'Islamic Society.
Eastern European ExoniansIndian SocietyAsian Student CollectiveLa Alianza
Michael Gary, Admissions Director
20 Main Street
Exeter, New Hampshire 03833-2460
Phone: 603-777-3437 Fax: 603-777-4399
E-mail: admit@exeter.edu
URL: http://www.exeter.edu
Eastern European
Exonians, Indian Society, Asian Student Collective, La Alianza Latina, and the Islamic Society
191
Phelps
Coeducational 9­PG/ Mixto / Mixte