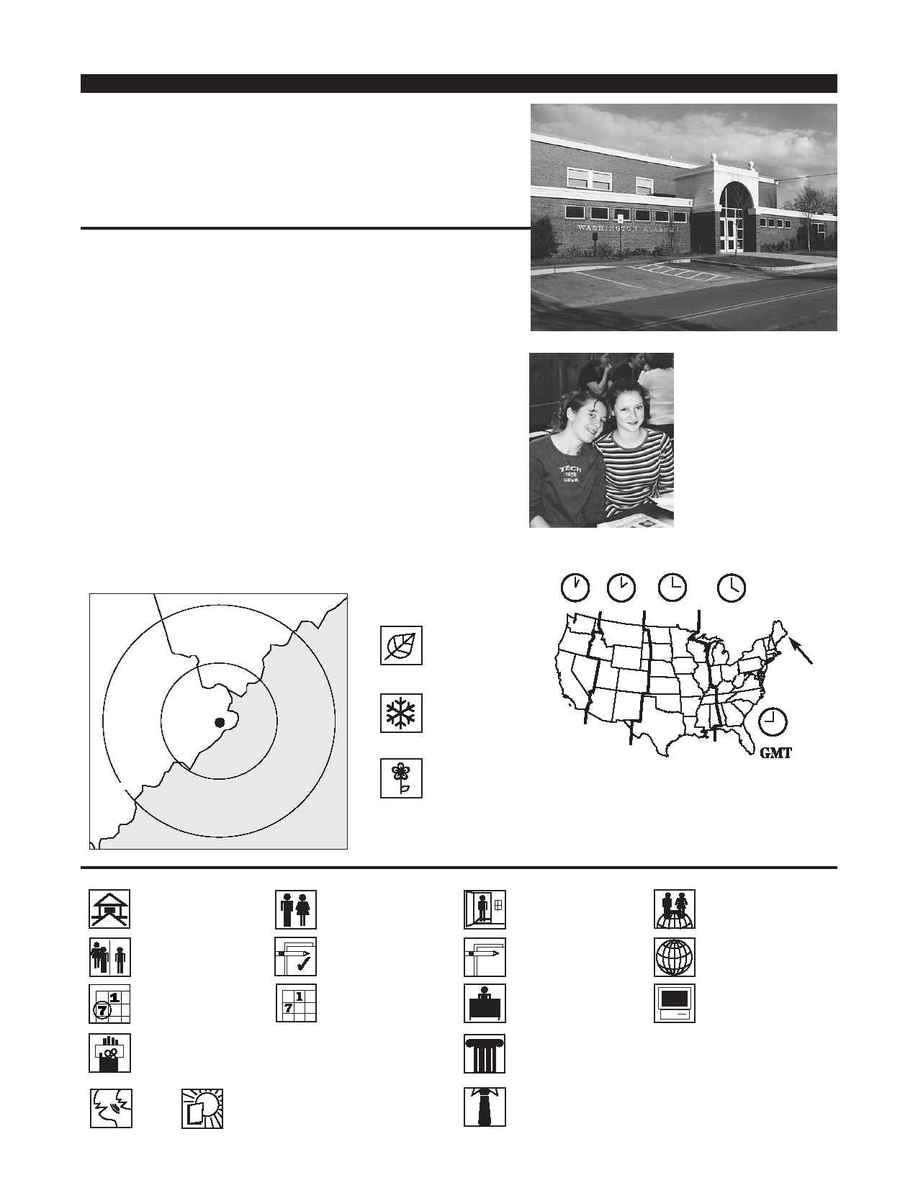 ATLANTIC
OCEAN
MAINE
CANADA
80 km
160 km
Washington Academy
Founded 1792
The 45-acre campus has 8 buildings,
including 2 newly renovated
dormitories.
El recinto de 45 acres comprende 8
edificios incluyendo 2 dormitorios
recientemente renovados.
Le campus de 18 hectares se compose
de 8 bâtiments dont 2 dortoirs
récemment rénovés.
18


151 km from Bangor Airport; 107 km from Ellsworth, ME
A 151 km del aeropuerto de Bangor; a 107 km de Ellsworth, ME
A 151 km de l'aéroport de Bangor ; à 107 km de Ellsworth, ME
Bangor 151 Ellsworth, ME 107
57, 36 / solicitaron admisión, fueron
aceptados / candidats, admis
Rolling / Continuo / Continuelles


Rolling, September, January /
Continuo, septiembre, enero /
Continuelles, septembre, janvier
9 1
9 1
Boston University, Bowdoin College,
Maine Maritime Academy, Middlebury
College, University of Maine
Bermuda, Japan, Korea, Russia,
Taiwan, Vietnam
UNITED STATES
A full-time ESL director works closely with faculty. Washington Academy has separate boys and
girls dorms and a host family program. Washington Academy arranges TOEFL testing, issues
I-20s, sponsors an International Student Association, provides weekend activities as well as
several trips throughout the year. Washington Academy also offers a 4-week Summer
ESL Program.
Un director a tiempo completo de inglés como segundo idioma (ESL) trabaja directamente
con la facultad. Washington Academy tiene dormitorios separados para niños y niñas y auspicia
un programa familiar. Washington Academy ofrece los exámenes de ruso como lengua
extranjera (TOEFL), emite formularios I-20, auspicia una asociación internacional para
estudiantes, provee actividades de fin de semana así como varios viajes durante el año.
Washington Academy también ofrece en el verano un programa de ESL de cuatro semanas.
Un directeur, chargé à plein temps du programme ESL (anglais deuxième langue), travaille
étroitement avec les professeurs. Washington Academy dispose de dortoirs séparés pour les
filles et les garçons et propose un programme d'accueil en famille. Washington Academy se
charge d'organiser les examens du TOEFL, d'émettre les visas pour étudiants I-20s, de soutenir
une association internationale des étudiants et d'organiser des activités pour le week-end ainsi
que plusieurs voyages pendant l'année scolaire. Washington Academy offre également un
programme ESL (anglais deuxième langue) de 4 semaines pendant l'été.
TOEFL I-20
4 ESL
Samra Kuseybi, Director of Admissions
High Street
P.O. Box 190
East Machias, Maine 04630
Phone: 207-255-8301 Fax: 207-255-8303
URL: http://www.washingtonacademy.org
Washington Academy TOFEL I-20
Washington Academy
ESL
Coeducational 9­12 / Mixto / Mixte