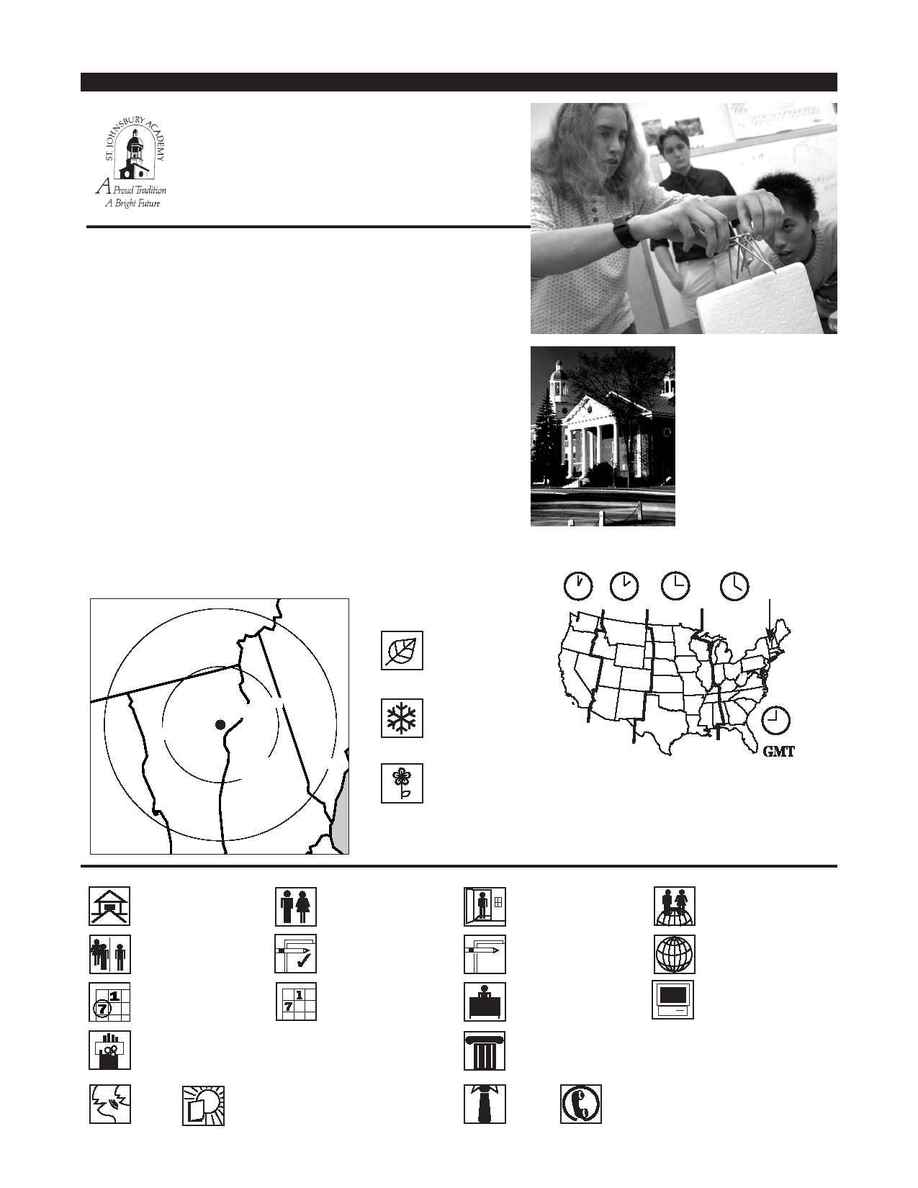 NEW
YORK
80 km
160 km
VERMONT
NEW
HAMPSHIRE
QUEBEC
MAINE
St. Johnsbury Academy
Founded 1842
The 42-acre campus provides
outstanding facilities for science, art,
music, and athletics.
El terreno de 16 hectáreas provee
instalaciones de ciencias, arte, música
y deportes.
Le campus de 16 hectares, comprend
des installations de sciences, d'art, de
musique et de sport.
16
120 km from Burlington International Airport; 290 km from Boston, MA
A 120 km del aeropuerto internacional de Burlington; a 290 km de Boston, MA
A 120 km de l'aéroport international de Burlington ; à 290 km de Boston, MA
120
290
Burlington 120 Boston, MA 290
Coeducational 9­PG / Mixto / Mixte
486, 420 / solicitaron admisión,
fueron aceptados / candidats, admis
Rolling / Continuo / Continuelles
$29,920
$3500 (ESL)
August, January / agosto, enero /
août, janvier
8 1
8 1
Boston College, Carnegie Mellon University,
Cornell University, New York University, Rhode
Island School of Design, University of Michigan,
University of Vermont, University of Wisconsin
Bermuda (24), Germany (25),
Hong Kong (20), Japan, Korea,
Mexico, Spain (20)
UNITED STATES
Live and learn in this beautiful and safe Vermont community. Named an Exemplary
School by the U.S. Department of Education, St. Johnsbury offers demanding
academic, ESL, and pre-engineering programs as well as pre-professional programs
in the arts.
Viva y aprenda en esta bella y segura comunidad en el Vermont. Designado
como un colegio ejemplar por el Departamento de Educación de los EE.UU., St.
Johnsbury ofrece una preparación académica exigente, cursos de inglés como
segundo idioma (ESL) y programas de preingeniería y de arte a nivel pre-profesional.
Venez vivre et apprendre dans cette belle et sûre communauté située dans le
Vermont. Nommée par le ministère de l'éducation des E.U. comme étant une école
exemplaire, St. Johnsbury offre des programmes poussés de formation générale,
d'anglais comme langue étrangère (ESL) et de préparation aux études d'ingénieur,
ainsi que des programmes d'art préprofessionnels.
John J. Cummings, Director of Admissions
1000 Main Street
St. Johnsbury, Vermont 05819
Phone: 802-751-2130 Fax: 802-748-5463
E-mail: admissions@stjacademy.org
URL: http://www.stjohnsburyacademy.org
16