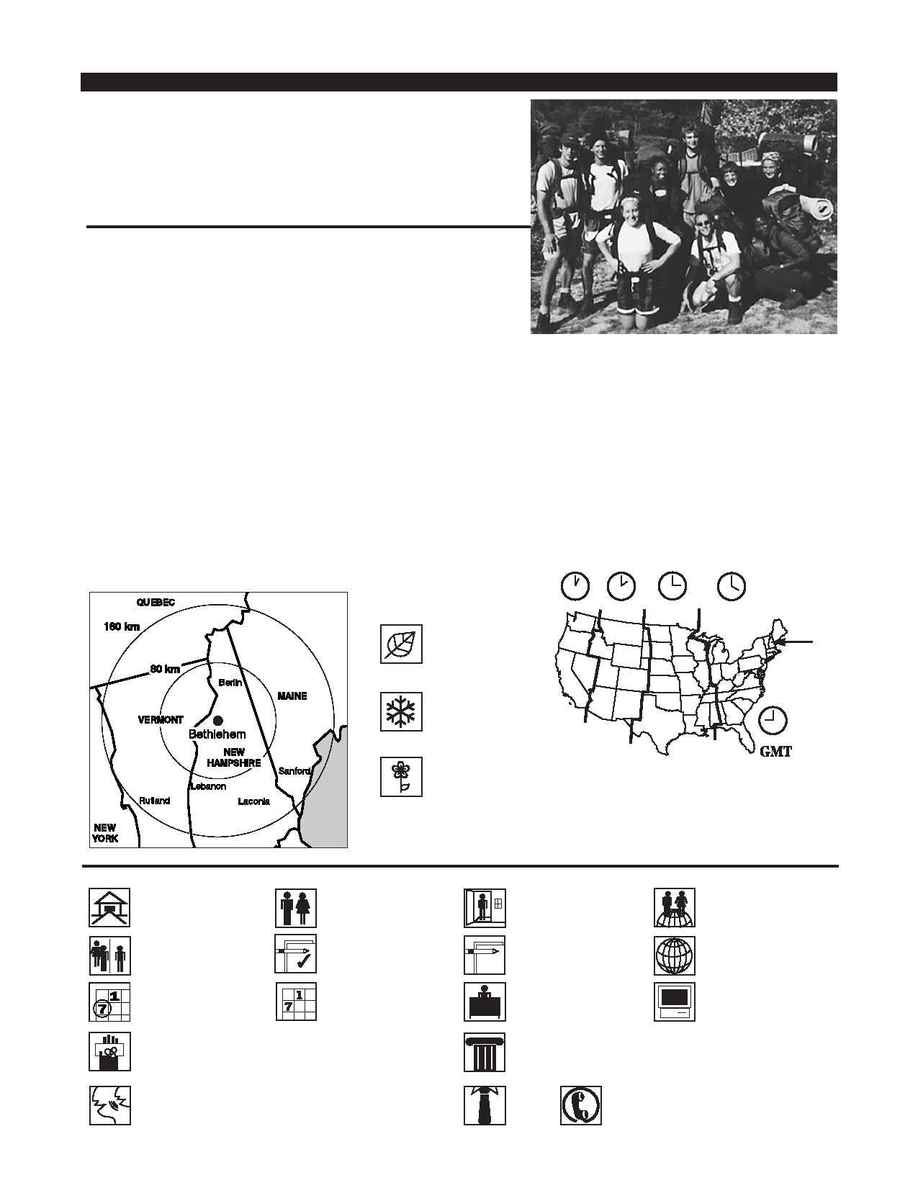 The White Mountain School
Founded 1886
250-acre campus includes new library
and student center.
Las 101 hectáreas de terreno cuentan
con una nueva biblioteca y un centro
estudiantil.
Le campus de 101 hectares possède
une nouvelle bibliothèque et un
nouveau centre pour étudiants.
140 km from Manchester, NH; 120 km from Concord, NH
A 140 km del Manchester, NH; a 120 km del Concord, NH / A 140 km de
Manchester, NH; à 120 km de Concord, NH
Coeducational 9­12 and PG /
Mixto / Mixte
200, 40 / solicitaron admisión,
fueron aceptados / candidats, admis
Rolling / Continuo / Continuelles
September, January / septiembre,
enero / septembre, janvier
9
American University, Boston University,
Bryn Mawr College, Lewis & Clark College,
Mount Holyoke College
India (1), Canada (1), Ethiopia (2),
Germany (2), Japan (1), Korea (1),
Slovakia (1), St. Lucia (1),
Zambia (1)
UNITED STATES
"Small school. Big outdoors." is the phrase that best characterizes our traditional academic
program alongside such nontraditional sports as mountaineering, flat & whitewater paddling,
rock & ice climbing, and road & mountain biking. Winter sports include snowboarding,
recreational and backcountry skiing, and cross-country. Program includes ESL, arts, and
international community service.
"Colegio pequeño. Gran ambiente natural" dice la frase que mejor caracteriza nuestro
programa académico tradicional junto con deportes no tradicionales como alpinismo, remo
plano y en aguas rápidas, escalamiento de rocas y hielo y ciclismo en caminos y de montaña.
Los deportes de invierno incluyen snowboarding, esquí backcountry, y cross country. El
programa incluye cursos de inglés como segundo idioma (ESL), artes y servicio comunitario
internacional.
« Petite école. Grands espaces. » Cette phrase symbolise le mieux notre programme
scolaire traditionnel accompagné d'activités sportives originales, comme l'alpinisme, le canoe
en rivière et sur lac, la varappe et l'escalade sur glace, le cyclisme et le VTT. Parmi les sports
divers sont pratiqués le snowboard, le ski alpin et de randonnée et le ski de fond. Le
programme comprend des cours d'anglais comme langue étrangère (ESL), des cours d'art
et de service communautaire international.


ESL

Amy Broberg, Director of Admissions
371 West Farm Road
Bethlehem, New Hampshire 03574
Phone: 603-444-2928 Fax: 603-444-5568

ESL

101