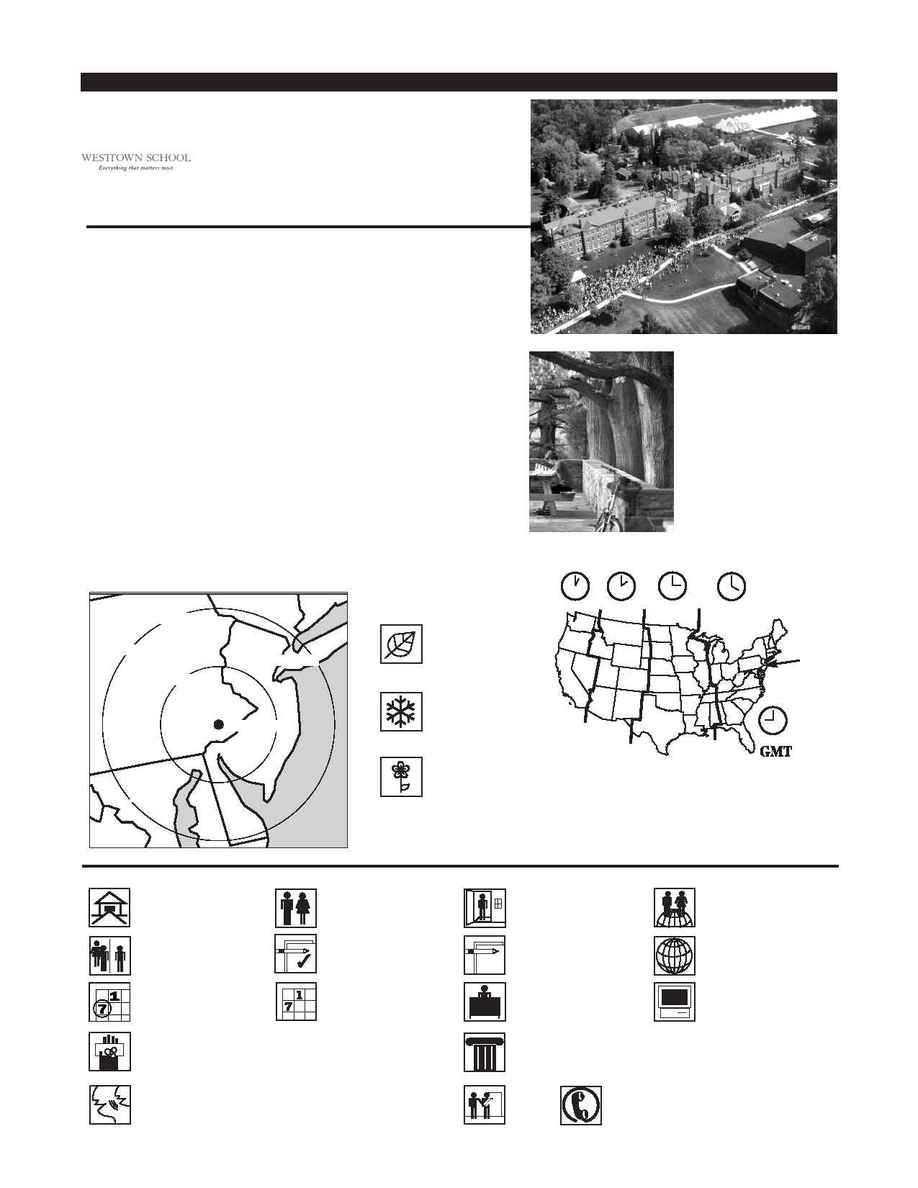 PENNSYLVANIA
NEW
JERSEY
NEW
YORK
Atlantic
Ocean
80 km
160 km
Westtown School
Founded 1799
The 600-acre campus includes newly
renovated boys' and girls' dormitories.
Las 243 hectáreas de terreno incluyen
residencias estudiantiles recién
renovadas para jóvenes de ambos sexos.
Le campus de 243 hectares comprend
des dortoirs pour garçons et des dortoirs
pour filles nouvellement rénovés.
40 km from Philadelphia International Airport; 40 km from Philadelphia
A 40 km del aeropuerto Internacional de Filadelfia; a 40 km de Filadelfia
À 40 km de l'aéroport international de Philadelphie ; à 40 km de Philadelphie
Coeducational boarding
Pre­K­12 / Mixto / Mixte
300, 127 / solicitaron admisión,
fueron aceptados / candidats, admis
February 1, rolling / 1 de febrero,
continuo / 1
September / septiembro /
septembre
9
9
American University, Brown University,
Haverford College, Swarthmore College,
University of Pennsylvania
England, Germany, Japan,
Kenya, Korea, Nigeria, Taiwan
UNITED STATES
Westtown School is a coeducational college preparatory school offering a challenging academic program.
Founded in 1799 by Quakers, Westtown offers international students from over 20 countries the opportunity
to develop strong English skills while becoming an integral part of a friendly boarding school community. A
full-time International Student Coordinator works closely with the ESL teacher, students, and their advisors.
Local Westtown School families volunteer to serve as host families for international students.
Westtown School es un colegio mixto de preparación para la universidad que ofrece un programa
académico estimulante. Fundado en 1799 por los cuáqueros, Westtown ofrece a estudiantes extranjeros de
más de 20 países la oportunidad de adquirir conocimientos avanzados de inglés mientras que ellos se
integran a una comunidad de internado amigable. Un Coordinador de Estudiantes Extranjeros de tiempo
completo trabaja estrechamente con los profesores de ESL, con los estudiantes y con sus asesores. Las
familias locales de la escuela Westtown se ofrecen como voluntarios para servir como familias auspiciadoras
de los estudiantes internacionales.
Westtown School, un établissement mixte préparant à l'entrée en université, propose un programme
scolaire stimulant. Fondé en 1799 par les Quakers, Westtown donne aux étudiants venant de plus de 20
pays différents l'occasion de développer une solide maîtrise de l'anglais tout en devenant partie intégrante
d'une communauté d'internat chaleureuse. Un coordinateur chargé à temps complet des étudiants étrangers
travaille en étroite collaboration avec le professeur d'ESL, les étudiants et leurs conseillers. Par ailleurs, les
familles dans la localité de Westtown School se portent volontaires pour accueillir des étudiants étrangers.
1799 Westtown 20

ESL

P.O. Box 1799
Westtown, Pennsylvania 19395
Phone: 610-399-7900 Fax: 610-399-7909
E-mail: admissions@westtown.edu
URL: http://www.westtown.edu

ESL
Westtown School
243