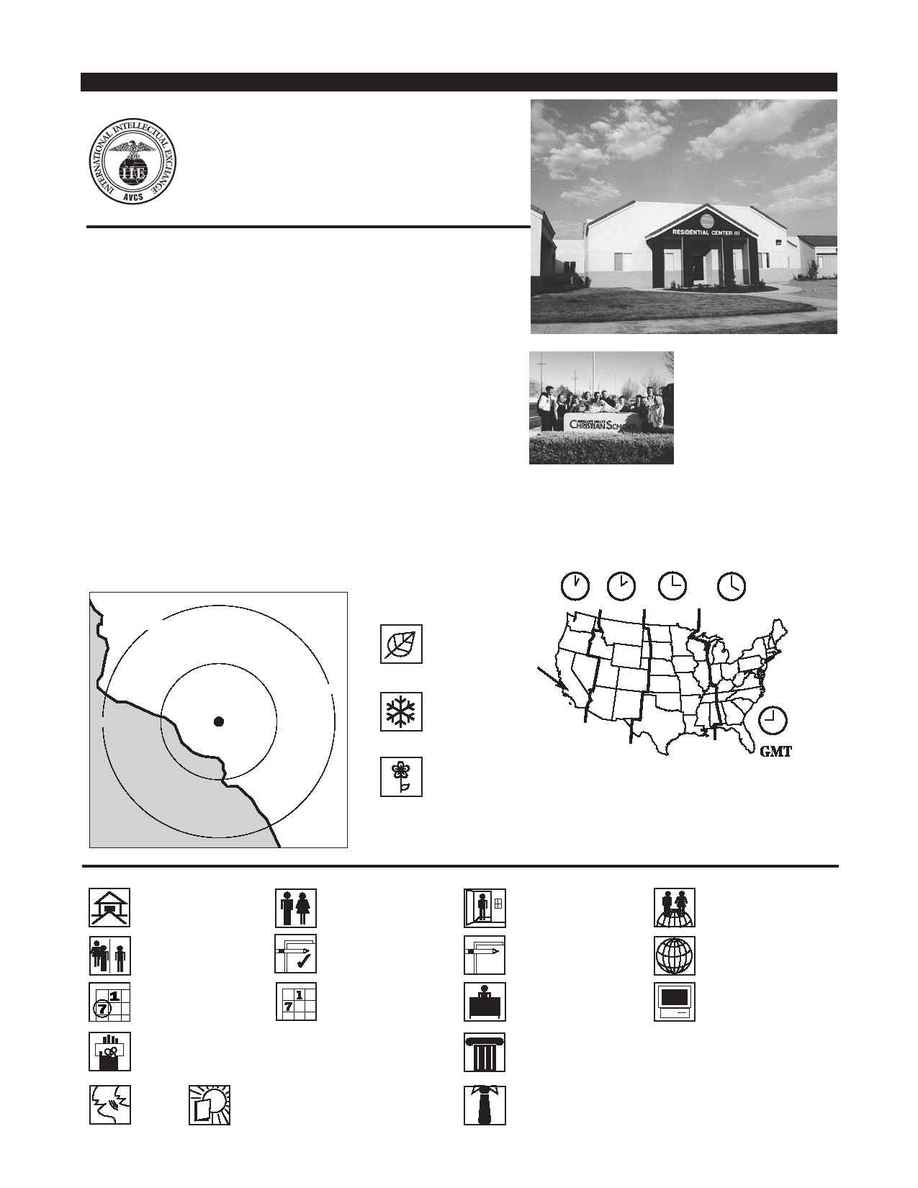 CALIFORNIA
80 km
160 km
Pacific
Ocean
Antelope Valley Christian School
Founded 1988
A 35-acre campus with a new
technology center and gymnasium.
Un recinto escolar de 15 hectáreas de
terreno con un nuevo centro de
tecnología y un gimnasio.
Un campus de 14 hectares avec un
nouveau centre technologique et un
gymnase.
118 km from Los Angeles International Airport; 112 km from Los Angeles
A 118 km del Aeropuerto Internacional de Los Angeles; a 112 km de Los Angeles.
À 118 km de l'aéroport international de Los Angeles ; à 112 km de Los Angeles
Coeducational pre-K­12 / Mixto /
Mixte
40, 35 / solicitaron admisión, fueron
aceptados / candidats, admis
Rolling / Continuo / Continuelles


Rolling / Continuo / Continuelles


University of California­Berkeley, California State
University­Northridge, California State University­Long Beach,
Pepperdine University, San Jose Christian College, State
University of New York
Taiwan (4), Korea (5),
Hong Kong (4), Japan (4),
Thailand (6)
UNITED STATES
Students develop strong English and leadership skills in a caring community. A
personalized ESL program and fully accredited college-prep academics are united with
competitive athletics, fine arts, and Christian values. A variety of programs include a
traditional school year, short-term home stays, and year-round academics.
Los estudiantes desarrollan excelentes aptitudes de liderazgo y dominio del inglés en
una comunidad que se preocupa por el bienestar de sus integrantes. Un programa
personalizado de inglés como segundo idioma (ESL) y un plan de estudios plenamente
acreditado de preparación para la universidad, que se complementan con deportes
competitivos, bellas artes y valores cristianos. Entre la variedad de programas se cuentan
un año escolar tradicional, breves periodos de alojamiento con familias locales y un
programa de estudios durante todo el año.
Les étudiants développent une solide maîtrise de l'anglais ainsi que des talents de
leadership au sein d'une communauté humanitaire. Un programme d'anglais comme
langue étrangère (ESL) personnalisé ainsi qu'un cursus scolaire agréé, préparant à l'entrée
en université, sont complétés par des activités sportives de compétition, les beaux-arts et
les valeurs chrétiennes. Une grande variété de programmes sont offerts tout au long de
l'année, pendant l'année scolaire traditionnelle ou bien pendant des séjours à court terme.
ESL


3700 West Avenue L
Lancaster, California 93536
Phone: 661-943-0044 Fax: 661-943-6774
E-mail: iie@avcs.edu
URL: http://www.avcs.edu
14