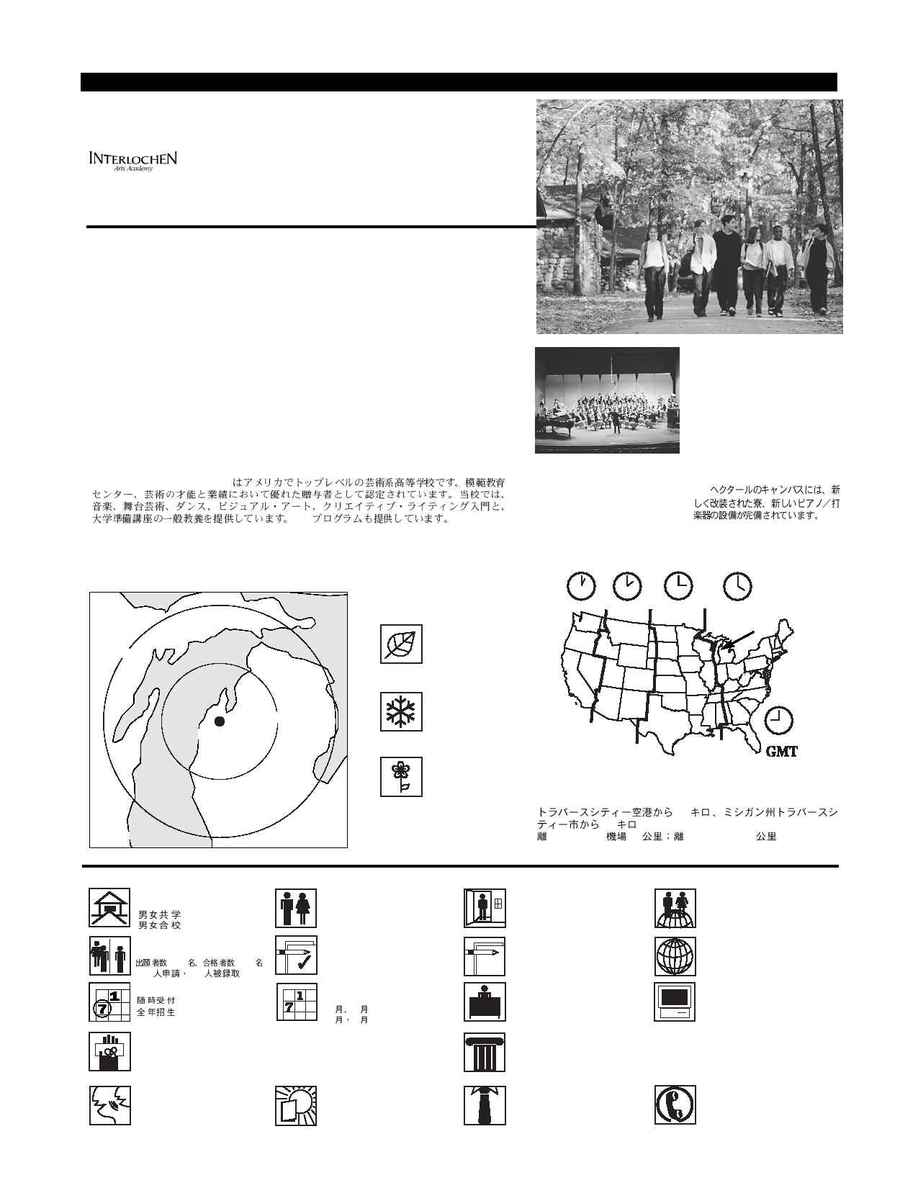 MICHIGAN
Lake
Michigan
80 km
160 km
WISCONSIN
Interlochen Arts Academy
Founded 1963
1200-acre campus includes newly
renovated dorms and new
piano/percussion facility.
Las 486 hectáreas de terreno incluye
residencias estudiantiles renovadas
recientemente y un nuevo centro de
piano e instrumentos de percusión.
Le campus de 486 hectares comprend
des dortoirs récemment rénovés, ainsi
qu'un nouveau studio pour piano et
percussions.
25 km from Traverse City Airport; 25 km from Traverse City, MI
A 25 km del aeropuerto Traverse; a 25 km de Traverse City, MI
A 25 km de l'aéroport Traverse City ; à 25 km de Traverese City, MI
Coeducational 9­PG / Mixto /
Mixte
350, 275 / solicitaron admisión, fueron
aceptados / candidats, admis
Rolling / Continuo / Continuelles
September, January / septiembre,
enero / septembre, janvier
9
Eastman School of Music, Indiana
University, Oberlin Conservatory,
The Juilliard School, University of
Michigan, Carnegie Mellon University
China, Japan, Korea,
Soviet Republics, Taiwan
UNITED STATES
Interlochen Arts Academy is the premier fine arts high school in the United States,
recognized as a model teaching center and outstanding presenter of artistic talent and
achievement. The Academy offers instruction in music, theatre arts, dance, visual arts,
creative writing, and college-preparatory academics. An English as a second language
program is offered.
Interlochen Arts Academy es la principal escuela secundaria de bellas artes en los Estados
Unidos, reconocida como un centro de enseñanza modelo y un excepcional presentador de
talentos y logros artísticos. La Academia ofrece cursos de música, artes teatrales, danza, artes
visuales, composición creativa y un programa académico de preparación para la universidad.
Se ofrece un programa de inglés como segundo idioma (ESL).
En ce qui concerne les beaux-arts, Interlochen Arts Academy est le meilleur
établissement secondaire des États-Unis. Considérée comme un centre d'enseignement
modèle, l'école est prodigue en talents et réalisations artistiques. La musique, les arts de la
scène, la danse, les arts plastiques, la création littéraire et un programme scolaire préparant
à l'entrée en université y sont enseignés. Des cours d'anglais comme langue étrangère sont
également proposés.
Thomas Bewley, Director of Admissions
P.O. Box 199
Interlochen, Michigan 49643
Phone: 231-276-7200 Fax: 231-276-7464
E-mail: admissions@interlochen.k12.mi.us
486
/
Beginning through Advanced
ESL, ESL Multicultural
Perspectives, ESL Government,
ESL American Experience