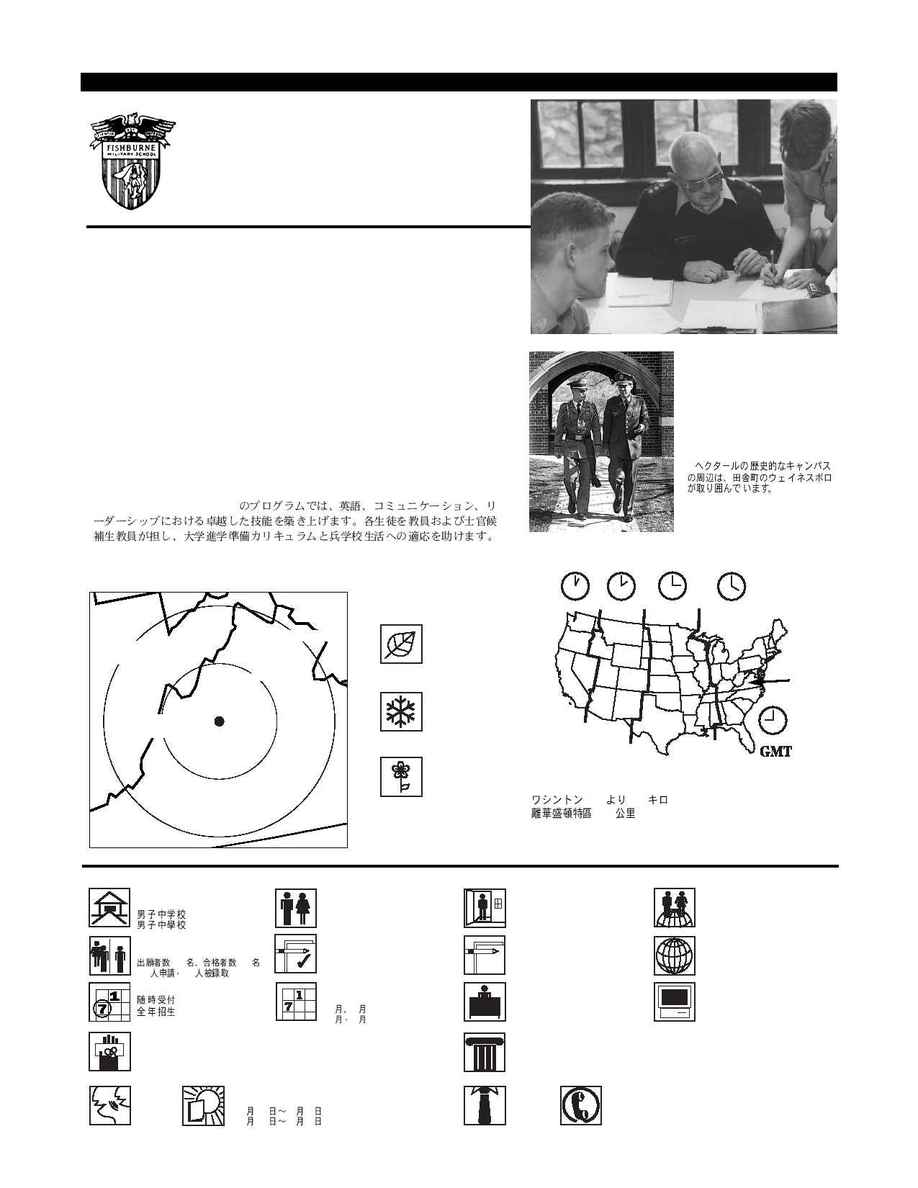 VIRGINIA
80 km
160 km
WEST
VIRGINIA
Fishburne Military School
Founded 1879
Rural Waynesboro surrounds the
historic 10-acre campus.
La ciudad rural de Waynesboro
rodea el histórico recinto situado en
4 hectáreas de terreno.
Le campus historique de 4 hectares
est situé au coeur de la ville rurale
de Waynesboro.
242 km from Washington, DC / A 242 km de Washington, DC / Á 242 km
de Washington, DC
Boys 8­12 / Muchachos /
Garçons
94, 82 / solicitaron admisión, fueron
aceptados / candidats, admis
Rolling / Continuo / Continuelles
September, January / septiembre,
enero / septembre, janvier
9
Virginia Military Institute, Virginia
Tech, Marshall University, Embry-
Riddle Aeronautical University,
George Mason University
Aruba, Korea, Mexico, Thailand,
Venezuela
UNITED STATES
The Fishburne Military School program develops strong skills in English,
communication, and leadership. Each student is assigned to a faculty member
and a cadet mentor who work to ensure his adjustment to the college-
preparatory curriculum and cadet life.
El programa de Fishburne Military School desarrolla los conocimientos del
inglés, la habilidad de comunicación y las dotes de liderazgo. Cada estudiante
es asignado a un miembro del profesorado y a un mentor cadete que trabajan
para asegurar su ajuste al plan de estudios de preparación para la universidad
y a la vida de los cadetes.
Le programme de Fishburne Military School développe des compétences
solides en anglais et dans les domaines de la communication et du leadership.
On attribue à chaque étudiant un membre du corps enseignant, ainsi qu'un
élève officier qui joue le rôle de conseiller. Ces deux personnes attachées à
l'étudiant garantissent sa bonne adaptation au programme scolaire préparant à
l'entrée en université et à la vie des élèves officiers.
Fishburne Military School
Gary R. Morrison, Director of Admissions
P.O. Box 988E
Waynesboro, Virginia 22980
Phone: 800-946-7773 Fax: 540-946-7702
4 Waynesboro

June 25­August 5 / 25 juin­5
août / 25 de junio­5 de agosto
6