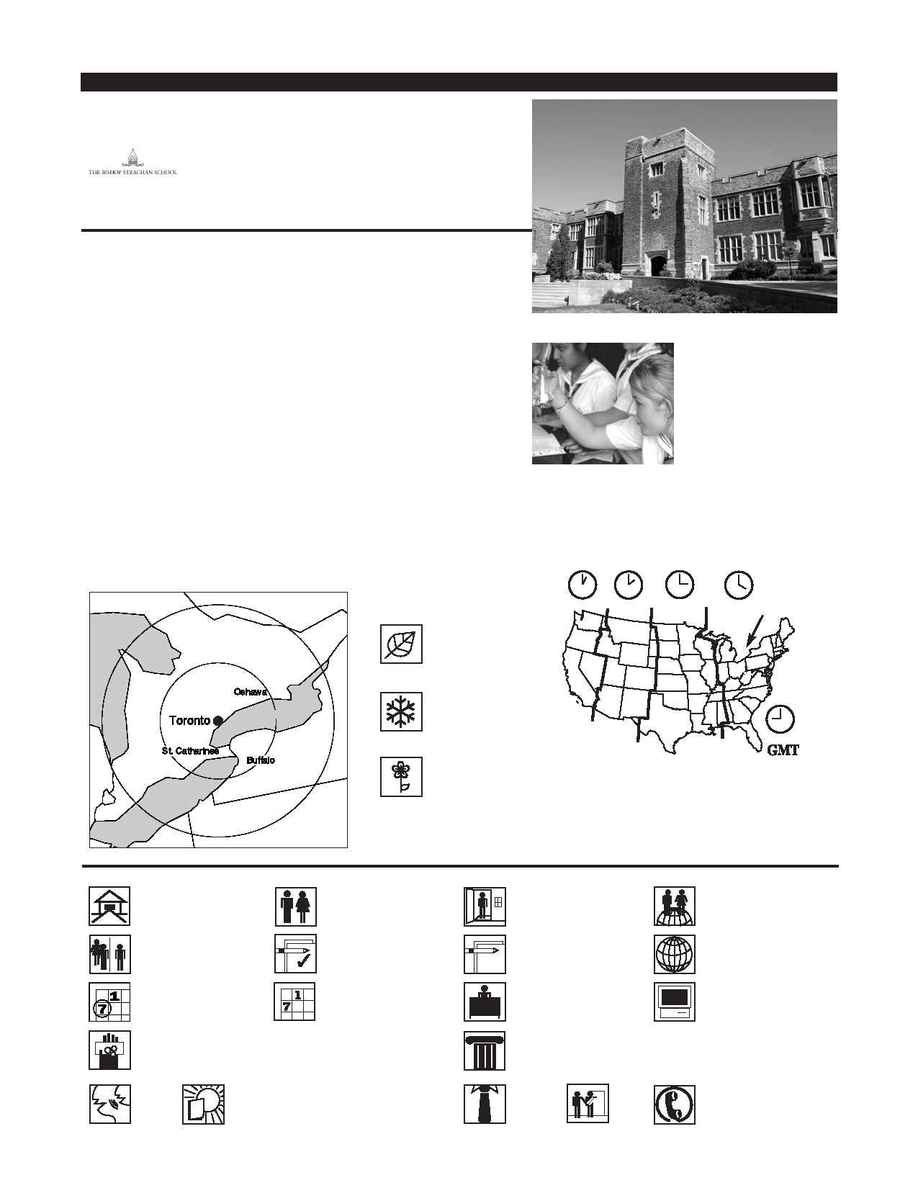 ONTARIO
NEW
YORK
Lake Erie
Lake Ontario
PENNSYLVANIA
80 km
160 km
The Bishop Strachan School
Founded 1867
A safe, stimulating 7.5 ­acre facility
in a culturally diverse city.
Un ambiente seguro y estimulante
en 3 hectáreas de terreno, en una
ciudad de gran diversidad cultural.
Un campus de 3 hectares, sûr et
stimulant, au coeur d'une ville riche
en diversité culturelle.

3

32 km from Toronto International Airport in Toronto, ON
A 32 km del aeropuerto internacional de Toronto y de Toronto, ON
A 32 km de l'aéroport international de Toronto et de Toronto, ON
32
Toronto, ON Toronto, ON 32
Girls JK­12 / Niñas / Filles
282, 111 / solicitaron admisión, fueron
aceptados / candidats, admis
$38,360 (boarding)
$19,950 (day)
July / julio / juillet
7
Cornell University, University of
Edinburgh, McGill University, Queen's
University, University of Toronto,
University of Western Ontario
Africa, Bermuda (55),
Canada (134), The Caribbean (30),
Germany (5), Hong Kong (25),
Japan (15), Mexico (30),
U.S. (134)
1:1
CANADA
The Bishop Strachan School offers a wide selection of Advanced Placement (AP) courses
for students who plan to enter North American or international universities. The school
uses both traditional and progressive methods, including a technology-based curriculum,
to enable each student to reach her potential and become a leader tomorrow.
El colegio Bishop Strachan ofrece una amplia elección de cursos de colocación en
programas avanzados para estudiantes que piensan matricularse en universidades
norteamericanas e internacionales. El colegio emplea métodos tradicionales y
progresistas, incluyendo un plan de estudios basado en tecnología, para que cada
estudiante logre desarrollar todo su potencial y convertirse en futuro líder.
The Bishop Strachan School offre une grande sélection de cours d'enseignement
supérieur pour les étudiants ayant l'intention d'entrer dans des universités américaines
ou internationales. L'établissement utilise à la fois des méthodes d'enseignement
nouvelles et traditionnelles, notamment un programme scolaire se fondant sur la
technologie, pour permettre à tous les étudiants de s'épanouir et de devenir les leaders
de demain.
Advanced Placement



Catherine Hart, Director of Admissions
Toronto, Ontario M4V 1X2 Canada
Phone: 416-483-4325 ext. 1220
Fax: 416-481-5632
E-mail: admissions@bss.on.ca
URL: http://www.bss.on.ca

3
Rolling / Continuo / Continuelles