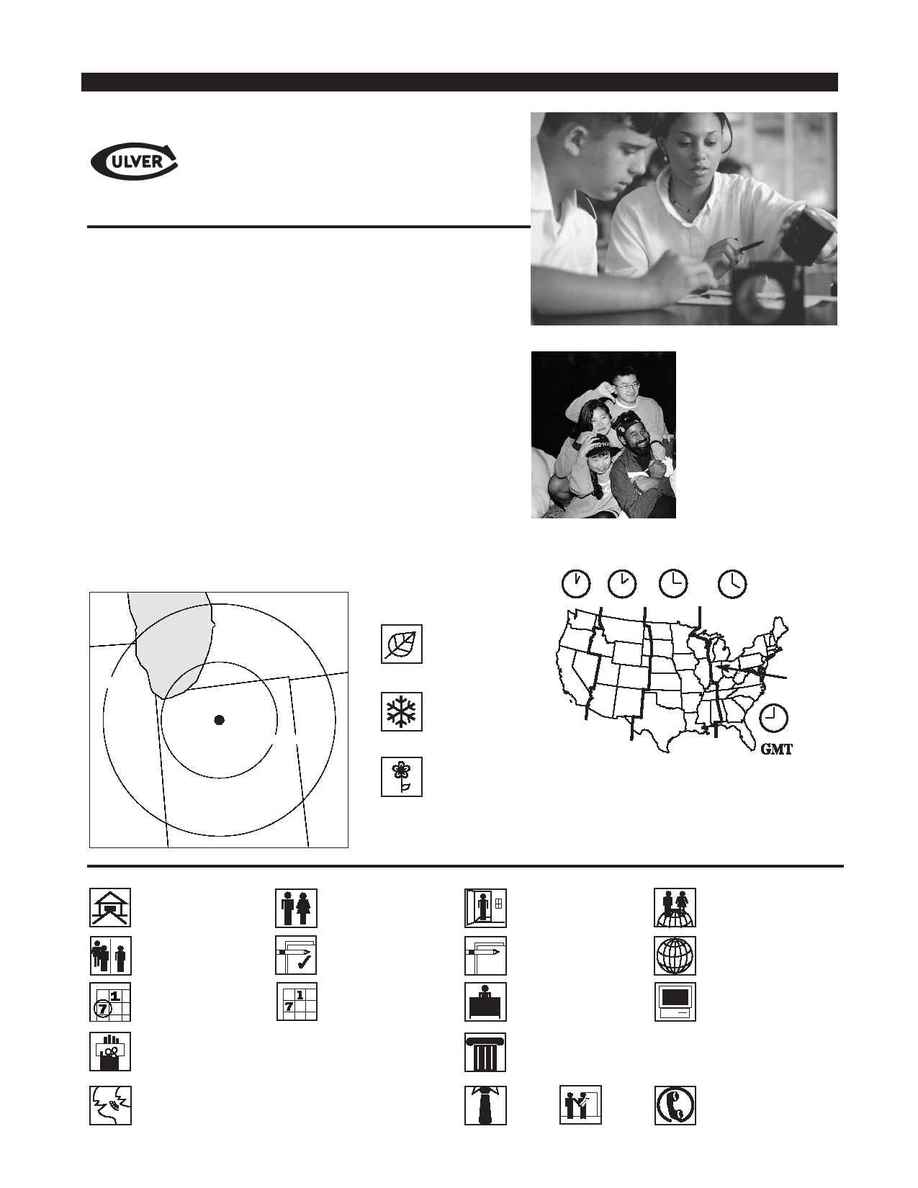 INDIANA
ILLINOIS
MICHIGAN
Lake
Michigan
80 km
160 km
Culver Military Academy/Culver Girls Academy
Founded 1894
The 1,800-acre campus has an
airport, a library, and a golf course.
Las 729 hectáreas de terreno
cuentan con un aeropuerto, una
biblioteca y un campo de golf.
Le campus de 729 hectares
comprend un aéroport, une
bibliothèque et un terrain de golf.
161 km from O'Hare International Airport and Chicago, IL
A 161 km del aeropuerto internacional de O'Hare y de Chicago, IL
A 161 km de l'aéroport international d'O'Hare et de Chicago, IL
Coeducational 9­PG /
Mixto / Mixte
751, 431 / solicitaron admisión, fueron
aceptados / candidats, admis
August, January / agosto, enero /
août, janvier
8 1
8 1
Georgetown University, Harvard University,
Indiana University, Princeton University,
University of Michigan, University of
Southern California, Yale University
Brazil (3), Canada (9), China (6),
England (4), Japan (3), Korea (32),
Mexico (32), Taiwan (5),
Venezuela (4)
UNITED STATES
Culver Military Academy and Culver Girls Academy are college-preparatory boarding
schools for grades 9­PG. About 15 percent of the enrollment comes from outside the
U.S. The Academies offer challenging academics through an ESL program, small
classes, and individual assistance in a nurturing, rural lakeside environment.
Culver Military Academy y Culver Girls Academy son internados de preparación
para la universidad para grados del noveno a PG. Cerca del 15 por ciento de los
estudiantes que se matriculan provienen de fuera de los Estados Unidos. Las
academias ofrecen estimulantes programas académicos por medio de un programa
de inglés como segundo idioma (ESL), clases con pocos alumnos y asistencia
individual en un ambiente rural, a la orilla de un lago, que estimula el aprendizaje.
Culver Military Academy et Culver Girls Academy sont des internats préparant à
l'entrée dans les universités pour les étudiants à partir de la troisième et pour les
bacheliers. Quinze pour cent environ des étudiants sont étrangers. Ces établissements
offrent un excellent programme scolaire grâce à des cours d'anglais comme langue
étrangère (ESL), des classes restreintes et une assistance individuelle dans un
environnement stimulant et rural au bord d'un lac.
Culver Military Academy Culver Girls Academy
15
ESL

Phone: 574-842-7100 Fax: 574-842-8066
E-mail: admissions@culver.org
URL: http://www.culver.org
Culver Military Academy Culver Girls Academy 9
15%
ESL
729

Rolling / Continuo / Continuelles


Enriched ESL / Programa enriquecido de inglés
como segundo idioma (ESL) / Anglais comme langue
étrangère renforcé
ESL