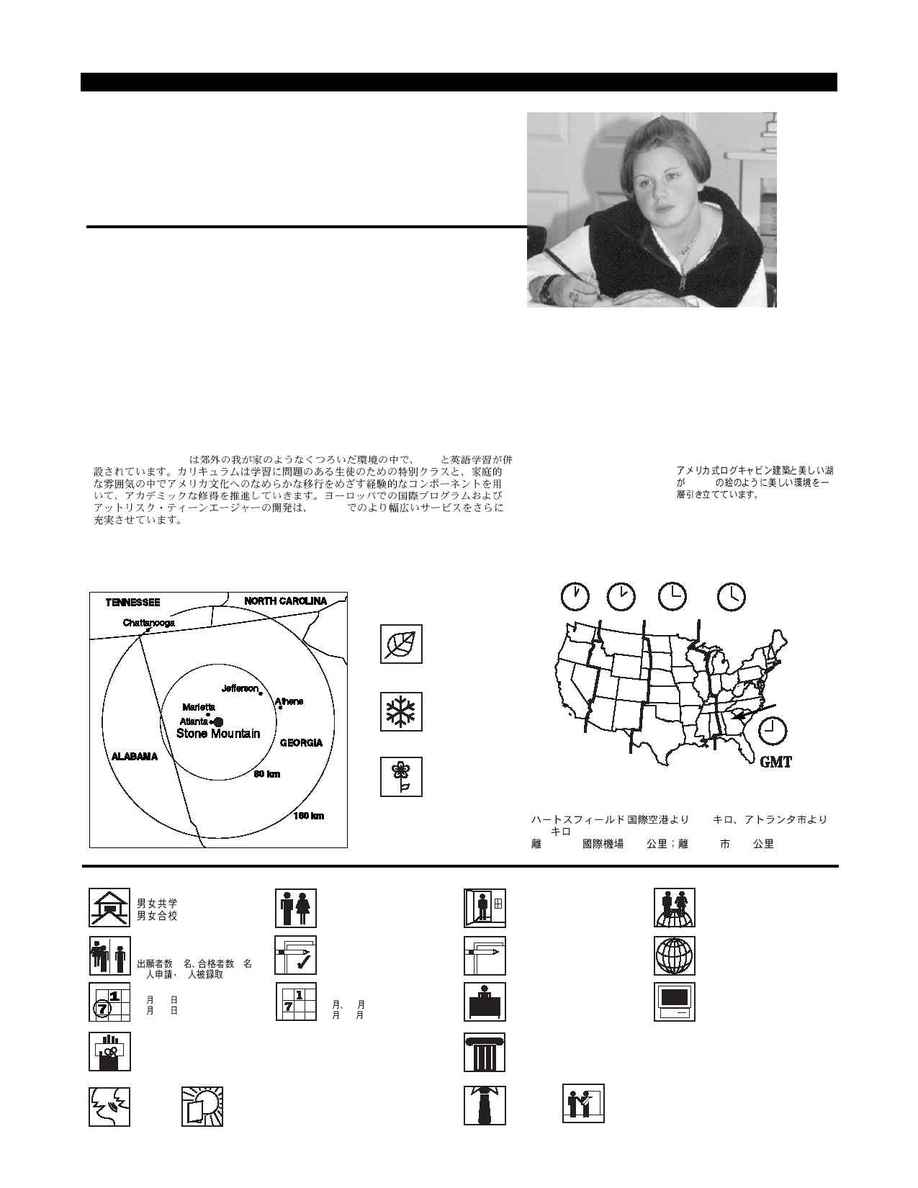 Gables Academy
Founded 1961
37.6 km from Hartsfield International Airport; 31.6 km from Atlanta /
A 37.6 km del aeropuerto internacional de Hartsfield; a 31.6 km del Atlanta /
A 37.6 km de l'aéroport international de Hartsfield; à 31.6 km de Atlanta
Coeducational 4­12 / Mixto / Mixte
4, 4 / solicitaron admisión, fueron
aceptados / candidats, admis
September, January / septiembre,
enero / septembre, janvier
9
Mercer University, Atlanta, Gordon
College, Georgia Perimeter College,
Wentworth Institute of Technology
Ivory Coast (1), Japan (2),
Mexico (1), Taiwan (2)
UNITED STATES
Gables Academy offers almost rural, home-like surroundings for both ESL and English-language students.
Curriculum emphasizes using classes for students with learning differences and an experiential component to
provide a non-threatening transition into American culture. Developing an international program in Europe
and a program for at-risk teens adds to the wide-reaching services of Gables.
Gables Academy ofrece a los estudiantes de inglés como segundo idioma (ESL) y a los estudiantes de
inglés, un ambiente casi rural, hogareño. El plan de estudios hace énfasis en la utilización de clases para
estudiantes con diferencias de aprendizaje y un componente práctico para permitir una transición amistosa y
nada intimidante hacia la cultura estadounidense. Están en desarrollo un programa internacional en Europa y
un programa para adolescentes en riesgo que ampliarán aún más los servicios de Gables.
Gables Academy offre aux élèves de langue maternelle anglaise ainsi qu'à ceux étudiant l'anglais comme
langue étrangère (ESL) un environnement presque rural et familial. Le programme éducatif allie des cours
rassemblant des élèves dotés d'aptitudes scolaires différentes à des éléments expérimentaux pour faciliter la
transition vers la culture américaine. L'élaboration d'un programme international en Europe et d'un
programme pour les adolescents à risque vient étoffer les services très étendus de l'établissement
comprennent une école.
Gables Academy
811 Gordon Street
Stone Mountain, GA 30083
Phone: 770-465-7500 Fax: 770-465-7700
Gables' picturesque setting is
complemented by American log cabin
architecture and a beautiful lake.
El ambiente pintoresco de Gables está
complementado por una arquitectura de
cabaña de troncos estilo estadounidense
y un bello lago.
Au cadre pittoresque de Gables viennent
s'ajouter une architecture typiquement
américaine composée de cabines en
rondins ainsi qu'un lac magnifique.
July 15 / 15 de julio / 15 juillet
7

Gables Academy