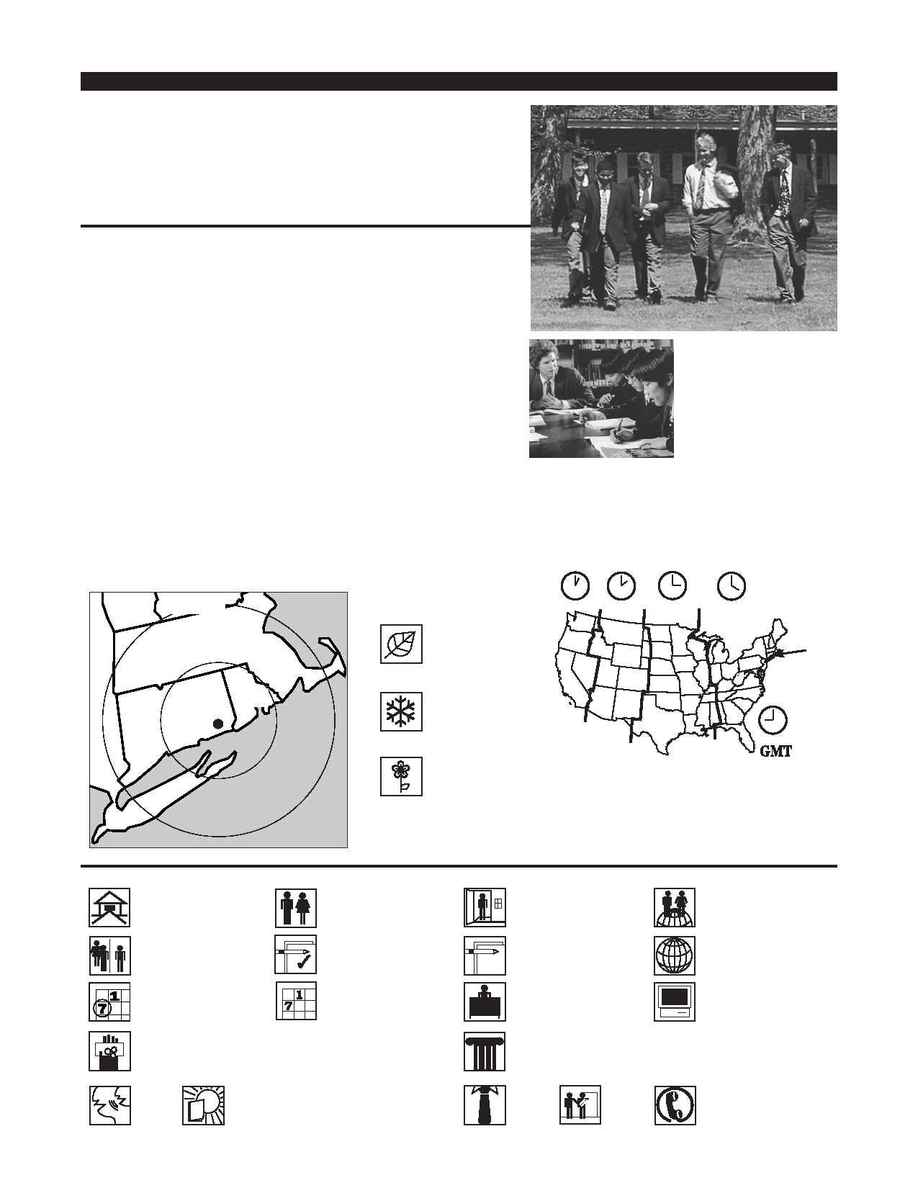 VERMONT
CONNECTICUT
NEW
YORK
MASSACHUSETTS
Atlantic
Ocean
80 km
160 km
RHODE
ISLAND
NEW
HAMPSHIRE
Saint Thomas More School
Founded 1962
Saint Thomas More School is situated on 100 acres of
land with 1,000 feet of waterfront on Gardner Lake.
The school offers small classes, structure, and study
discipline.
Saint Thomas More School está situado en 40
hectáreas de terreno con 300 metros de terreno frente
a Gardner Lake. El colegio ofrece clases con pocos
alumnos, estructura y disciplina en los estudios.
Saint Thomas More School est située sur 40 hectares
de terrain bordés sur un peu plus de 300 mètres par le
Lac Gardner. L'école offre structure, discipline d'étude
et classes restreintes.
Saint Thomas More School Gardner Lake
300m 40


80 km from Bradley International Airport and Hartford, CT
A 80 km del aeropuerto internacional de Bradley y de Hartford, CT
A 80 km de l'aéroport international Bradley et de Hartford, CT
80
Bradley Hartford, CT 80
Boys 8­PG / Muchachos / Garçons
220, 170 / solicitaron admisión,
fueron aceptados / candidats, admis
University of Connecticut,
Fairfield University, University of
Massachusetts, Assumption
College, Boston College
Dominican Republic, Haiti,
Hong Kong, Japan, Korea, Taiwan
UNITED STATES
Saint Thomas More School offers a structured environment with mandatory,
monitored evening study halls to help students become successful. ESL is offered at
three levels to help the non-English speaking student to be successful in an American
school. Saint Thomas More is a Catholic school where boys of all faiths are enrolled.
Saint Thomas More School ofrece un ambiente estructurado con salas de estudio
obligatorio y supervisado por las noches, para ayudar a los estudiantes a tener éxito en
sus estudios. Los programas de inglés como segundo idioma (ESL) se ofrecen en tres
niveles para ayudar a los estudiantes que no hablan inglés a estudiar con éxito en un
colegio de los Estados Unidos. Saint Thomas More es un colegio católico en el que se
aceptan estudiantes de diferentes credos.
Saint Thomas More School offre un environnement structuré. L'étude est obligatoire le
soir dans des salles surveillées afin de permettre aux étudiants de se perfectionner. Des
cours d'anglais comme langue étrangère sont proposés à trois niveaux différents pour
aider les étudiants étrangers à réussir dans une école américaine. Saint Thomas More est
une école catholique où les garçons de toutes les confessions peuvent s'inscrire.

3 ESL Saint Thomas
More
Admissions Office
45 Cottage Road
Oakdale, Connecticut 06370
Phone: 860-823-3861 Fax: 860-823-3863
E-mail: stmadmit@stthomasmoreschool.com
URL: http://www.stthomasmoreschool.com
ESL
Saint Thomas More
300 Gardner

Rolling / Continuo / Continuelles
September, January / septiembre,
enero / septembre, janvier
9 1
9 1