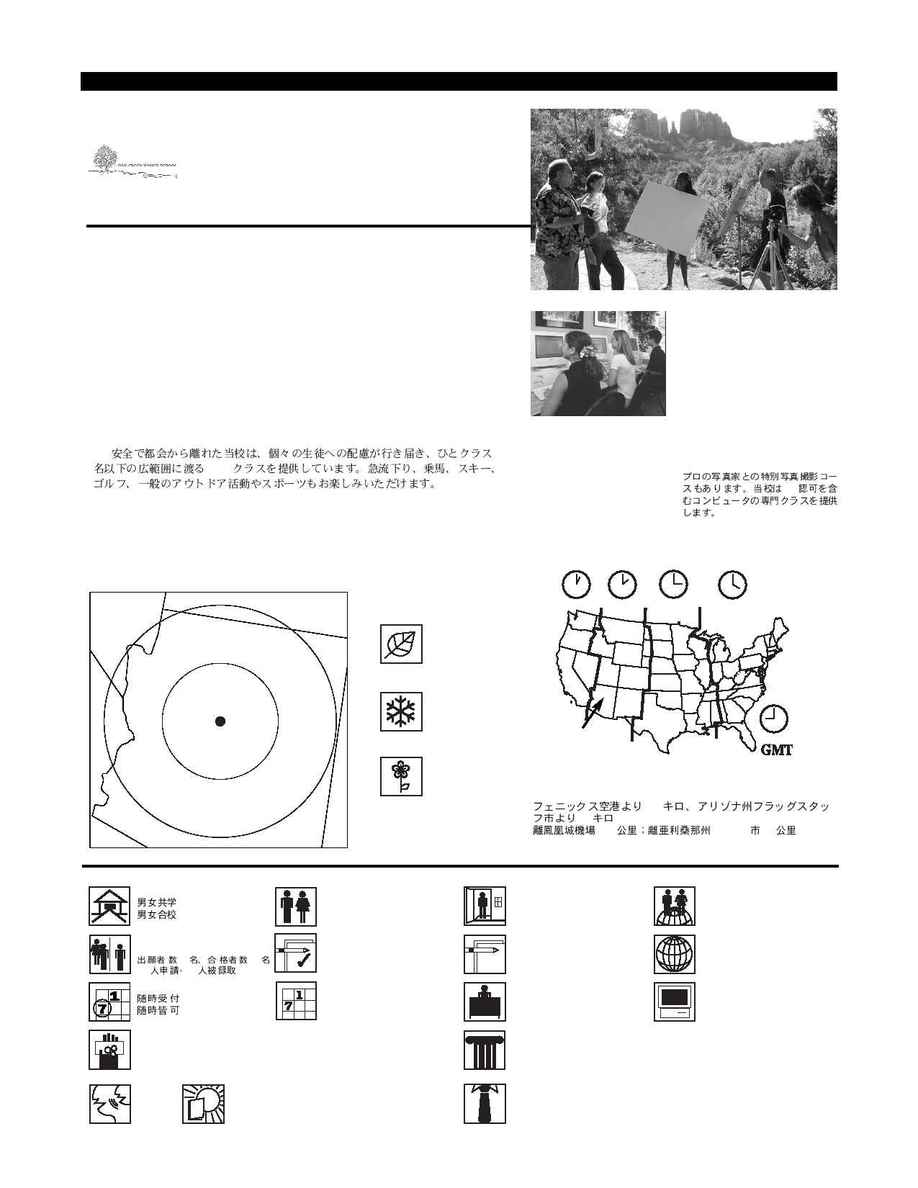 ARIZONA
80 km
160 km
Oak Creek Ranch School
NIPSIA, NAFSA member NCA accredited
Founded 1972
Special photography courses with
professional photographer available. The
school offers specialized computer
classes including A+ certification.
Cursos especiales de fotografía con
fotógrafos profesionales disponibles. El
colegio ofrece clases especializadas de
informática que incluyen certificación A+.
Des cours de photographie dispensés par
un photographe professionnel sont
disponibles. L'école offre des cours
spécialisés d'informatique, y compris la
certification A+.
160 km from Phoenix Airport; 72 km from Flagstaff, AZ
A 160 km del aeropuerto de Phoenix; a 72 km de Flagstaff, AZ
A 160 km de l'aéroport de Phoenix ; à 72 km de Flagstaff, AZ
15, 12 / solicitaron admisión, fueron
aceptados / candidats, admis
Northern Arizona University, Arizona
State University, Fort Lewis College,
Phoenix Community College,
University of Arizona
China (3), Italy (3), Japan (10),
Mexico (5), South Korea (7)
UNITED STATES
The safe, rural school provides individualized attention and an extensive ESL
program, with no more than 10 students per class. White-water rafting,
horseback riding, snow skiing, golf, regular outdoor activities, and sports.
El colegio, en un ambiente rural seguro, ofrece atención individual, con no
más de 10 alumnos por clase, y un amplio programa de inglés como segundo
idioma (ESL). Paseos en balsa en aguas rápidas, equitación, esquí en la nieve,
golf, actividades regulares al aire libre y deportes.
L'école, située en milieu rural sûr, apporte une attention individualisée à
chaque étudiant ainsi qu'un programme complet d'anglais comme langue
étrangère, avec un maximum de 10 étudiants par classe. Les activités suivantes sont
proposées : rafting en eau vive, équitation, ski, golf, activités et sports de plein air.
Jay Wick, Headmaster
P.O. Box 4329
West Sedona, Arizona 86340-3577
Phone: 928-634-5571 Fax: 928-634-4915
E-mail: admissions@ocrs.com
URL: http://www.ocrs.com
10



A+
Coeducational 7­12 / Mixto / Mixte
Rolling / Continuo / Continuelles