Suzuki grandannualconcert 2006brochure Page 1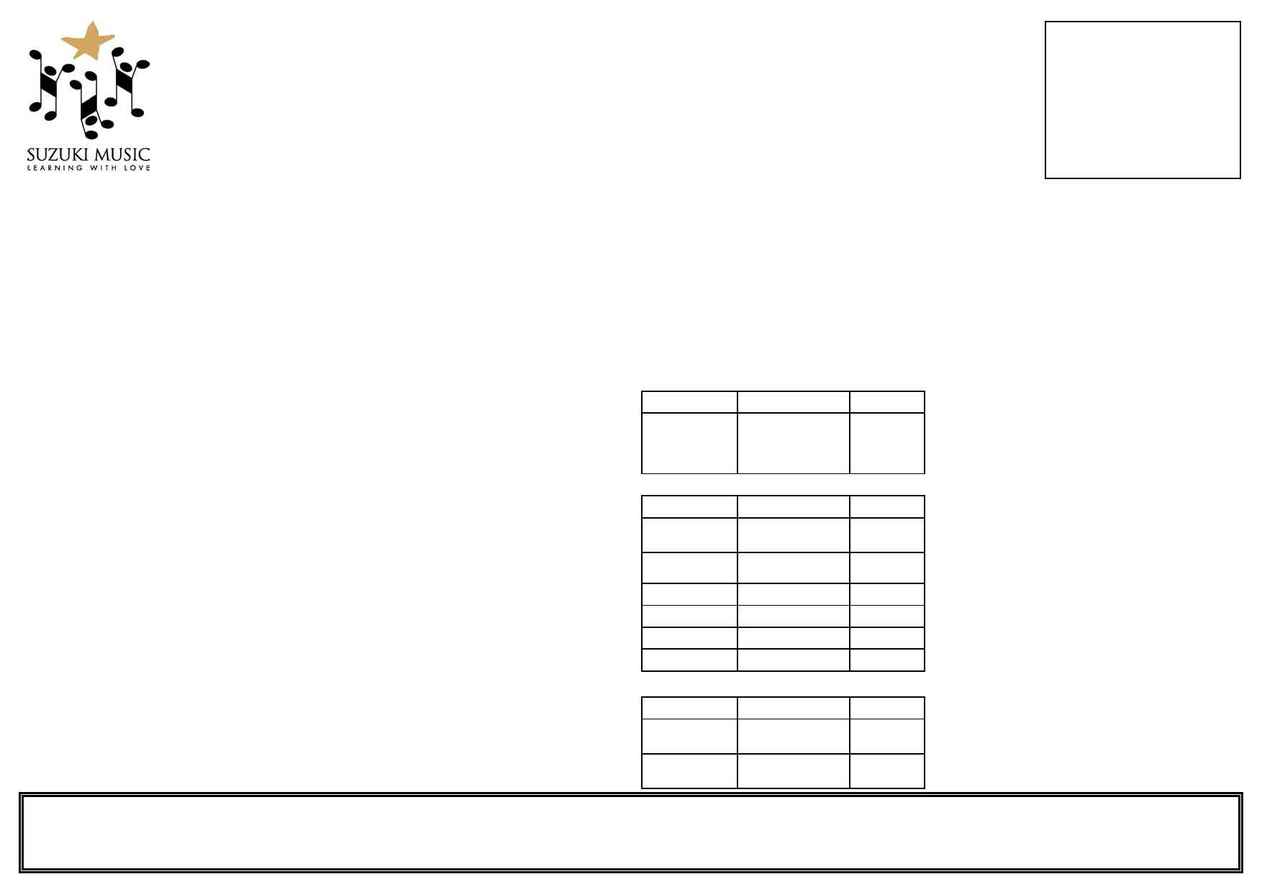 GRAND ANNUAL CONCERT 2006
Robert Blackwood Concert Hall
Monash University, Wellington Road, Clayton
All Suzuki Violin, Viola, Cello, Flute, Voice and
Guitar students are invited to perform. Come
and join in the festivities and enjoy the thrill of
performing on stage in a large group. You are
welcome to play on more than one instrument
Previously known as Graduation Concert
Viola cont.
Vivaldi Concerto in D Min, 1st Mvt (Book 4)
Cello
Twinkle Variation A (Book 1)
French Folk Song (Book 1)
Marcello Sonata in E Min, 1st Mvt (Book 4)
Flute
Schubert Lullaby (Book 1)
Last Rose of Summer (Book 2)
Drigo Serenade - no cadenza or repeat
Handel Sonata in F Major, 4th Mvt , 1st repeat
Genin Carnival of Venice - Theme, Var. I, III
Guitar
Voice
Alle Vogel sind schon da (Book 2)
Twinkle twinkle little star / Spring is here (Book 1
Spring Breezes Verse 1 only (Book 2)
Suzuki Orchestra rehearse
Teacher briefing and Teacher
Concert dress is navy skirt or trousers, white shirt,
white socks/dark stockings and dark shoes. If you
don't yet have navy `bottoms' ask your teacher
if they know of someone in the studio who may
have some you can borrow. Navy skirts and
White logo polo shirts can be purchased from
Suzuki Music. Phone 9859 0433 for more details.
NO JEANS, RUNNERS OR T-SHIRTS PLEASE!
The Grand Annual Concert is an extremely special day for the entire Suzuki Community. It is an opportunity for us to come together to celebrate the
achievements of all Suzuki students and teachers.
We look forward to seeing you at this momentous occasion.
Violin
Twinkle Variation A (Book 1)
Song of the Wind (Book 1)
Gavotte in G Min (Book 3)
Vivaldi Concerto in A Min, 3rd Mvt (Book 4)
Handel Sonata in A Maj, 2nd Mvt (Book 7)
Gretry Tambourin (Book 8)
Mendelssohn Concerto, 3rd Mvt (Book 10+)
Viola
O Come Little Children (Book 1)
Rehearsals - Saturday 21 October
K.Pezzimenti,
80 Cromer Rd,
Rehearsals - Sunday 22 October
Rehearsals - Sunday 29 October
8 Sept Closing date for Mini Festival
Closing date for Grand Annual Concert
22 Oct Mini Festival and Violin, Viola, Flute,
Guitar and Cello Rehearsals
29 Oct Grand Annual Concert
HOW MUCH DOES IT COST TO PLAY?
Nothing! All registered performers will be given a
ticket for their own use to attend Grand Annual
Parents, Siblings, Grandparents and Friends can
purchase tickets to watch you play. Please use
the enclosed invitation to invite your
TICKET PRICES
is for Seniors Card holders only.
Grand Annual Concert tickets
WHEN AND WHERE WILL I REHEARSE?
Rehearsals for every instrument, except Voice,
will take place as part of the Mini Festival
program on Sunday 22 October. If you would
like to perform in Grand Annual Concert, you
must attend the rehearsal on 22 October even
if you are not enrolling in Mini Festival.
Please check the full rehearsal schedule listed
below, including venue and time for your
instrument(s). Please ensure that you arrive
prior to your scheduled rehearsal time.
HOW DO I REGISTER TO PERFORM?
All students who are enrolling for Mini Festival will
be automatically registered to perform in Grand
Annual Concert once their Mini Festival
application is received and processed. If you are
attending Mini Festival, but are not able to play
in the Grand Annual Concert, please ensure that
you tick the appropriate box stating this on the
If you are not registering for Mini Festival, please
register to perform in the Grand Annual Concert
using the registration form in the August edition