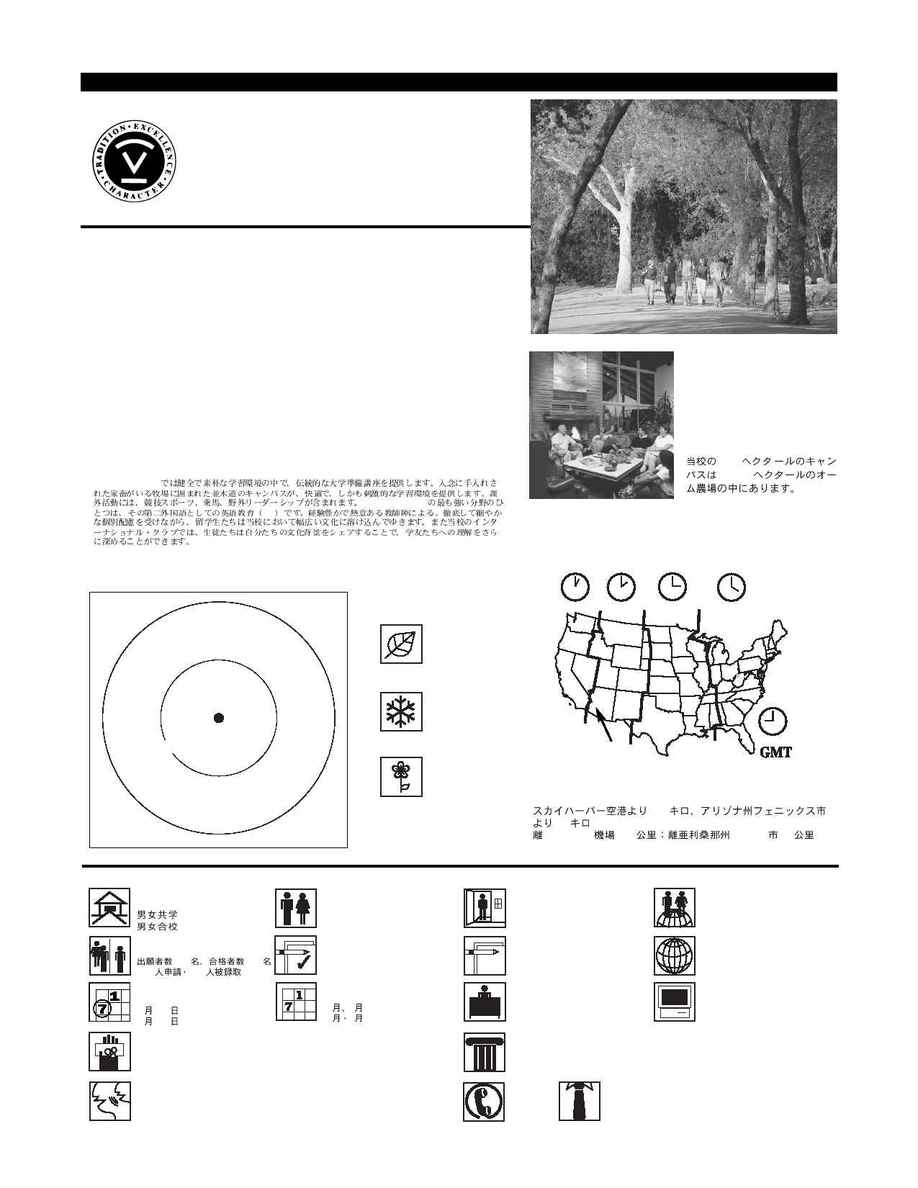 ARIZONA
80 km
160 km
The Orme School
Founded 1929
The 260-acre campus is set on
40,000 acres of the Orme Ranch.
Las 105 hectáreas del colegio se
encuentran en una superficie de
16.000 hectáreas del Rancho Orme.
Le campus de 105 hectares se situe
sur 16 000 hectares du ranch
d'Orme.
104 km from Sky Harbor Airport; 96 km from Phoenix, AZ
A 104 km del aeropuerto de Sky Harbor; a 96 km de Phoenix, AZ
A 104 km de l'aéroport de Sky Harbor ; à 96 km de Phoenix, AZ
Coeducational 7­PG / Mixto /
Mixte
200, 120 / solicitaron admisión,
fueron aceptados / candidats, admis
September, January / septiembre,
enero / septembre, janvier
9
University of Arizona, Arizona State University,
University of California of Berkeley, California
State University, Northern Arizona University
Germany (3), Hong Kong (2),
Japan (8), Korea (5), Taiwan (5)
UNITED STATES
The Orme School offers a traditional college preparatory program set in a wholesome, pristine learning environment. A
tree-lined campus, surrounded by a carefully tended working cattle ranch, provides a comfortable, yet stimulating learning
environment. Extra curricular activities include competitive sports, horsemanship, and outdoor leadership. One of The
Orme School's greatest strengths is its ESL Program. International students are integrated into the larger culture of the
school while receiving in-depth personalized attention from experienced and dedicated faculty. The International Club
provides opportunities for students to share their culture and learn more about their peers.
The Orme School ofrece un programa tradicional de preparación para la universidad en un ambiente de enseñanza
sano e impoluto. Un recinto escolar flanqueado de árboles, rodeado por una hacienda ganadera bien atendida, ofrece un
ambiente escolar cómodo y estimulante a la vez. Las actividades extracurriculares incluyen deportes competitivos,
equitación y liderazgo al aire libre. Uno de los puntos más sobresalientes de Orme School es el Programa de Inglés como
Segundo Idioma (ESL). Los estudiantes extranjeros se integran completamente a la vida del colegio, mientras reciben
atención personalizada y en profundidad de parte de un cuerpo docente experto y dedicado. El International Club
proporciona a los estudiantes la oportunidad de compartir su cultura y aprender más acerca de sus compañeros.
Orme School propose un programme traditionnel préparant à l'entrée en université dans un cadre sain et naturel. Le
campus bordé d'arbres, entouré par une exploitation bovine soigneusement entretenue, offre un environnement
d'apprentissage simple et stimulant. Les activités périscolaires comprennent des sports de compétition, l'équitation et
l'étude du leadership en pleine nature. Le programme d'anglais comme langue étrangère (ESL) est l'un des points les plus
forts de l'Orme School. Les étudiants étrangers sont intégrés à la culture de l'établissement et reçoivent toute l'attention
dont ils ont besoin des membres dévoués et chevronnés du corps enseignant. Le Club international permet aux élèves de
partager leur culture et d'en apprendre plus sur les autres étudiants.
James E. Smith, Director of Admissions
H.C. 63, Box 3040
Mayer, Arizona 86333
Phone: 928-632-7601 Fax: 928-632-7605
E-mail: jsmith@ormeschool.org

Orme School ESL

105
16,000
February 15/ 15 de febrero /
15 février
2