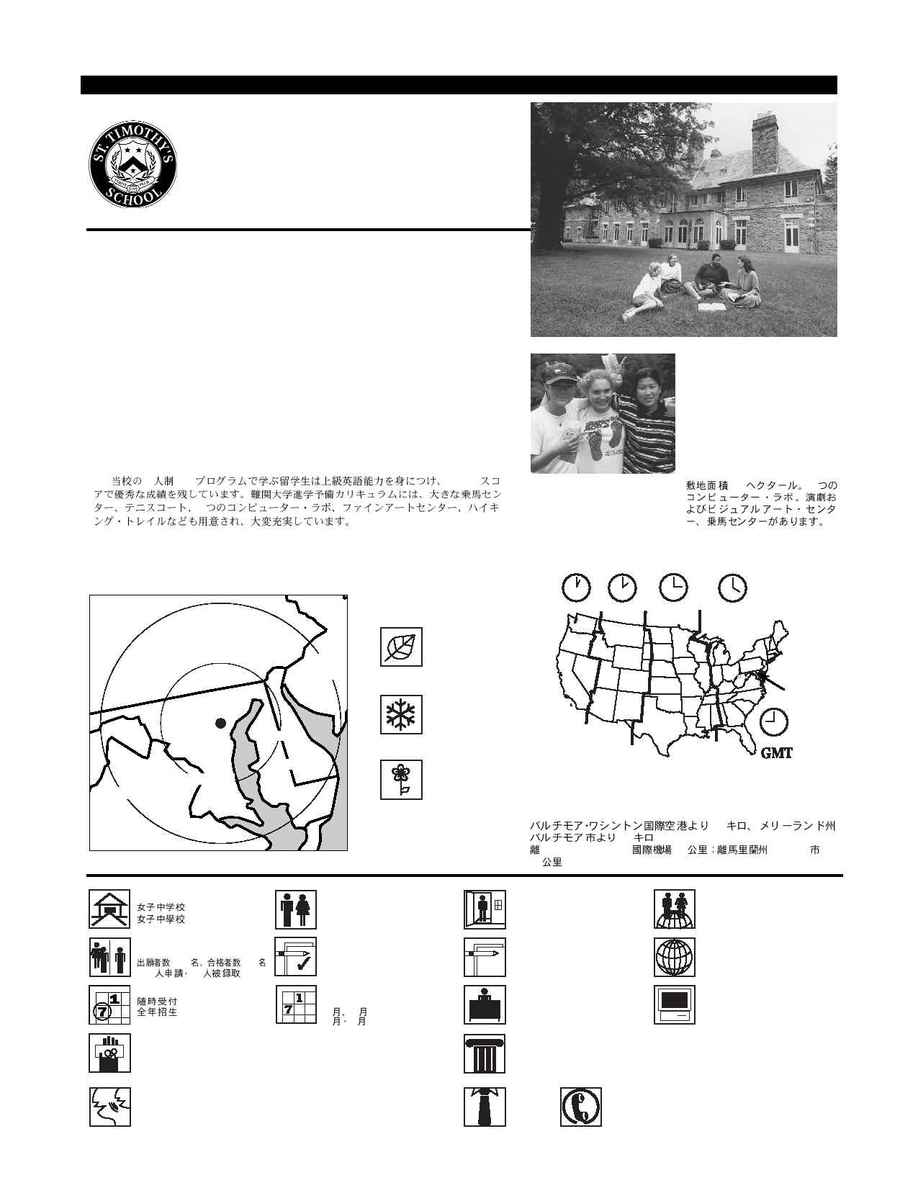 VIRGINIA
PENNSYLVANIA
80 km
160 km
DELAWARE
NEW
JERSEY
St. Timothy's School
Founded 1882
145 acres, three computer labs, performing
and visual arts center, equestrian center.
59 hectáreas de terreno, laboratorios de
computación, un centro de artes
interpretativas y visuales, un centro de
equitación.
Un campus de 59 hectares, trois
laboratoires informatiques, un centre pour
les arts visuels et du spectacle et un centre
équestre.
30 km from Baltimore-Washington International Airport; 16 km from Baltimore, MD
A 30 km del aeropuerto internacional de Baltimore-Washington; a 16 km
de Baltimore, MD / A 30 km de l'aéroport international de Baltimore-Washington ;
à 16 km de Baltimore, MD
Girls 9 ­12, PG/ Niñas / Filles
120, 60 / solicitaron admisión, fueron
aceptadas / candidats, admis
Rolling / Continuo / Continuelles
September, January / septiembre,
enero / septembre, janvier
9
Columbia, Swarthmore, Tufts,
Wake Forest, Washington and Lee,
Wesleyan
Bahamas (15), Ecuador (15),
Hong Kong (4), Japan (15),
Korea (6), Mexico (5)
Thailand (4), Venezuela (20)
UNITED STATES
The school's small ESL program, for 6 students each year, enables international
students to develop advanced proficiency in English and excel on the TOEFL. A
challenging college-preparatory curriculum is enhanced by a large equestrian center,
tennis courts, three computer labs, a fine arts center, and hiking trails.
El programa de inglés como segundo idioma (ESL) del colegio, para 6 estudiantes
por año, permite a los estudiantes extranjeros adquirir conocimientos avanzados de
inglés y sobresalir en el examen de inglés como idioma extranjero (TOEFL). El
estimulante plan de estudios de preparación para la universidad, se complementa con
un centro de equitación de grandes dimensiones, canchas de tenis, tres laboratorios
de computación, un centro de bellas artes y senderos para practicar montañismo.
Chaque année, six étudiants peuvent participer au programme d'anglais comme langue
étrangère (ESL) proposé par l'école. Ce programme permet aux étudiants étrangers de
développer une excellente maîtrise de l'anglais et d'exceller à l'examen du TOEFL.
L'établissement propose également un cursus intéressant préparant à l'entrée à l'université,
un grand centre équestre, des courts de tennis, trois laboratoires informatiques, un centre
pour les beaux-arts et des sentiers de randonnée pédestre.
Office of Admission
8400 Greenspring Avenue
Stevenson, Maryland 21153
Phone: 410-486-7400 Fax: 410-486-1167
59