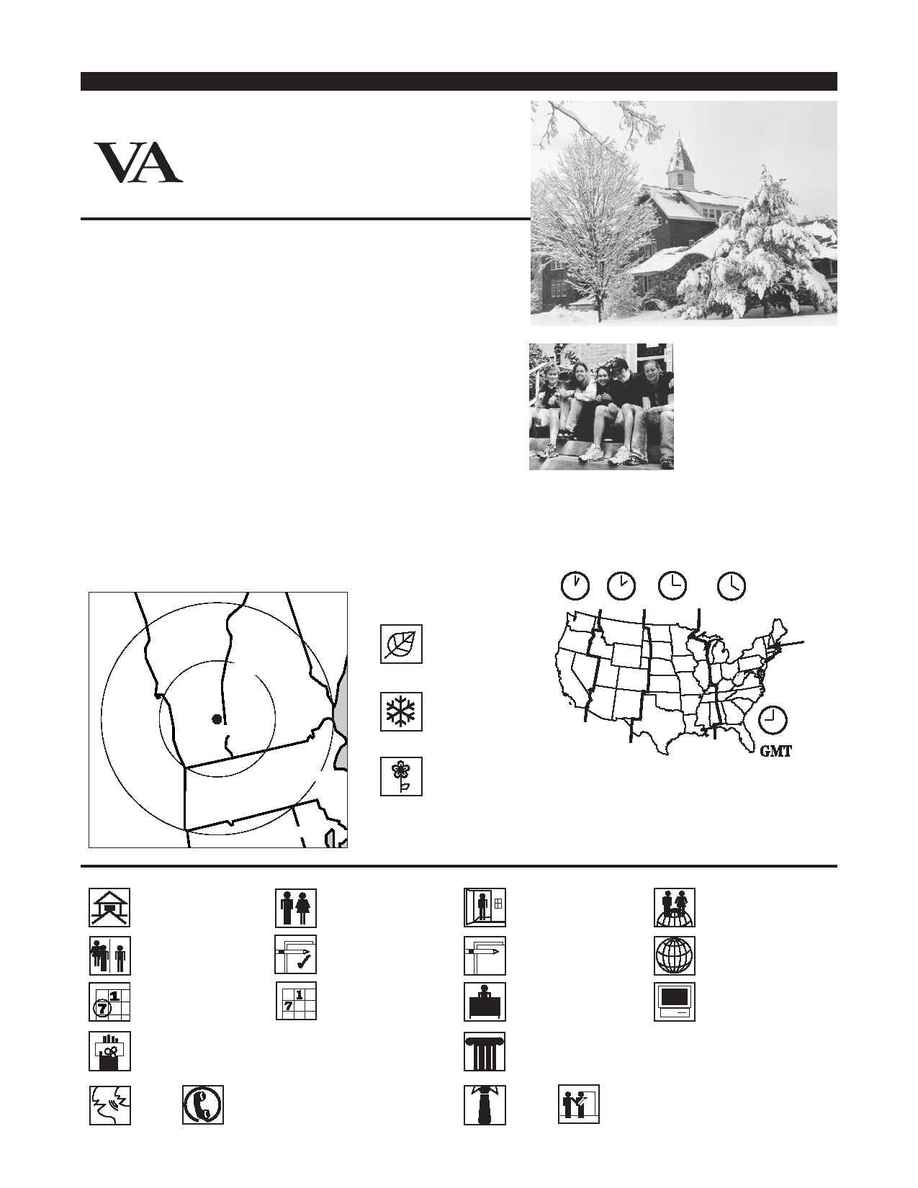 NEW
YORK
80 km
160 km
MASSACHUSETTS
MAINE
VERMONT
NEW
HAMPSHIRE
CONNECTICUT
Vermont Academy
Founded 1876
Vermont academy is situated on a
500-acre campus in southeastern
Vermont.
Vermont Academy está situada en
202 hectáreas de terreno en la
región sureste de Vermont.
Vermont Academy est située sur un
campus de 202 hectares dans le
sud-est du Vermont.
Vermont Academy
202

150 km from Hartford, CT Airport; 160 km from Boston, MA / A 150 km
del aeropuerto de Hartford, CT; a 160 km de Boston, MA / A 150 km de
l'aéroport Hartford, CT ; à 160 km de Boston, MA
150
160
Hartford, CT 150 Boston 160
300, 210 / solicitaron admisión, fueron
aceptados / candidats, admis
$33,560
+ ESL Fees
September, January / septiembre,
enero / septembre, janvier
9 1
9 1
Boston University, Brown University,
University of Colorado, Rhode Island School
of Design, Skidmore College, St. Lawrence
University, University of Vermont
Brazil (1), Germany (1), Hong
Kong (1), Japan (7), Korea (7),
Mexico (5)
UNITED STATES
ESL classes and TOEFL preparation are included in the Academy's outstanding academic
curriculum. Reading, writing, speaking, and listening skills, as well as vocabulary and
grammar, are emphasized. The Academy offers small classes, supportive faculty members,
friendly students, and a beautiful, safe campus. Many sports and creative arts classes
are available.
Clases de inglés como segundo idioma (ESL) y preparación para la prueba TOEFL se
incluyen en el excepcional plan de estudios de la Academia. Se hace énfasis en lectura,
redacción, técnicas de conversación y comprensión, vocabulario y gramática. La
Academia ofrece clases con pocos alumnos, profesores que brindan apoyo, estudiantes
amistosos y un recinto escolar hermoso y seguro. Se ofrecen muchos deportes y clases de
artes creativas.
Des cours d'anglais comme langue étrangère (ESL) et de préparation à l'examen du
TOEFL sont inclus dans l'excellent programme scolaire de l'Academy. L'accent est mis sur
la lecture, la rédaction, la production orale et les techniques d'écoute, aussi bien que sur
le vocabulaire et la grammaire. L'Academy offre des classes restreintes, des professeurs
coopératifs, des étudiants sympathiques ainsi qu'un campus sûr et agréable. De
nombreux sports et des cours d'activités créatives sont également disponibles.
William J. Newman, Dean of Admissions
20 Pleasant Street, Box 500
Saxtons River, Vermont 05154
Phone: 802-869-6229, 800-560-1876
Fax: 802-869-6242
E-mail: admissions@vermontacademy.org
URL: http://www.vermontacademy.org
Coeducational 9­PG / Mixto / Mixte
February 1, rolling / 1 de febrero,
continuo / 1er février, continuelles
2 1
2 1