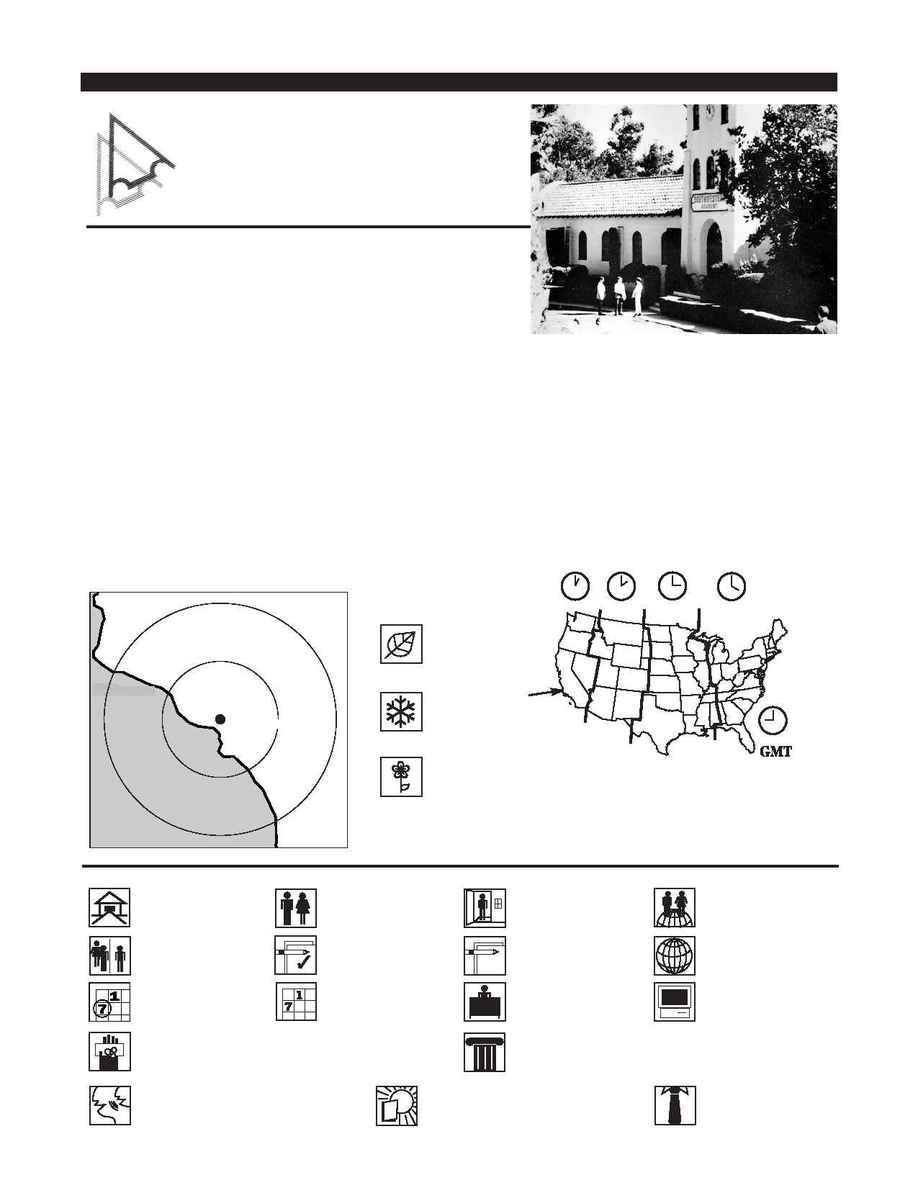 CALIFORNIA
80 km
160 km
Pacific
Ocean
Southwestern Academy
TABS, FAIS, NAFSA, SSATB member
Founded 1924
The San Marino campus has 140 students
in grades 6-12. The Beaver Creek campus
in Arizona has 40 students in grades 9-12.
El recinto de San Marino tiene 140
estudiantes en los grados del 6 al 12. El
recinto de Beaver Creek en Arizona tiene 40
estudiantes en los grados del 9 al 12.
Le campus de San Marino a 140 étudiants de
la 6ème à la terminale. Le campus Beaver
Creek en Arizona a 40 étudiants qui vont de
la 3ème à la terminale.
San Marino 6
12 140
Beaver Creek
9 12 40

48 km from Los Angeles Airport; 3 km from Pasadena, CA
A 48 km del aeropuerto de Los Angeles; a 3 km de Pasadena, CA
A 48 km de l'aéroport de Los Angeles; à 3 km de Pasadena, CA
48
3
Los Angeles 48 Pasadena 3
Coeducational 6­12 / Mixto / Mixte


100, 50 / solicitaron admisión, fueron
aceptados / candidats, admis
Full ESL Program offered at both campuses / Se ofrece un
programa completo de ESL en ambos recintos / Le programme
complet d'Anglais comme Langue Etrangère est offert dans les
deux campus / ESL /
Summer ESL Program on California campus / Se ofrece
ESL en el recinto de California / Le programme d'été
d'Anglais comme Langue Etrangère est offert sur le
campus de Californie /
September, February, June / septiembre,
febero, junio / septembre, février, juin
9 2 6
9 2 6
University of California, Cal Poly Pomona,
California State University, Loyola Marymount
University, Occidental College, Pitzer College,
Pasadena City College
China, Hong Kong, Indonesia,
Japan, Kosovo, Korea, Mexico,
Russia, Slovak Republic,
Taiwan, Thailand
UNITED STATES
Southwestern offers two distinctly beautiful and safe campuses: one next to Pasadena
a in Southern California and one near the resort community of Sedona in Northern
Arizona. Both offer a complete ESL program. Graduation requires completion of a
college-preparatory high school curriculum.
Southwestern ofrece dos bellos recintos seguros y bellos: uno cerca de Pasadena
en la parte sur de California y otro cerca de la comunidad vacacional de Sedona en la
parte norte de Arizona. Ambos ofrecen un programa completo de inglés como
segundo idioma (ESL). Los requisitos de graduación exigen que se complete un
currículo preparatorio de la escuela secundaria para entrar a la universidad.
Southwestern propose deux superbes campus garantissant de très bonnes
conditions de sécurité : l'un se situe près de Pasadena, dans la région sud de la
Californie, et l'autre près de Sedona, un lieu de villégiature dans la région nord de
l'Arizona. Les deux campus offrent un programme ESL (anglais deuxième langue)
complet. Pour obtenir un diplôme de ces établissements, il est nécessaire d'avoir
effectué et complété un programme d'études de préparation universitaire au lycée.
Sedona
ESL

Jane Whitmire, Director of Admissions
2800 Monterey Road
San Marino, California 91108
Phone: 626-799-5010 Fax: 626-799-0407
E-mail: admissions@southwesternacademy.edu
URL: http://www.southwesternacademy.edu
Southwestern Pasadena Sedona
San Marino 140 6
12
Beaver Creek
Rolling / Continuo / Continuelles