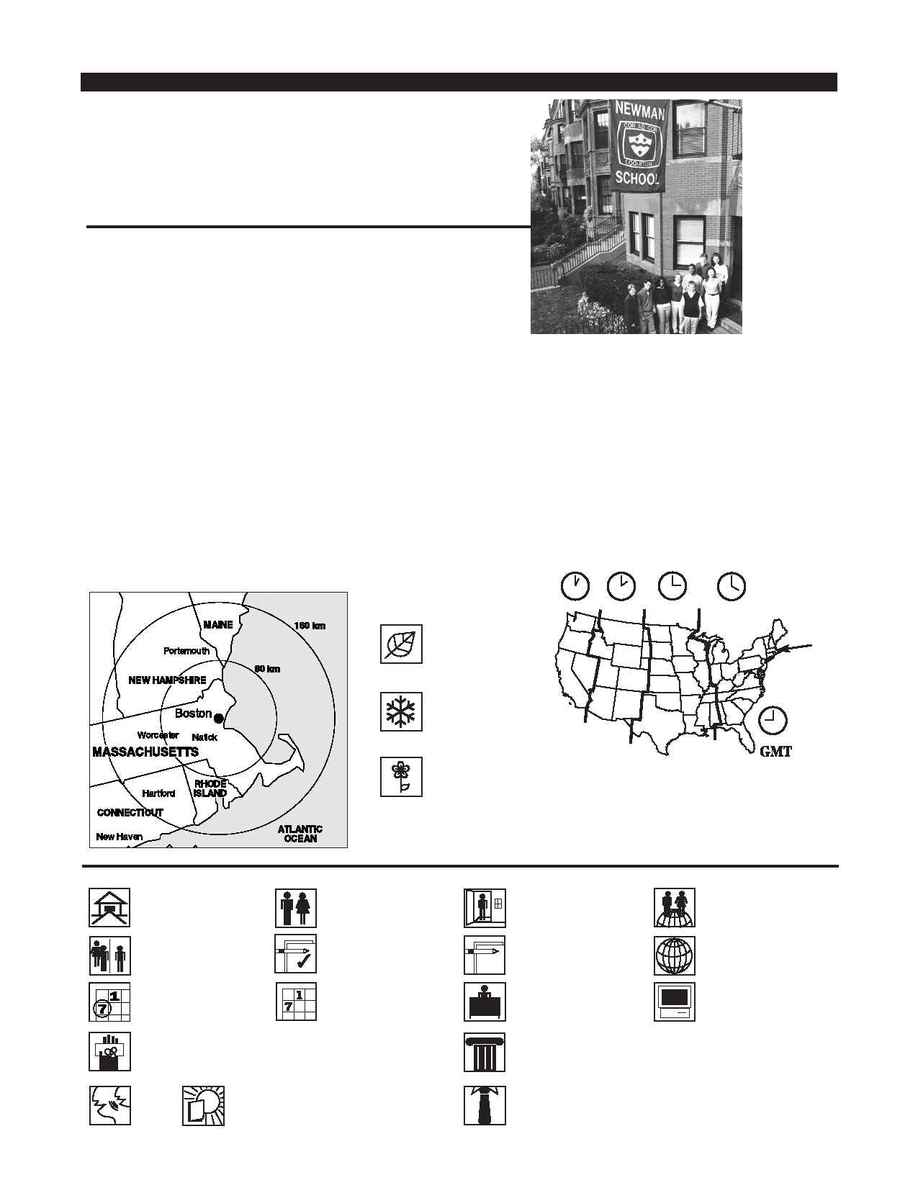 The Newman School
Founded 1945
Newman is located in two brownstone
buildings in Boston's historic Back Bay.
Newman está ubicado en dos edificios
de piedra rojiza en la histórica Bahía
Back de Boston.
Newman occupe deux bâtiments
élégants situés dans le quartier
historique de Back Bay à Boston.
5 km from Logan Airport
A 5 km del aeropuerto de Logan
A 5 km de l'aéroport de Logan
Logan
Coeducational 9­PG / Mixto / Mixte
137, 85 / solicitaron admisión,
fueron aceptados / candidats, admis
Rolling / Continuo / Continuelles
September, January, June (for
Summer session) / septiembre,
enero, junio / septembre, janvier,
juin
9 1 6
9 , 1 , 6
20% with Homestay Families
Boston University, Harvard University,
Northeastern University, Suffolk
University, University of Massachusetts,
Clark University
China (10), Japan (10),
Korea (10), Russia (10)
UNITED STATES
For more than sixty years the Newman School has provided a diverse community of American and
international students a serious and values-oriented community in which they prepare together for college
admission. Students and teachers enjoy the advantages of Newman's location in the cultural environment
of Boston's Back Bay, which places opportunities for artistic, literary, and scientific enrichment within easy
reach. Newman students participate in a program of athletic and extra-curricular programs that enhance
their opportunities for forming friendships, while assisting their preparation for college admission.
Durante más de sesenta años, Newman School ha proporcionado a estudiantes estadounidenses y
extranjeros una comunidad seria y orientada hacia los valores fundamentales, en la que juntos se preparan
para ser admitidos en la universidad. Estudiantes y maestros disfrutan de las ventajas de la ubicación de
Newman en el ambiente cultural de la Bahía Back de Boston, que proporciona oportunidades fácilmente
accesibles para el enriquecimiento artístico, literario y científico. Los estudiantes de Newman participan en
programas de actividades deportivas y extracurriculares que amplían las oportunidades de entablar
amistades y ayudan en su preparación para ser admitidos en la universidad.
Depuis plus de soixante ans, Newman School propose à une communauté diverse d'étudiants
américains et étrangers un environnement sérieux axé sur de solides valeurs au sein duquel les élèves
préparent leur entrée à l'université. Les étudiants, tout comme le corps enseignant, profitent des avantages
de la situation géographique de Newman au sein du quartier de Back Bay à Boston : un environnement
culturel, artistique, littéraire et scientifique facilement accessible. À Newman, les étudiants participent à des
programmes sportifs et parascolaires qui leur permettent de forger de nouvelles amitiés, tout en les aidant
à préparer leur entrée à l'université.

Newman
Newman

Ms. Patricia Ridge, Director of Admission
247 Marlborough Street
Boston, MA 02116
Phone: 617-267-4530 Fax: 617-267-7070