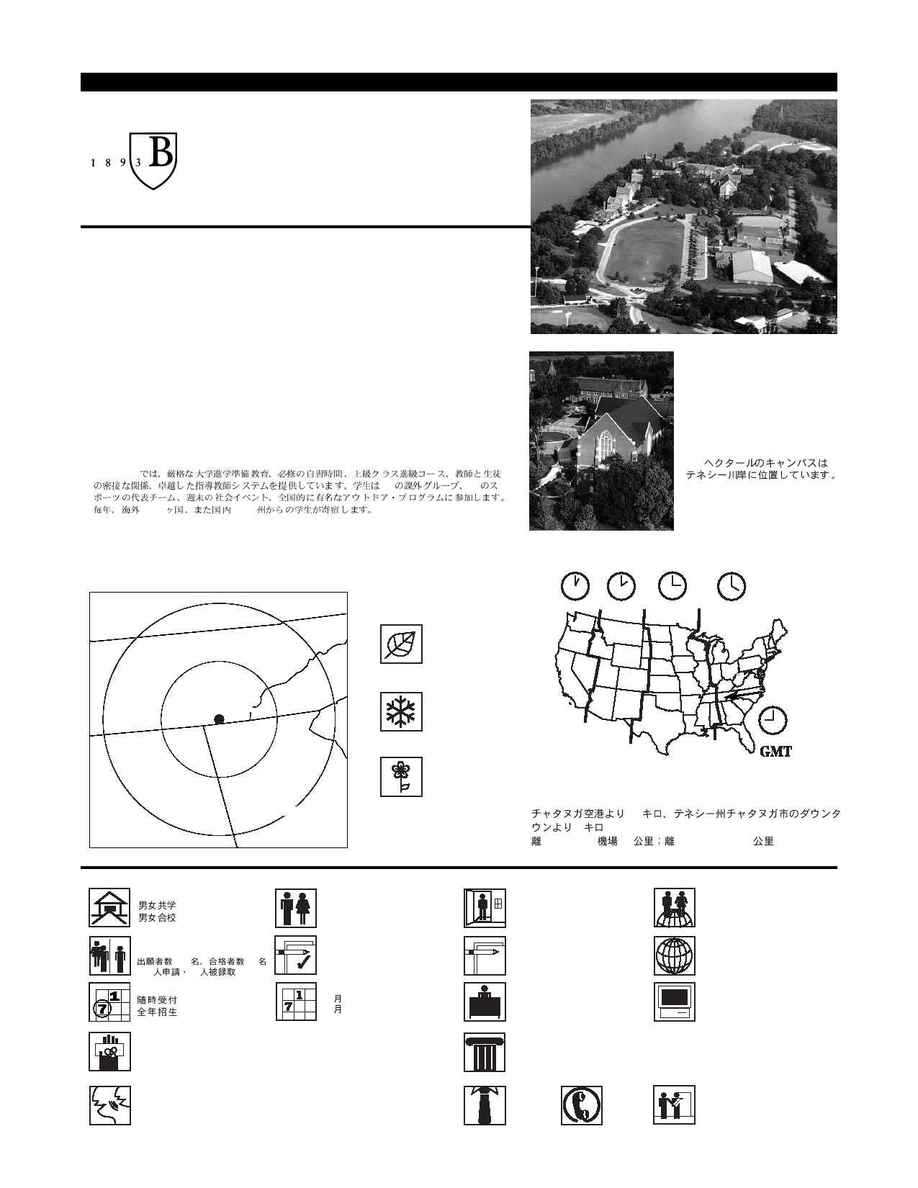 TENNESSEE
ALABAMA
GEORGIA
80 km
160 km
Baylor School
Founded 1893
The beautiful 670-acre campus is on
the Tennessee River
El bello recinto de 271 hectáreas se
encuentra a la orilla del río
Tennessee.
Le magnifique campus de 271
hectares est situé sur la rivière du
Tennessee.
24 km from Chattanooga Airport; 8 km from downtown Chattanooga, TN
A 24 km del aeropuerto de Chattanooga; a 8 km del centro de Chattanooga, TN
A 24 km de l'aéroport de Chattanooga ; à 8 km du centre ville de Chattanooga, TN
140, 80 / solicitaron admisión,
fueron aceptados / candidats, admis
July / julio / juillet
7
7
TOEFL, SSAT (480), SLEP (52),
ISEE
Vanderbilt University, University of
Tennessee, University of Georgia,
University of the South, Duke
University
UNITED STATES
Baylor offers rigorous college-preparatory academics, required study halls, 17 Advanced Placement
courses, close student-faculty interaction, and a strong adviser system. Students participate in 40
extracurricular groups, 21 varsity sports, weekend social events, and a nationally known outdoor
program. Each year, boarding students represent 10-15 foreign countries and 15-20 states in the U.S.
Baylor ofrece un riguroso programa académico de preparación para la universidad, salones de
estudio obligatorio, 17 cursos avanzados, una estrecha interacción entre alumnos y profesores y un
sistema de asesoramiento bien estructurado. Los estudiantes participan en 40 grupos
extracurriculares, 21 deportes universitarios, eventos sociales de fin de semana y un programa de
actividades al aire libre de reconocido prestigio dentro del país. Cada año, los estudiantes internos
representan de 10 a 15 países y de 15 a 20 estados de los EE.UU.
Baylor offre un programme scolaire rigoureux préparant à l'entrée dans les universités, avec des
heures d'études obligatoires, 17 cours préparant à l'enseignement supérieur, une collaboration étroite
entre élèves et professeurs et une solide structure de conseillers. Les étudiants ont à leur disposition
40 groupes d'activités périscolaires, 21 sports pratiqués entre équipes de différentes écoles, des
animations le week-end, ainsi qu'un programme de plein air connu dans l'ensemble du pays. Chaque
année, les étudiants internes représentent de 10 à 15 pays étrangers et de 15 à 20 États des États-Unis.
Bill Murdock, Director of Admission
Williams Island Ferry Road, P.O. Box 1337
Chattanooga, Tennessee 37401
Phone: 423-267-8505 Fax: 423-265-4276
Germany (6), Japan (9),
Korea (7), Saudi Arabia (18),
Thailand (10)
40 21
10 15
15 20
271

Rolling / Continuo / Continuelles
Coeducational 9­12 / Mixto / Mixte