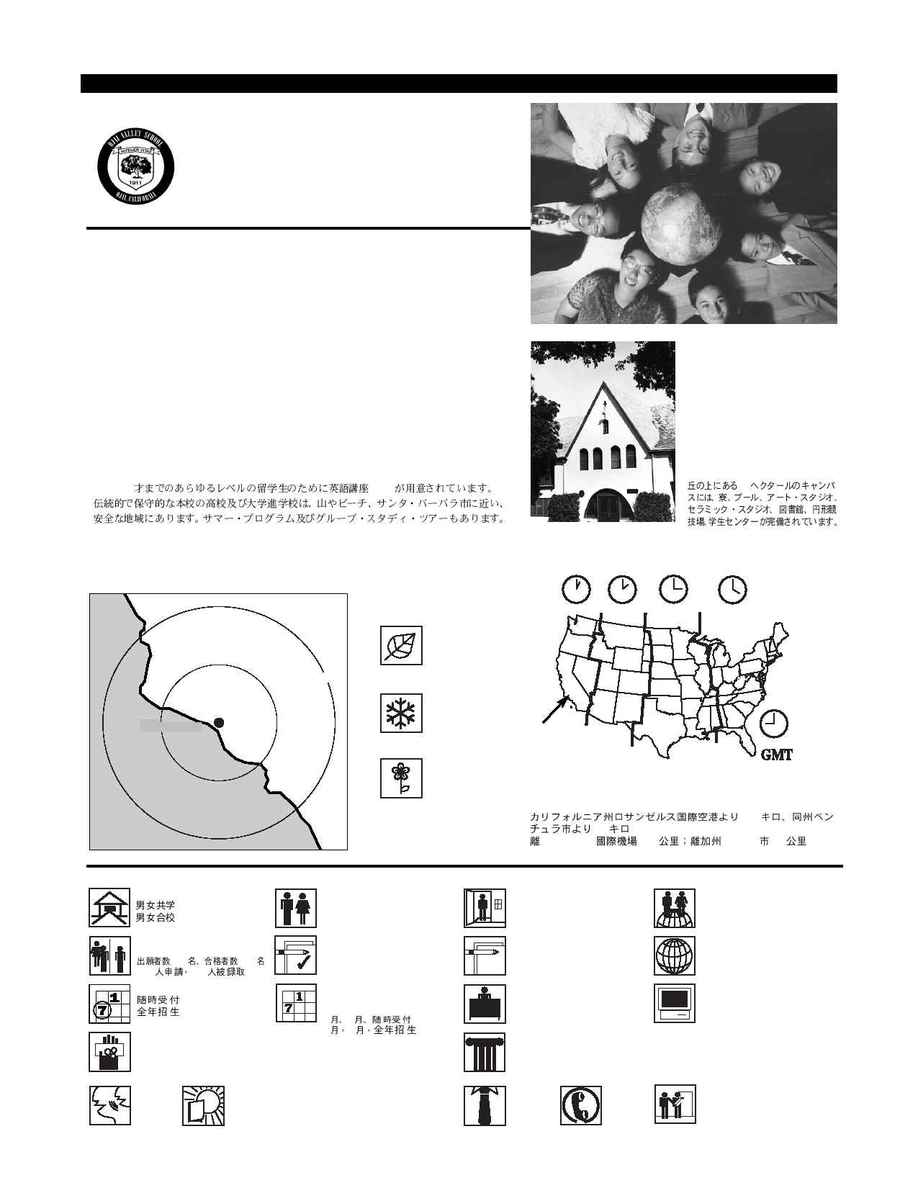 CALIFORNIA
80 km
160 km
Pacific
Ocean
Ojai Valley School
Founded 1911
195 hilltop acres with dormitories,
swimming pool, art studio, ceramic studio,
library, amphitheater, and student center.
79 hectáreas de terreno en la cumbre de una
colina con residencias estudiantiles, piscina,
estudio de arte, estudio de cerámica,
biblioteca, anfiteatro y centro para estudiantes.
79 hectares au sommet d'une colline avec
dortoirs, piscine, studio d'art, atelier de
céramique, bibliothèque, amphithéâtre et
centre pour les étudiants.
145 km from Los Angeles International Airport; 38 km from Ventura, CA
A 145 km del aeropuerto internacional de Los Angeles; a 38 km de Ventura, CA
A 145 km de l'aéroport international de Los Angeles ; à 38 km de Ventura, CA
154, 114 / solicitaron admisión, fueron
aceptados / candidats, admis
September, January, rolling / septiembre,
enero, continuo/ septembre, janvier,
continuelles
9
University of California Berkeley,
University of Southern California,
University of California at Davis,
Cornell University
China (8), Germany (12),
Hong Kong (12), Japan (37),
Korea (37), Taiwan (12)
UNITED STATES
English as a Second Language (ESL) for students ages 8­18 for any level of proficiency.
The traditional secondary-preparatory and university-preparatory school is in a safe
area close to mountains, beaches, and Santa Barbara. Summer programs and group
study tours are available.
Se ofrece un curso de inglés como segundo idioma (ESL) para estudiantes entre
las edades de 8 y 18 años con cualquier nivel de conocimiento. El tradicional
colegio de preparación para la secundaria y para la universidad está localizado en
un área segura cerca de las montañas, la playa y Santa Barbara. Se dispone de
programas de verano y excursiones de estudio por grupos.
L'anglais comme langue étrangère (ESL) pour les étudiants âgés de 8 à 18 ans
pour tous les niveaux de compétence. Cette école traditionnelle, préparant à
l'enseignement secondaire et universitaire, offre un environnement sûr à proximité
des montagnes, des plages et de Santa Barbara. Des programmes durant l'été, ainsi
que des voyages d'études en groupe sont disponibles.
John H. Williamson, Director of Admission
723 El Paseo Road
Ojai, California 93023
Phone: 805-646-1423 Fax: 805-646-0362
URL: http://www.ovs.org
E-mail: jhw@ovs.org
Santa Barbara

79


Rolling / Continuo / Continuelles
Coeducational PK­12 / Mixto / Mixte